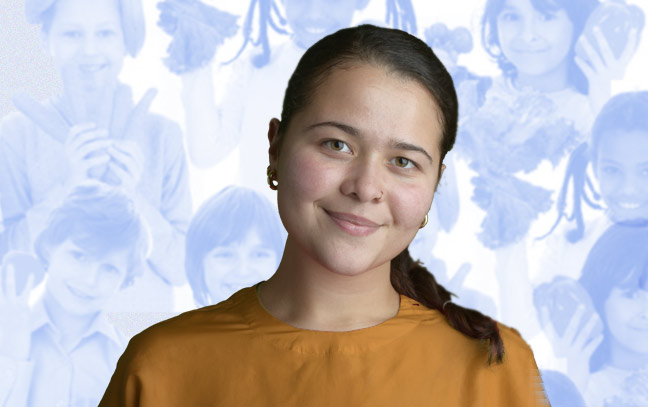 Nourish Your Future as a Nutrition Professional
If you already have a bachelor's degree in nutrition, the Master of Science in Food and Nutrition is the ideal pathway to making a difference in improved health at the individual and community levels and beyond. Nutrition—both good and bad—has real-life implications for everyone. The more people know about how food and nutrients impact their overall health, the more educated choices they can make about their own eating habits.
What if your background is in biology, education, exercise science, journalism, marketing, or a health-related field? The knowledge and skills you gain in the Master's of Food and Nutrition degree program may make a great complement to your career goals in these areas. Already a registered dietitian or food service professional? Earning your MS in Food and Nutrition can build your leadership skills and open up more career opportunities.
What Can You Do with an MS in Food and Nutrition?
Apply the latest research as a way to help reduce nutrition-related chronic diseases and promote nutrition and wellness.
Fill the growing need for leaders and influencers who can meaningfully contribute to the food and nutrition arena.
Help people understand nutrition information by using terms they're familiar with and addressing the compelling reasons why it's so important.
Why Earn Your Degree at IUP?
At IUP, you can earn your degree in as little as 16 months with a fall start, including summer courses.
Further focus a degree in food and nutrition by pursuing our education track.
Learn from faculty who are experienced professionals in the field and committed to your success.
Maintain your current professional career and schedule with our fully 100 percent online program.
Make our flexible curriculum work for your career intentions.
Take advantage of formal opportunities to expand your professional network.
Receive possible funding to support your education in the form of a graduate assistantship or scholarship.
Imagine Your Future
Nutrition touches on so many areas of our lives, so you'll have a wide range of options to choose from depending on where you'd like to focus your efforts. The MS in Food and Nutrition is also the perfect stepping stone if you intend to continue on with your education and pursue a doctoral degree in nutrition or a related field.
These are some of the diverse employment categories that employ our Master of Science in Food and Nutrition graduates:
Agricultural organizations and farming
Community health organizations
Fitness facilities
Food service and hospitality industries
Educational institutions
Grocery chains
Health insurance companies
Hospitals
Nonprofit organizations
Nursing and residential care facilities
Outpatient care centers
Public health agencies
Research
Self-employment as consultants
State and federal government
Annual Median Salary Ranges of Registered Dietitian Nutritionists in Various Positions
Classes and Requirements
A one-size-fits-all approach may not always work when you're trying to align your education to your career goals. So why not tailor our 36-credit MS in Food and Nutrition degree program to make it work for you? Build on the foundation of required core courses covering important nutrients and nutrition research methods by handpicking the electives that meet your professional interests. All of our classes are 100% online.
Full Academic Catalog Listing
The course catalog is the official reference for all our degree and course offerings. Check it out for a full listing of the classes available and requirements for this degree.
Early Admission for Master of Science in Food and Nutrition
If you're motivated to get a head start on your Master of Science in Food and Nutrition at IUP, our Early Admission program is designed for undergraduates who wish to continue their studies in a graduate program at the university. Here's what you need to be considered for early admission:
Have at least a 3.25 grade point average
Must have completed at least 15 credit hours in your undergraduate major
More information is available at Early Admission to Graduate Programs. 
How do you get started? Complete the Undergraduate Application for Graduate Coursework form. The policy states: "IUP undergraduate students with an academic grade point average of at least 2.6 who are within 32 semester hours of graduation are permitted, after receiving appropriate approvals, to take up to 6 semester hours of graduate work whether or not they have applied for acceptance into an IUP graduate program."
Keep in mind that earning graduate hours this way may not necessarily apply toward undergraduate degree requirements. Also, know that they may not apply later toward a graduate degree at IUP. If the credits you earn are later approved toward a graduate degree program, they'll be treated as transfer credits toward your degree.
Note: Graduate credits earned and applied toward an undergraduate degree cannot also be applied toward a graduate degree.
Admission Requirements
To apply to the Master of Science program in Food and Nutrition, please submit your completed application, including all materials listed below, to the IUP Graduate Admissions Office.Before submission, be sure that you have met the program prerequisites: minimum undergraduate 3.0 GPA and evidence of completion of prerequisite courses in chemistry, anatomy, and physiology at the undergraduate level. Refer to the FAQ page for clarification.
Submit the following items for consideration:
$50 nonrefundable application fee
Signed and dated academic goal statement
Official transcripts from allcolleges and universities attended
Two letters of recommendation
Resume
Submit all application materials to:
Indiana University of Pennsylvania
Admissions Office
Sutton Hall, Room 120
1011 South Drive
Indiana, PA 15705
graduate-admissions@iup.edu
Completed applications are forwarded from the Graduate Admissions Office to the Department of Food and Nutrition forreview.