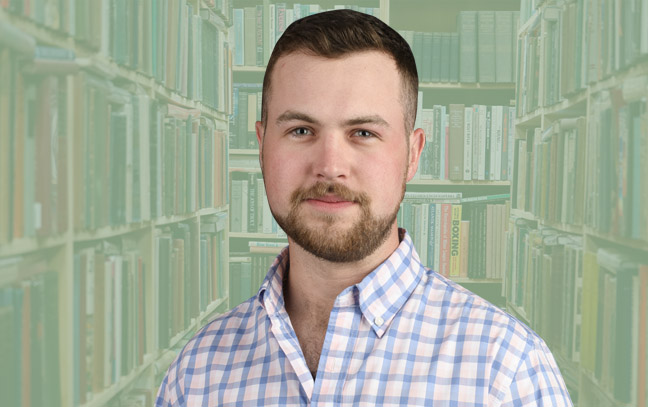 A Master's Degree Bridging Composition and Literature
You're fascinated by words and language—reading, writing, editing, teaching. And finding meaning in literature intrigues you. In IUP's Composition and Literature MA you'll combine your love of language and literature and discover ways your interests can advance your career or get the job you want.
This master's degree is one of just a few programs in the country that bridges the two fields of composition and literature. You'll be introduced to literary texts and approaches to literature that you may not yet have considered. You will:
Learn how literature is composed.
Discover how ideas about composition have changed our reading and writing skills in the twenty-first century.
Experiment with new ways of looking at the world through composition.
Advance your career in any number of fields, including

Professional editing
Writing
Content reviewing

Deepen your knowledge of teaching to guide others in creating new ideas through literature.
Imagine Your Future
Writing and editing are critical skills in every job. With a MA in Composition and Literature, you'll be well-prepared to start your first job, launch a new career, or advance in your current field. You might consider:
Teaching writing and reading to people in a variety of settings, from education to business to science.

If you're currently a teacher in grades 7–12, an MA will give you significant salary leverage and expand your opportunities to secondary institutions.

Combining your creative and research talents into a career as a communications professional.
Expanding your perspective for an eventual career as an author or publisher.
(Salaries shown found on Indeed.com and the Occupational Outlook Handbook.)
Career Opportunities
There are so many places a master's degree in composition and literature might take you:
Author
Content writer
Copywriter
Director of communications
Editor
English teacher
Grant writer
Instructional designer
Lecturer
Public relations manager
Publisher
Technical writer
Median Average Annual Salaries in the US
Director of Communications
$82,317
Instructional Designer
$67,457
Public Relations Manager
$56,484
Classes and Requirements
You can tailor your composition and literature master's degree classes to your meet professional goals. Follow your interests and create your own specialty, for example,
Global myth studies
Science fiction and composition
Medical humanities and literature
Digital humanities studies
Full Academic Catalog Listing
The course catalog is the official reference for all our degree and course offerings. Check it out for a full listing of the classes available and requirements for this degree.
Enroll Full-Time or Part-Time: Your Degree, Your Way
Pick the MA option that's right for you:
The accelerated 4+1 BA/MA is for current undergraduates. You'll work towards your master's degree while earning your bachelor's. This saves you time and tuition dollars.
Enroll full-time and you can earn your master's degree in less than one year. You'll begin classes in June and complete your degree by May of the following year.
Take part-time courses. This is great for working professionals, including practicing teachers. Enroll in summer or evening classes and still graduate in two years.
How to Apply
In order to apply to the Composition and Literature master's program at IUP, please submit all of the materials listed below. Applicants must have a minimum 2.6 GPA for undergraduate or a 3.5 GPA for graduate degrees to be considered for admission.
The Composition and Literature MA at IUP is perfect for any student who loves English and wants the expansive knowledge and practical skills necessary to meet the demands of the contemporary job market.
Submit the following items for consideration:
$50 nonrefundable application fee
Two academic or professional letters of recommendation written by those qualified to assess the applicant's potential for master's study
Signed and dated written academic goal statement from the candidate that explains reasons for pursuing a master's degree and professional plans
Official, sealed transcripts of colleges and universities attended
Priority review will be given to applications received by the following deadlines:
For fall semester: January 15 for early decision or March 15 for second round, pending availability
Applications received after March 15 may be considered on a rolling basis, but only in the case that there are still openings in the program.
For more general information on the Composition and Literature MA program, please review the program handbook.
Financing Your Degree
There are multiple ways to support getting your degree at IUP.
Graduate assistantships can help you financially while providing hands-on work experience.
Research grant opportunities are available to reduce your costs.
Travel funding is available for professional conferences and presentations.
Competitive service and research awards enhance your professional profile and your curriculum vitae.
Invest in Your Professional Development: An MA for Teachers and Researchers
Getting an MA in Composition and Literature will get you ready for new career opportunities and enrich your practice, whether you're a teacher or researcher. Get involved with the many different organizations and opportunities available at IUP:
Find support with individualized mentoring and professional preparation.
Network with our two graduate organizations, the English Graduate Organization and Popular Culture Methodologies. They host a regional conference and coordinate presentation and publication workshops with faculty.
Write, edit, and publish with our established journals: Studies in the Humanities and ARISTEIA.
Tap into funding opportunities to present your work in public forums.
Connect with our community of scholars to build your professional network.
Take classes that enable you to translate what you learn into your work environment.
Get intensive training in research, writing, and presentation skills.
Two Journals, Many Ways to Gain Hands-on Experience
Get involved with the IUP's journals and you'll be immersed in learn-by-doing opportunities, whether you're writing, editing, or publishing. You can gain valuable editorial experience via our two established, multidisciplinary journals:
Studies in the Humanities, published bi-annually since 1968.
ARISTEIA, a peer-reviewed journal of myth, literature and culture, published by the Dessy-Roffman Myth Collaborative at IUP.
Composition and Literature Faculty
Our faculty are true teacher-scholars. They unite a strong reputation for solid research with a commitment to teaching.
Learn about language and literature from our team of active professionals, who publish and present work regularly at national and international forums.
Learn about Our Faculty