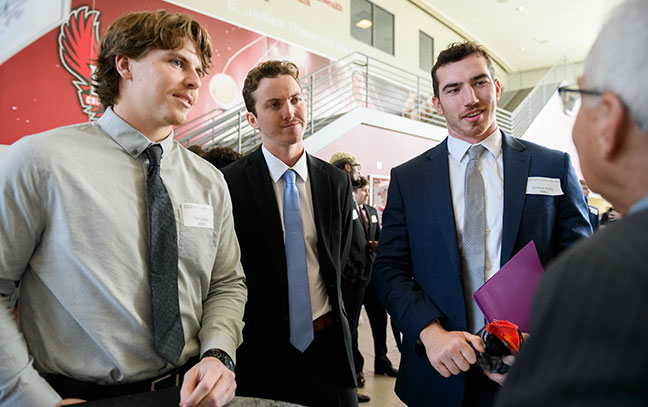 Move Up in Supply Chain Management
The job market is booming! This is creating rapid growth in the demand for supply chain talent—growth that is only going to continue. As a junior or mid-level business executive looking to advance your career, IUP's Supply Chain Management MBA is a logical next step.
The supply chain management field is becoming more and more complex, and technology is evolving at an increasing rate. At IUP, you'll have access to the scientific and technological tools you'll need to manage complex supply chains in the manufacturing, distribution, and service industries—in Pennsylvania and around the world.
An MBA in Supply Chain Management from IUP is a STEM-designated degree that will make you stand out in a field bursting with opportunity.
Why Get an MBA in Supply Chain Management from IUP?
You'll gain interdisciplinary technical, quantitative, and analytical skills—and expertise and confidence—to solve complex business issues so you can help businesses navigate the future.
With this STEM-designated degree, you'll get the tools, capabilities, and quantitative, analytical, and managerial knowledge required to move ahead in the fast-paced and global field of supply chain management.
Imagine Your Future
STEM workforce requirements are expected to increase by 8 percent by 2029. The skills you'll learn in IUP's STEM-designated Supply Chain Management MBA program will set you apart in the job market—and amplify your value in your current position. And the logistics field is expected to grow 30 percent by the year 2030—much faster than the average job sector growth rate.
Keep in mind that STEM graduates enjoy tons of perks in the job market. Besides being more employable than non-STEM graduates, you'll be looking at superior job prospects and higher salaries.
An MBA in Supply Chain Management (STEM) from IUP will prepare you for supply chain leadership roles in a wide variety of industries, including consulting, manufacturing, distribution, and services. You'll be able to capitalize on the massive growth the field is experiencing with your expertise, taking your career to new heights.
Similar Occupations
Corporate/Division Manager
Director of Logistics
Inventory Manager
Performance Improvement Director
Procurement Manager
Senior Product Manager
Supply Chain Director/Manager
Vice President/General Manager
Classes and Requirements
At IUP, you'll get a hands-on education that's grounded in real-world scenarios. Your coursework will cover a wide range of areas, including:
Decision making
Inventory management
Logistics planning
Managerial economics
Mathematical modeling
Project management
Purchasing
Quality control/Six Sigma
Supply chain modeling
Warehousing
You'll learn from experienced faculty and meet supply chain professionals from leading companies. The opportunity to take on an internship will give you even more hands-on experience.
Full Academic Catalog Listing
The course catalog is the official reference for all our degree and course offerings. Check it out for a full listing of the classes available and requirements for this degree.
Information for International Applicants
STEM courses offer an enhanced length of work visa for international students. This will give you more time to find a job in the US after graduation—and will increase your chances of immigration. (The stay-back period for STEM graduates in the US is up to three years, in comparison to one year for non-STEM graduates.)
As a STEM graduate, you'll also save over $25,000 more than non-STEM students spend in maintaining their visa status after graduation.