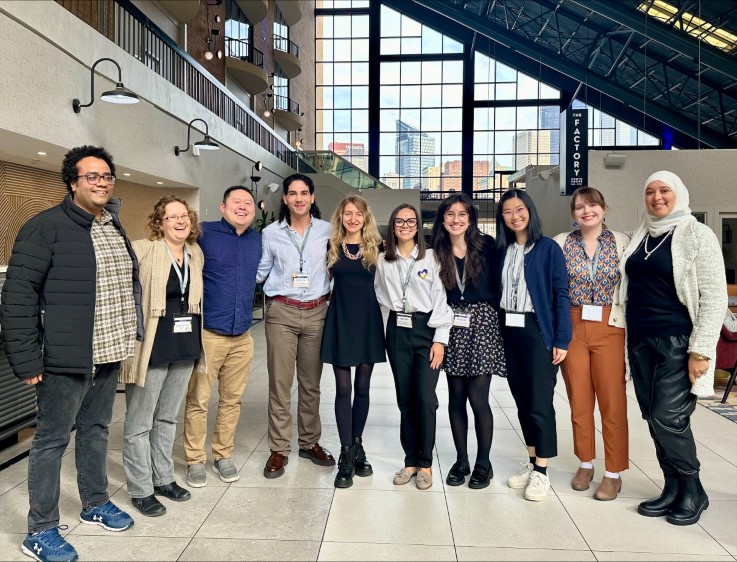 The 2023 National Conference on Peer Tutoring in Writing was held in Pittsburgh on November 3–4. Echoing the city's identity, the conference theme centered on the writing center as a metaphorical bridge, challenging clichés and extending beyond conventional understandings.
Dana Lynn Driscoll, Writing Center director at Indiana University of Pennsylvania, set the tone with a keynote challenging clichés and expanding on the multifaceted role of writing centers in academia. Her address framed the conference's exploration of writing centers as bridges and showcased several examples of how the Jones White Writing Center at Indiana University of Pennsylvania supports tutors and students.
In a dynamic series of presentations, the conference attendees explored innovative strategies and ideas that resonated with the overarching theme of bridging gaps. Staff and tutors of the JWCC presented on multiple topics concerning AI, assessment practices, mindfulness, multilingual students, plagiarism, transfer, and others.
For example, Oksana Moroz, an associate director of the Writing Center, initiated the dialogue by presenting findings from a survey exploring the intersection between faculty needs and Writing Center assets. The survey unveiled a bridge connecting faculty requirements with the resources the Writing Center offers, emphasizing collaborative initiatives.
Madeleine T. Rosa, an assistant director, advocated holistic approaches in tutor training, introducing mindfulness to bridge gaps in writing center work. Her focus on creating judgment-free environments and strengthening the role of writing centers as supportive communities resonated with the theme of connectivity.
Next, Willa Black, a writing center advanced tutor, addressed plagiarism stigmas, offering strategies that bridge the gap between negative perceptions and constructive feedback. Her discussion delved into the role of plagiarism detection systems as tools for supportive interventions, encouraging a shift in perspective.
A presentation by Mahmoud Othman, a leading tutor, centered on collaborative environments and power dynamics in writing transfer. By engaging in transfer talk, tutors and tutees became border crossers, reflecting on their past writing experiences and finding common ground—a bridge between different perspectives.
In addition, Othman and SeifAllah, current and former tutors, explored the perceptions of PhD candidates on AI adoption in writing instruction. Their presentation revealed positive perceptions and emphasized the need for explicit instruction and ethical considerations in integrating AI tools—a bridge to the future of writing education.
Alexandra Krasova, an experienced writing center tutor, delved into using ChatGPT by multilingual writers, offering insights into the benefits, limitations, and strategies to bridge ChatGPT with multilingual composition. Her focus was on utilizing technology to support the diverse needs of multilingual writers—a bridge between technology and language education.
Finally, Jun Akiyoshi, a former tutor, and Danning Liang, WConline platform expert, presented a compelling argument on the contributions of writing centers to international multilingual writing tutors' development as prospective college composition teachers. Their presentation established a bridge between writing centers and teacher education programs, fostering collaboration.
The NCPTW 2023 conference was a testament to the ongoing development of writing center practices, with presenters providing valuable insights, innovative solutions, and bridges to new possibilities.