Four doctoral students from the Composition and Applied Linguistics program offered a virtual presentation at the "Local Mission; Global Vision" conference sponsored by the International Writing Centers Association in Vancouver, British Columbia on October 28, 2022.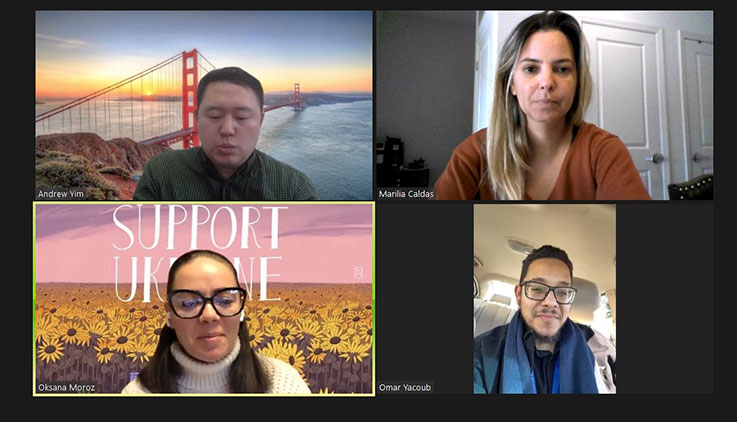 Marília Martins, Oksana Moroz, Omar Yacoub, and Andrew Yim took part in a panel titled "The Transnational Experiences of Four Tutors in One Writing Center."
In the presentation, four transnational tutors coming from Brazil, Ukraine, Egypt, and the United States discussed their work centered around multilingualism, business writing, first-year writing, and new tutor training. Each presented various materials developed to support diverse student populations and their needs while also emphasizing the influence that transnationalism has on global citizenship. 
Specifically, Yim talked to a few graduate consultants to see what strategies they use and recommend to other consultants when addressing their emotional labor and mental health inside and outside a tutoring appointment.
Yacoub, in his turn, explained how the development and teaching of a business writing credential in the Writing Center supported students' writing beyond their localized concerns about specific assignments.
In addition, Martins discussed her research on supporting multilingual writers in honing their skills as they navigate writing in English in and out of school and strategies aimed at equipping students for what they can encounter outside of the classroom and thus account for the language-in-use globally.
Finally, Moroz elaborated on her experiences working with first-year students, developing materials to support novice academic writers and faculty teaching those students, as well as helping students to construct their writerly identities by showcasing her own multifaceted identities.