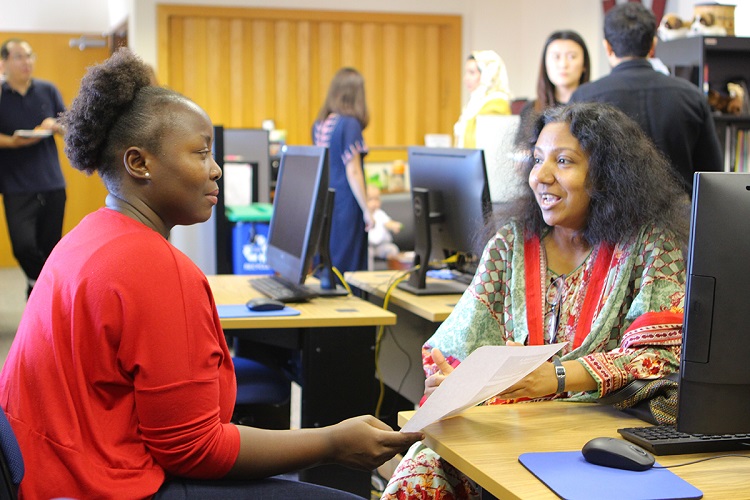 The Jones White Writing Center has developed new training and initiatives to support ongoing diversity, equity, inclusion, and justice efforts at IUP. Fostering diversity and inclusion are an important part of the long-term mission of the Jones White Writing Center, and our efforts this semester seek to strengthen our commitment to creating a more equitable and supportive campus for diverse students.
In spring 2021, our tutoring staff engaged in extensive training activities focused on supporting diverse writers, including anti-racist tutoring pedagogy and honoring language diversity. This training included asking tutors to reflect on how our existing tutoring practices such as collaboration, peer mentoring, active listening, and reflection can be leveraged to support diverse students. Additionally, tutors focused on developing new skills in anti-racist tutoring pedagogy, including how to engage in identity work through tutoring and understanding the power dynamics present in language standardization. These training sessions have helped the Writing Center maintain and strengthen the on-the-ground diversity work we do with countless IUP students.
The Writing Center's tutor training program is internationally recognized and certified by the Collegiate Learning and Reading Association's International Tutor Training Program. Our certification allows our tutors to gain their international tutor certification and master tutor certification and focuses on a range of tutoring issues, including many that directly benefit and support diversity, equity, inclusion, and justice.
Additionally, our hiring practices seek to ensure that students who visit the Writing Center are able to work with a diverse range of peer tutors, including those of different genders, ethnicities, majors, and linguistic backgrounds.
The Jones White Writing Center looks forward to supporting all IUP students this semester and beyond.