Make Your Senior Class GiftA Tradition since 1888!
Becoming part of this tradition shows that the Class of 2021 is a class that
Values the education they've received.
Carries the same spirit and IUP pride of past IUP classes.
Believes in reaching out in order to give back and help future students, so they have access to the same opportunities you did.
Believe that what they care about can change the world.
Seniors that make their gift of $20.21 or more will receive Philanthropy Cords* to be recognized at commencement.
Join your class by making a gift today. Visit www.iup.edu/seniorclassgift.

Want to get involved? Sign up for the Senior Class Gift Committee to build your résumé and Make YOUR Mark on IUP before graduation.
This year the Senior Class Gift Committee has decided to support the student giving project, Help a Hawk. At IUP, many students must make the choice between having a healthy meal and paying a bill or buying a textbook. Food insecurity is a concern on our campus, and you can Help a Hawk by joining with Terry Serafini '61 to make the IUP Food Pantry a reality. Prefer to support a different area on campus? Don't worry—you can! Just use the "Other" option online or on the giving form.
Giving online is easy when you following these steps:
Check the Senior Class Gift box and enter your class year.
Select the IUP Food Pantry, or check the Other box if you'd like to give to a specific area like your department, college, an athletics team, or another area on campus.
*Pick up your cord in the Office of Annual Giving, 452 Sutton Hall, Monday through Friday between 8:00 and 4:30.
Prefer to give in person? Stop by the Office of Annual Giving, 452 Sutton Hall. Or, go to the Graduation Fair at the HUB. Or, watch your email for information about Senior Class Gift tabling throughout the semester.
Follow the Student Philanthropy Council on Twitter @IUP_SPC for more information about the Senior Class Gift and where to pick up your Philanthropy Cord.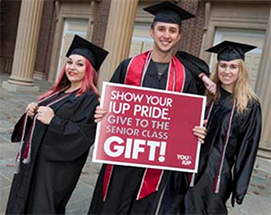 Any Questions?
Contact the Student Philanthropy Council for more information. Send email to student-philanthropy@iup.edu.
If you are not on campus and cannot stop by 452 Sutton Hall, call 724-357-5555 or email iup-giving@iup.edu to make other arrangements.