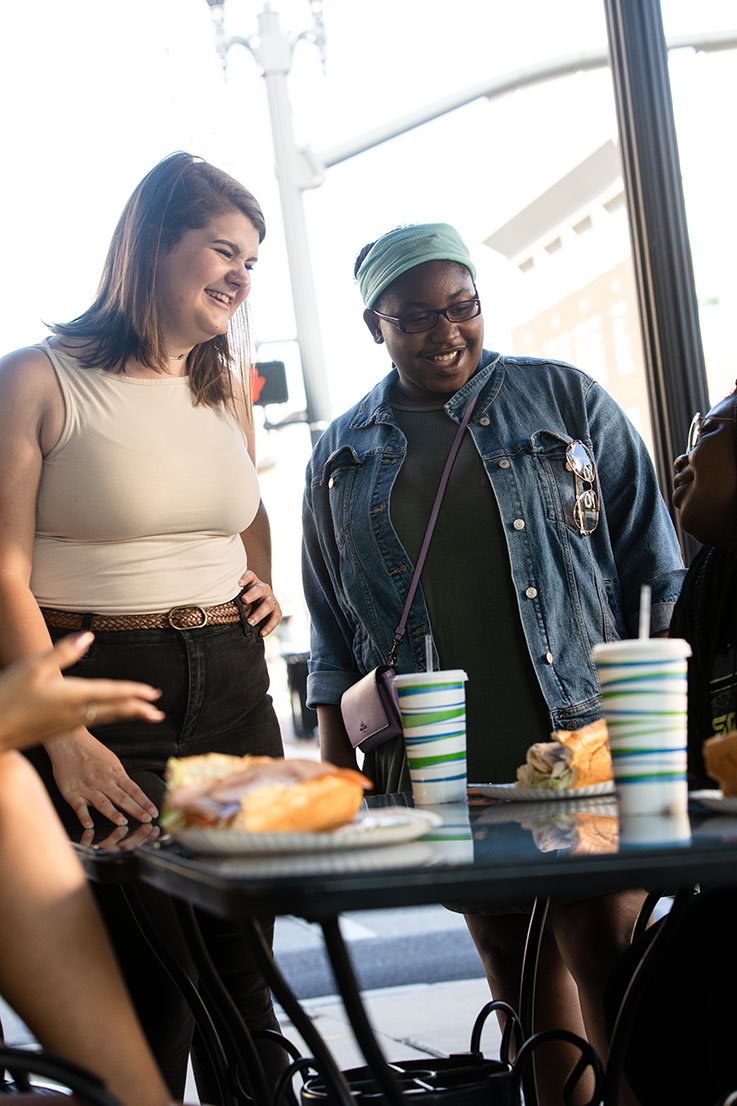 Students can get discounts and special offers at area businesses through the new Talon Ticket program, organized by IUP and the Indiana County Chamber of Commerce.
To take advantage of these offers, students should present their I-Cards during checkout at participating stores and restaurants.
Unveiled during Welcome Week in August, the program has 28 participating businesses in its pilot stage this semester. Organizers hope to have all Indiana County businesses as participants sometime next year.
The program is intended to help students get engaged with the greater community and local businesses and to help local businesses feel supported by the IUP community.
Creation of the Talon Ticket was led by the Office of Strategic Partnerships in the Division of University Advancement, the Eberly College of Business Student Marketing Association, and the Indiana County Chamber of Commerce.
Participating businesses are as follows:
7th St. Marketry, LLC, Artisan Market Boutique and Art Bar, 672 Philadelphia St.
The Artists Hand Gallery and Espresso Bar, 732 Philadelphia St.
Big League Haircuts, 1470 Indian Springs Road
Bruno's Italian Restaurant, 1108 Philadelphia St.
Casa Jalisco Restaurante Mexicano, 626 Philadelphia St.
Commonplace Coffee, University Square, 1176 Grant St.
Cricket Wireless, 1570 Oakland Ave.
Dan Smith's Candies & Gifts, 799 Philadelphia St.
Eat'n Park, 2675 Oakland Ave.
EmB Computing, 982 Philadelphia St.
Flower and Balloon Gallery, 890 Rose St.
Fox's Pizza Den, 580 Philadelphia St.
Italian Village Pizza, 633 Philadelphia St.
Levity Brewing Co., 1380 Wayne Ave.
Lucy Rae Gifts & More, 682 Philadelphia St.
Luxenberg's, 717 Philadelphia St.
Quality Inn & Suites, 1545 Wayne Ave.
The Road Side, 8635 Route 422 Hwy W
Romeo's Pizzeria & Mediterranean Kitchen, 1112 Oakland Ave.
S&T Bank, several Indiana locations
Sandy's Custom Cuisine, 242 Twolick Drive
Shirley Eye Care, 241 Rustic Lodge Road
Spaghetti Benders, 563 Philadelphia St.
Tom's Pizza, 11 S. Seventh St.
Valley Dairy, 1584 Oakland Ave.
Venice Café & Pizzeria, 504 S. 13th St.
William and Mary Gift Shoppe, 18 S. Seventh St.
Zedd's Gifts, 19 S. Seventh St.
Find more information on the Indiana County Chamber of Commerce website.