In Urgent Cases, Contact University Police at 724-357-2141.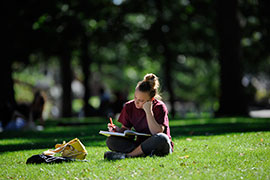 The Care Team exists to assist students who have concerns and who may be exhibiting behaviors which are unexpected.
For the purposes of the Care Team, a student with concerns is any student who arises to the attention of a member of the university community because of an unusual or uncommon observed behavior.
If an observed behavior involves a matter of very urgent concern , including imminent danger, immediately contact University Police for assistance or advice at 724-357-2141 or the appropriate emergency services provider at 911 (or 9-911 if dialing by campus land-line telephone).
Care Team members collaborate with members of the university community to:
Identify students who are having concerns, and
Design and implement effective intervention strategies to assist students with their concerns as well as other affected members of the university community.
For example, Care Team members discuss students who are:
Expressing intent to harm themselves or others
Experiencing difficulty living peacefully with others
Acting in a manner that is concerning, disruptive, or threatening to others
Care Team members meet bi-weekly and as needed, and routinely communicate with one another.

In building and maintaining a caring and concerned university community, the Care Team encourages community members to identify and refer students with concerns.
If you have questions or want to learn more about the Care Team, contact Dan Burkett at dburkett@iup.edu, Adam Jones at adjones@iup.edu, or any member of the Care Team.
Care Team members regularly meet with members of the university community to provide information about the university's efforts to support students with concerns and mitigate disruption to campus life.