The IUP Men's and Women's Rugby teams traveled to Washington, DC on April 28–30 to take on the Collegiate Rugby National Championships. The IUP Women's rugby team entered their first national 7s championship tournament. In contrast, the Men's rugby team came in as defending national champions (2022). Friday was a cold, rainy day making play difficult for all teams, and those who navigated the weather best would move on.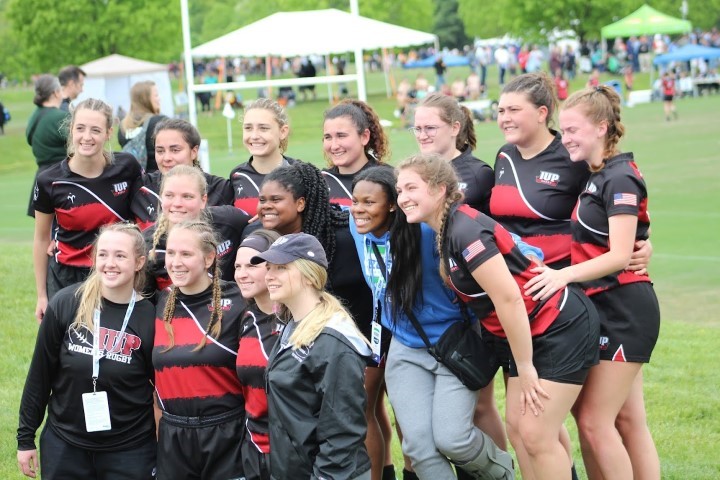 The IUP women's team got off to a rocky start. Going 0-2 in pool play, gaining valuable experience playing at the highest level. On Saturday, they would rebound, tying Salisbury University, then defeating Indiana University–Purdue University of Indianapolis (IUPUI) 21-0. The women's team finished their tournament and their season as the country's ninth-ranked women's D2 program.
The Men's Rugby team continued with high-level play, winning Pool B 3-0, defeating Georgetown University, the University of Chicago, and the University of North Carolina of Wilmington. The Crimson Hawks paired with the University of Northern Iowa in the Quarter Finals. Great defense was essential all weekend, leading the Hawks to a 22-12 win. The semi-final match was IUP versus Norwich University, a national powerhouse. The Hawks were victorious 15-14 with a last-second defensive stand, forcing Norwich to knock on the ball a meter short of the try line.
The national championship paired IUP with a familiar opponent North Caroline State University. IUP and NC State met in December 2022, in Houston, TX, in the 15s national semi-finals. Much like in Texas, the teams were evenly matched, and it was a substantially defensive game. NC State jumped out to a 7-0 lead one minute and thirty seconds into the game. Just before halftime, freshman Santino Fishcio took a pass from junior Dominic Holmes for 30 meters before being taken down by a very high tackle, leading to a penalty try (score) against NC State. The first half would end in a 7-7 tie. At halftime, IUP Head Coach Seth Erwin sent the team out with one last instruction, "Don't Blink." For the initial three minutes of the second half, both teams were solid on defense, causing handling errors in the rain and making hard tackles; neither side could gain much space on the attack. Again, Fischio, with another huge play, making defenders miss, pulled defenders off the edge and threaded a pass to sophomore Dalton Peluso for the National Championship-winning try!
Men's Team Roster
Seth Erwin, Head Coach
Larry Bowman, Assistant Head Coach
Tyler Horwatt, Forward Coach
Sean Zimmerman, Development Coach
Captain: RJ Beach, Junior
Vice-Captain: Brian Arnold, Senior
Vice-Captain: Trent Stalling, Junior
Vice-Captain: Dominic Holmes, Junior
Vice-Captain: Santino Fischio, Freshman
Ryan Hornickel, Junior
Coton Moyer, Graduate
Sam Wise, Senior
Dan Miller, Senior
Dalton Peluso, Sophomore
Caron Davis, Sophomore
Ethan Kish, Freshman
Layne Walls, Freshman
Jayce Brooks, Freshman
Dylan McAnulty, Freshman
Hayden Kovlick, Freshman
Women's Team Roster
Erica Houlihan - Head Coach
Elizabeth Emel
Emma Hafner
Aubrian Henry
Julia Herring
Rachel McConaghy
Ella Miller
Emma Miller
Aaliyah Page
Madisyn Schmidt
Samyiah Scruggs
Allison Semetkoskey
Gabriella Spatafora
LaVada Walbeck
Amaya Williams
Catherine Martsolf