Senior Military Science Instructor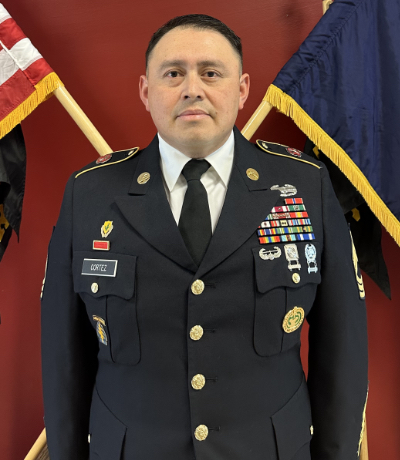 MSG Ricardo Cortez joined the United States Army in March 2003. He is from Queens, New York, and attended One Station unit training at Fort Knox, KY, in 2003 where he earned the MOS 19K Armored Crewmember. His first assignment was with 1st Battalion, 12th Cavalry Regiment, 1st Armored Brigade Combat Team, 1st Cavalry Division at Fort Hood (now Fort Cavasos), TX. There he served as a gunner and dismount during Operation Iraqi Freedom II. MSG Cortez enlisted in the National Guard upon completing his first tour of duty as a 19K and was later assigned as a military police officer for the 442nd Military Police Company based out of Jamaica Queens, NY, in March 2006.
MSG Cortez was then assigned in February 2008 to Charlie Company, 3rd Battalion, 69th Armored Regiment, 1st Heavy Brigade Combat Team, 3rd Infanty Division out of Fort Stewart, GA, where he served as a Training Room NCO, tank gunner, tank commander, and platoon sergeant. MSG Cortez deployed with 3-69 AR to OIC 09-10 when it transitioned to Operation New Dawn in 2009–10 and then later deployed in support of Operation Enduring Freedom 12-13. Additionally, MSG Cortez has served as a senior drill sergeant for 19K OSUT at Fort Benning (now Fort Moore), GA, where he was one of the first drill sergeants to integrate female soldiers into the armored community.
In June 2018, MSG Cortez was assigned to Alpha Company, 1st Battalion, 12th Cavalry Regiment, 3rd Armored Brigade Combat Team, 1st Cavalry Division, out of Fort Hood (now Fort Cavasos), TX. While assigned to 1-12th CAV, he served as the platoon sergeant and first sergeant for Alpha Company, 1-12 CAV. MSG Cortez was later nominated to serve as the Headquarters & Headquarters Company first sergeant in 1-12 CAV. He deployed with A CO, 1-12 CAV to the Republic of Korea in 2019–20 and with HHC to Poland in 2022. Upon completion of his time as first sergeant, MSG Cortez was assigned to the Indiana University of Pennsylvania ROTC program, where he serves as the senior military science instructor.
MSG Cortez' military education includes Basic Leader Course, Advanced Leader Course, Senior Leader Course, Master Leader Course, United States Army Drill Sergeant Academy and Air Assault Course His awards and decorations include the BSM, MSM (1 OLC), ARCOM (2 OLC), AAM (5 OLC), MUC, AGCM (5), NSDM, ACM-CS (1), ICM-CS (2), GWTEM, GWTSM, KDSM, NOPDR (4), ASR, OSR (3), NATOMDL, DSIDBAD, CAB, and DMB-DWV.
MSG Cortez is married to Cecilia Cortez from Queens, NY. They have four wonderful children: Richard, Ellis, Christopher, and Liah. They currently live in Indiana, PA.