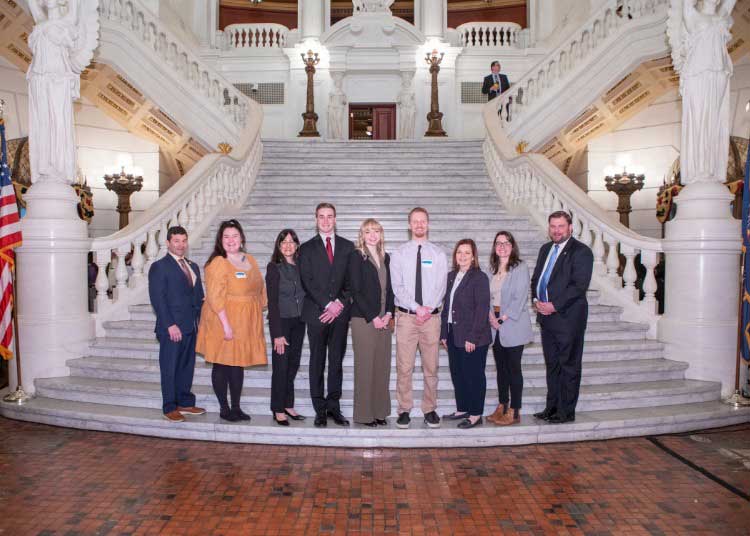 IUP undergraduates Benjamin Swanson and Richard Kline (Finance and Economics, Eberly Business College) and Emma Fetchko (Biology) and Ava Pinkham (Anthropology, Kopchick College of Natural Sciences and Mathematics) were invited to present their original research posters to legislators and lawmakers in Harrisburg as part of the Undergraduate Research at the Capitol (URC-PA) event in March 2023.  
The students selected to participate in the URC-PA event previously participated in Scholars Forum or U-SOAR events at IUP and were recognized for excellence in their literary research, statistical analyses, and/or overall presentation quality. We are so glad to support student research and help students find their passion, and we were honored to be invited to participate in the URC-PA event.
The URC-PA Poster Conference is an educational event allowing undergraduate students enrolled in Pennsylvania's colleges and universities to showcase their research talents to the Commonwealth's key decision-makers.  All fields of research are encouraged.  Participants spent the day in the Pennsylvania Capitol Building, sharing experiences and ideas with their counterparts from other schools and enlightening state legislators on the topics that are important to our society.  More than 30 Pennsylvania schools and 55 students were invited to participate.  Learn more at Undergraduate Research at the Capitol (pasen.gov). 
IUP encourages student research in all disciplines. We embrace a holistic definition of undergraduate research from the Council of Undergraduate Research to include "mentored investigation or creative inquiry conducted by undergraduates that seeks to make a scholarly or artistic contribution to knowledge." We offer numerous opportunities throughout the year for students to engage in creative inquiry within their departments or within the broader university environment. Each spring we host the IUP Scholars Forum, where students from all disciplines are invited to share their original contributions in the form of podium talks, posters, performances, juried art, and business case studies. Students have the opportunity to work with a mentor to expand on classroom research projects, assist faculty with ongoing research, or design original research based on their own interests and passions. We also host a summer program where students can undertake mentored research and participate in a scaffolded series of professional development workshops, designed to empower them and allow them to gain confidence in their critical thinking and research skills.