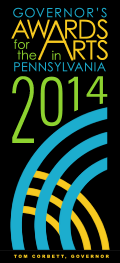 President Michael Driscoll cordially invites you to attend the Commonwealth of Pennsylvania 2014 Governor's Awards for the Arts as Indiana becomes the "Cultural Capital of the Commonwealth" for the day.
Sunday, September 28, at 4:00 p.m.
Fisher Auditorium
IUP Performing Arts Center
403 South Eleventh Street
Indiana, Pennsylvania
Reserve your free tickets online!
Artist Open Studio Tours
Saturday and Sunday
11:00 a.m.to 3:00 p.m.
Downtown Arts Venues, Open Houses, Exhibits at IUP, and Community Art Flag Project
Sunday, starting at noon
Bandstand in the IUP Oak Grove
Sunday, starting at 2:00 p.m.
Awards Ceremony
4:00 p.m.
Free to the public
Business casual
Honorees
Distinguished Arts Award


Jennifer Higdon
Arts Innovation Award


The Andy Warhol Museum
Artist of the Year


Robert Qualters
Patron Award


Mark E. Pasquerilla

Leadership and Service Award


Myron Hay Tomb, Esq.