Indiana University of Pennsylvania and Indiana Borough will co-host a community open forum at 7:00 p.m. on Thursday, February 13, 2014 at the Indiana Junior High School.

Panelists will include IUP students and members of Indiana Borough Council and will be moderated by Mark Bertig from Renda Broadcasting. The event is free and open to all.

The event is intended to continue the conversation between members of the university and community; strengthen positive relationships, programs and initiatives; and identify opportunities for improvement.

"We're very pleased that our students have volunteered to be part of this event," IUP President Dr. Michael Driscoll said. "Their desire to be part of this public discussion reflects what we know as a university community: the vast majority of our students consider this community to be their home, and they care deeply about its welfare. They truly enjoy their time here, their jobs here and the volunteer work that they do in this community. They want to be good citizens and ambassadors for Indiana, as well as for IUP.

"We are happy to partner with Indiana Borough to offer this opportunity for an honest and open dialogue with members of the community. We all can benefit from a better understanding of each other's perspectives and experiences."

Student panelists include: Jamie Czech, a member of Delta Zeta sorority, a management major from Butler; Ryan Egan, a member of Phi Delta Theta fraternity and the IUP Ambassadors, a management major from Pittsburgh; Julie Kilgus, a member of The Pulse, IUP Day organizing committee, The Entertainment Network (TEN) and a student worker in the University Events Office, a hospitality management major from Muncy, Pa.; Nnaemeka Okolo, member of Phi Delta Theta fraternity, The Pulse and TEN, a biology major from Verona; Elijah Rosenthal, a member of the IUP Student Government Association, a political science major from Girard; and Jamie Smith, a member of The Pulse, IUP Day organizing committee and Homecoming Monte Carlo Night organizing committee, a political science major from West Mifflin.

The Pulse is a new organization formed to promote student involvement in student leadership, campus and community engagement and philanthropy. The IUP Ambassadors is the student-alumni association that support the Office of Alumni Relations and the university community. TEN is the programming group associated with the IUP Student Cooperative Association.

Indiana Borough panelists include: William Sutton, borough manager and chief of police; Nancy Jones, Indiana Borough Council president; Richard Thorell, chair of the community development committee; John Petrosky and Larry DeChurch. Each of the borough council members represent the different wards in Indiana Borough.

In August, Driscoll and Indiana Borough Mayor George Hood co-hosted a community-university forum, attended by more than 50 community members.

"Our first community-university forum was excellent, and we want to continue those conversations," Driscoll said.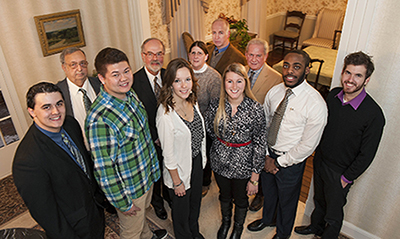 PHOTO INFORMATION: FROM LEFT, front row, IUP students: Jamie Smith, Elijah Rosenthal, Jamie Czech, Julie Kilgus, Nnaemeka Okolo, Ryan Egan. Back row from left from Indiana Borough: John Petrosky, Richard Thorell, Nancy Jones, William Sutton and Larry DeChurch.