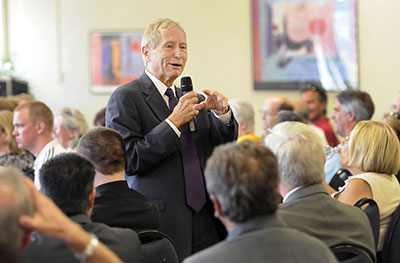 David Werner, interim president, addressed a crowd of about 150 during his first open forum for employees on Thursday, September 2, 2010, in the Crimson Event Center.
Werner, who said he held similar events as chancellor of Southern Illinois University Edwardsville, plans to hold a forum each month. The intent is to give faculty and staff members an opportunity to ask questions about any issues they choose.
Much of the discussion Thursday focused on the university's financial challenges—the need to find creative ways to address budget concerns, to increase donations and generate revenue, and to prepare better for decisions of the Pennsylvania State System of Higher Education.
Werner noted that the Office of the President has already begun making changes—leaving a vacancy in the office unfilled and scaling back on some presidential events.
Other topics addressed based on audience questions were as follows:
IUP's future as the sole doctoral university in the State System: While other universities in the State System offer doctorates for professional programs, such as Doctor of Audiology degrees, IUP is the only one that can offer Ph.D. programs.
Clarification of Werner's comments during the Opening of the Academic Year event about the complexity of IUP's committee structure: Werner explained that he sees committees not as problem solvers but as groups to give feedback on possible solutions or alternatives.
Efforts to collect money owed by students: The process for collecting accounts receivable was explained, including when cases must be referred to the state. Students with outstanding debt are not able to register or receive transcripts.
The status of the Kovalchick Convention and Athletic Complex: The facility is on track to be finished in December and to open in March or April, Werner reported.
President Werner and other administrators plan to do further research on some of the other needs and issues raised Thursday:
Opportunities for partnership with the National Cyber-Forensics and Training Alliance
Tuition waivers for managers pursuing graduate study
Questions about the need for increased support from the Student Cooperative Association for athletics (Project Frontrunner)
Need for central location of the College of Health and Human Services dean's office
Additional funding for student workers at the IUP Libraries