Following a national search, Miko Rose, a board-certified physician in psychiatry and neurology who is nationally known for wellness programming, has been selected as the founding dean for Indiana University of Pennsylvania's proposed college of osteopathic medicine.
Rose comes to IUP from Pacific Northwest University of Health Sciences College of Osteopathic Medicine, where she is associate professor and chief of the Division of Psychiatry in the Department of Clinical Medicine and assistant dean for clinical education.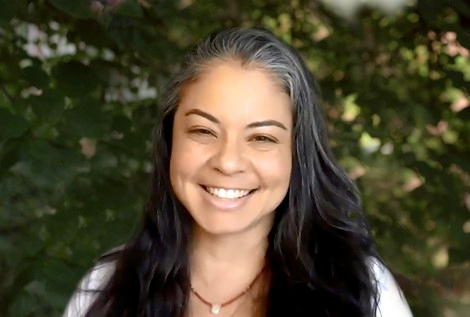 She is also an associate professor and program director of the Joy Initiative Wellness Program at Michigan State University. She founded and started the Joy Initiative at the Michigan State University College of Human Medicine and College of Osteopathic Medicine schools. She completed her medical training at Michigan State.
Rose will begin her work with IUP on November 20.
Rose's appointment was announced during the second annual Pennsylvania Mountains Rural Health Conference, cosponsored by IUP and Indiana Regional Medical Center and hosted by IUP to mark National Rural Health Day.
"The Council of Trustees is thrilled to welcome someone with Rose's background and life experiences as she takes on the challenge of being the founding dean of IUP's college of osteopathic medicine," IUP Council of Trustees Chairman and Pennsylvania State System Board of Governors Vice Chairman Sam Smith said.
"This is a critical step in securing accreditation and developing the foundation for the school of medicine as we seek to create a path, not only for IUP students but, for all students of Pennsylvania State System of Higher Education universities.  Our goal of providing affordable opportunities to practice medicine to people from rural areas, who are more likely to ultimately work in those same rural settings, is perfectly complemented by Rose's own life mission," Smith said.
Rose has served as a council member for the American Psychiatric Association Committee for Geriatric Psychiatry and the Council on Communications. She serves on the National Board of Medical Examiners as appointed faculty, writing and creating standards for national medical board examinations.
"Rose's exceptional background and unwavering commitment to advocating for underserved populations and wellness make her the ideal leader for this pivotal role," IRMC Chief Human Resources Officer Jim Kinneer said. "As a member of the search committee, I had the privilege of witnessing Rose's passion and vision for a healthcare landscape that prioritizes inclusivity and holistic well-being. I am truly excited about the transformative impact she will bring to IUP and the college of osteopathic medicine."
"Miko Rose will be an extraordinary founding dean for the IUP school of medicine," said T. Clark Simpson, chief medical officer, Punxsutawney Area Hospital. "Her desire, training, and experiences, as well as her dedication to diversity, equality, and inclusivity, will uniquely position her and IUP for success in this endeavor. I was honored to be on the selection committee and could not imagine a more worthy founding dean. Welcome, Rose," he said.
"My background and my experiences have always been about serving the underserved, especially the rural underserved, and coming from a university where the focus has been working with the rural underserved, I already have that experience and I can hit the ground running," Rose said.
Prior to entering medical school, Rose worked as a program officer, fundraiser, and advocate for the underserved with a focus on overcoming domestic violence and trauma.
"I did not plan to enter medicine until I started to work in organizations that focused on serving vulnerable communities," she said. "As I traveled the globe, especially as I worked with organizations throughout the United States and in Central America, I saw that health care in these communities was not being adequately addressed.
"So, in spite of efforts to raise funds for basic needs like food and shelter, it became very clear that if I couldn't help these communities get basic health care, all of the other services and help that I could provide wouldn't be enough to change lives," she said.
In December 2022, IUP's Council of Trustees endorsed the exploration of a possible development of a school of osteopathic medicine at IUP. The university chose to explore the possible development of a school of osteopathic medicine based on several factors, including that there are not enough trained physicians to provide care to Pennsylvania's citizens: the ratio of patients to available primary care physicians is 1,367 to 1, according to the United Health Foundation. More than half of the graduates of osteopathic medicine programs pursue a career in primary care, and many choose to practice in rural areas.
There are only three schools of osteopathic medicine in Pennsylvania, none of which are located at public universities.
"IUP's commitment to addressing the critical shortage of physicians in rural populations through the state's first public college of osteopathic medicine is the right fit with my commitment to addressing the critical need for health care in underserved communities as the starting point to creating real change in people's lives," Rose said.
"My background in fundraising also positions me well with IUP's goal of helping to change the cost of medical training," she said. "If you want to interrupt the poverty cycle you cannot charge the levels of tuition that students are now experiencing and the level of debt that most graduates face.
"One of the most beautiful things about IUP's college of osteopathic medicine model is to provide a public university option to bring down the costs of medical school. In addition to fundraising, which fits with my past experiences, I want to find unique ways to provide financial support to students, including focusing on scholarly activities and scholarships. There are a multitude of ways to decrease the cost and expense of osteopathic medical training, and I look forward to working closely with IUP and the college of osteopathic medicine supporters to meet this goal," she said.
Becoming a physician wasn't a childhood goal for Rose; it came from her work with vulnerable, underserved communities.
"I didn't enter medicine after a lifelong dream of becoming a doctor," she said. "My dream has always been to break the poverty cycle, helping underserved communities and demonstrating to underserved individuals that they can have strength and resilience to recover from even the worst of circumstances. I saw, firsthand, from my boots-on-the-ground work that helping individuals have access to good health care was a key indicator to improving lives.
"So, I went to medical school as a second career because I saw that access to health care was what was really needed," Rose said. "At that time, I didn't know about studies or statistics; since then, there have been many studies, data, and research and reports that the way to change the poverty cycle is to focus on physical health and healing," she said.
Rose has more than 25 years of experience and formal training in life coaching. Drawing upon her experiences with underserved communities, she now creates and facilitates happiness training programs for medical providers and trainees across the country.
"I grew up on powdered milk, I grew up on food stamps, I know what it is like to grow up in poverty," Rose said. "When I was in my twenties, working for nonprofits, I discovered life coaching and the idea that you can go beyond therapy and recovery, beyond trauma and challenges, and completely change the trajectory of your life through life coaching techniques."
In 2013, she was awarded the SAMHSA American Psychiatric Association Minority Leadership Fellowship Grant, from which she built the foundation to develop emotional resilience, happiness, and mindfulness trainings tailored to meet the unique needs of medical providers.
She now offers one of the first formal classes on happiness and joy in medical schools in the nation—which she has been teaching as a for-credit class in two medical schools for the past nine years. This curriculum has since expanded to provide training for peak performance for team coaches, trainers, and student athletes.
In 2019, Rose received an award as one of the top medical educators in the country, the National American Osteopathic Medical Educator Fellowship Teaching award, which is a five-year fellowship.
"Even before I went to medical school, I started to immerse myself in the wellness and life coaching industry. Flash forward 15 years, I've graduated from medical school, I've entered a psychiatric residency, I also did an internal medicine one-year internship, and I re-embraced and was able to bring all the life coaching skills and techniques that I had used personally, to integrate into wellness programming for individuals throughout medical education and training," she said.
In her work at Michigan State University, she expanded her programming into Peak Performance curricula and training that has become formal coursework for credit, embedded into the core curriculum for medical students' wellness and well-being requirements.
"While osteopathic physicians have full accreditation and credentialing to prescribe and practice like any other allopathic physician or doctor, we are trained fundamentally to look at the body system as a wholistic self-healing mechanism and unit," Rose said.
"That is the curriculum I created at Michigan State—a number of courses and coursework for physicians, for students, and for key performing athletes all over the world. I worked with these athletes and top-performing teams, offering presentations and workshops for athletes on peak performance to improve and enhance their performance," she said.
Rose is a 1995 graduate of Wellesley College, with a degree in psychology, and a 2009 graduate of Touro University College of Osteopathic Medicine, where she earned her doctor of osteopathic medicine degree. She is the recipient of numerous competitive scholarships and fellowships, has been an invited presenter at more than 50 conferences and professional meetings, and has authored more than 20 articles in professional publications and journals.
Rose and her family will be relocating to the Indiana area in early 2024.
"One of my intentions in this role is to embed myself in the infrastructure of the community," she said. "I believe it is very important to be living in the community that I serve, and we are very excited to be joining the community as a family.
"What I loved about IUP, aside from unexpectedly falling in love with the town and the community, is that there is something here, even if you feel like you can't overcome challenges, a belief that you can actually draw on your roots and the strengths inherent in your culture and the stories and resilience of your ancestors and do great things. That's always been something that I valued; I just made it into formal academic curriculum because I found early on I had an academic knack, but it's been in my bones and my DNA. That's kind of my ancestral piece," she said.
Rose's mother, Hideko Tamura, is a survivor of the atomic bomb.
"My mother, who lived in Hiroshima, was 12 when the atomic bomb was dropped on Japan. She literally lost everything. Soon after the bomb, a Baptist preacher and missionary came to speak to her community about civil rights. That made a big impact on her," Rose said. "When she was 18, she contacted him, saying she understood what it is to lose everything and told him she wanted to help with the civil rights struggle in America. His church raised money for her to come to America and go to Bennett College, a predominantly Black women's college that also sponsors and welcomes Asian and international students, to come to American and work on civil rights."
Tamura is a peace ambassador for the city of Hiroshima and is chair of the One Sunny Day Initiatives; Rose is also part of the project.
"So, I've always had in my genes and in my upbringing that you can overcome and do anything," Rose said.
The hiring of a founding dean for IUP's proposed college of osteopathic medicine is one of the first steps to establishing the college. Next, IUP will seek accreditation from the American Osteopathic Association's Commission on Osteopathic College Accreditation, a three- to five-year process that includes submission of self-studies and a feasibility study, along with site visits.
IUP continues to see strong support for the project from alumni and friends. In May, Rich Caruso, a 1983 accounting graduate from Meadow Lands and 2023 Distinguished Alumni Award recipient, announced a pledge of $1 million for the project.
In July, graduates Nick Jacobs and Mary Ann Hoysan Jacobs made a donation of $40,000 to advance the project. Nick Jacobs is a 2005 Distinguished Alumni Award recipient who has a 1969 bachelor's degree in education and a 1972 master's degree in music education; Mary Ann Jacobs has a 1968 bachelor's degree in music education and a 1993 master's degree in adult and community education.