The Indiana County Highway Safety Project, part of Indiana University of Pennsylvania's Institute for Rural Health and Safety, is working with Armstrong County Commissioner Pat Fabian, District Attorney Katie M. Charlton, Armstrong County Sheriff Frank Pitzer, the Pennsylvania State Police, and Margy Gray from State Farm Insurance for an awareness campaign about safe driving during the Thanksgiving Day holiday.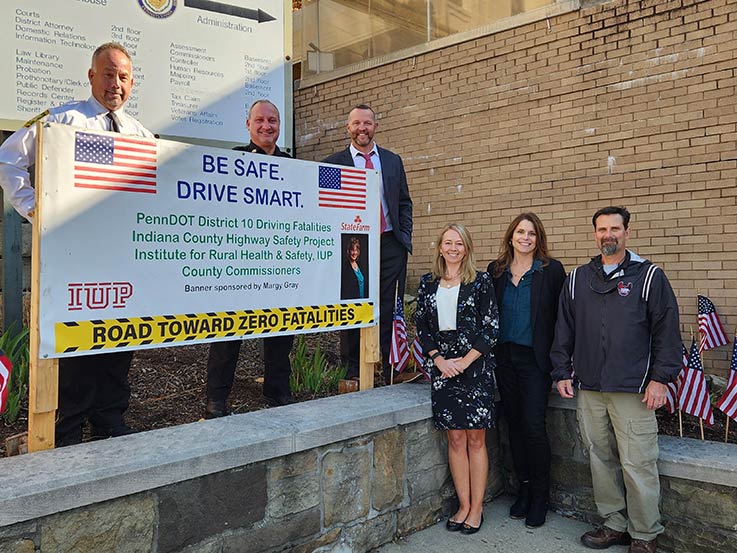 The day before Thanksgiving (this year, Nov. 22), nicknamed "Black Out Wednesday," is considered by national agencies and law enforcement as one of the most dangerous nights of the year for impaired driving. This year's theme to address safe driving during the day before Thanksgiving is called "Operation Safe Holiday."
"Last year in District 10, there were 49 traffic fatalities," Indiana County Highway Safety Project Coordinator Amy Shellhammer said. "We would like to remind people to be safe and be smart.  The holiday season is known for being merry and bright, but it is also known for being the deadliest season when it comes to impaired driving. Unfortunately, every holiday season lives are lost due to impaired drivers. It is our hope that by bringing awareness to this issue it will serve as a reminder to drive safely.
"We will be placing 49 small American flags on the courthouse front lawn prior to Thanksgiving," she said. "A project like this is a great reminder to the community to drive safely during the busy holiday season," she said. "There will also be a banner explaining what these 49 flags represent, sponsored by Margy Gray of State Farm Insurance."
IUP's Institute for Rural Health and Safety received $104,000 in federal funding through the Pennsylvania Department of Transportation for the Indiana County Highway Safety Project, a program designed to promote safe driving, including seat belt use, in the region.
The grant focuses on the PennDOT District 10 counties of Armstrong, Butler, Clarion, Indiana, and Jefferson. Through a cooperative agreement with the boards of commissioners of these counties and the IUP Institute of Rural Health and Safety, the program is designed to offer information and education to serve the statistically identified traffic safety needs for groups in those communities. 
The District 10 area includes approximately 427,000 residents who are traveling on 9,044 miles of mostly rural roadways. According to PennDOT statistics, highway crashes continue to be a threat to the health and safety of highway users throughout the region, Shellhammer said. From 2017 to 2021, there were 2,290 crashes in the region, and the 255 fatalities resulting from crashes in the region were not wearing seat belts.
"Drunk and impaired driving, aggressive driving and speeding, and distracted driving continue to be a significant factor in fatal crashes," she said. "Young drivers (ages 16 to 24) and older drivers (over the age of 65) are overrepresented in all collisions," Shellhammer said. "Education about these issues is a major part of the project objective," she said.
Shellhammer is looking forward to spending time in Armstrong County. One of her favorite presentations is in senior centers on the PA Yellow DOT. This is a program through PennDOT that assists citizens in the "golden hour" of emergency care following a traffic crash when they may not be able to communicate their needs themselves.
Shellhammer is available to present programming to area groups and organizations. She can be reached at 724-357-1352 or by email at Shammer@iup.edu. 
The IUP Institute for Rural Health and Safety began in the early 1980s as the Highway Safety Center. The mission of the Institute for Rural Health and Safety is to bring together university personnel from various disciplines and professional backgrounds to assist the people of Pennsylvania and national and international organizations in solving problems related to highway traffic safety, while maintaining the values of good transportation.
Applying university resources toward traffic improvement, the Institute for Rural Health and Safety is a liaison between university personnel and state and local officials; business, industrial, and professional interests; and other groups and individuals.