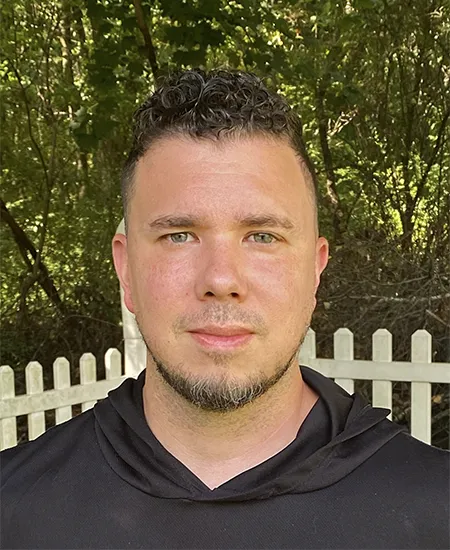 For Tony DiMauro, a faculty member in the Department of Art and Design, the graphic design field is about solving problems so clients can achieve their goals. For him, it's like solving a puzzle, and he loves it.

In this installment of Meet Our Faculty, get to know Tony DiMauro and what drives him to help students.
What is it about the graphic design field that initially drew you in—and that ultimately keeps you interested?
I love the problem-solving that graphic design offers. Every client, every project, and every interaction is a new and different puzzle that needs to be solved, often requiring a broad range of skills to find the best solution. Sometimes it is a technical challenge, sometimes it is a communication or theoretical challenge, sometimes a technological challenge, and sometimes it's a creative one.  
Why do you enjoy teaching in this discipline?
The students! After years of working in the industry and becoming extremely familiar with my own style and methods of problem-solving, it's the students that offer fresh insights and interesting solutions to problems I never would have thought of. It keeps me fresh and interested, and it inspires me to push myself so my messaging stays current, and the students can receive value from the class.
What advice would you give students about how to succeed in college?
Go above and beyond. The projects and assignments you receive (at least in graphic design and illustration) represent a basic set of skills to get a job and become successful in the field. However, networking, internship experience, mentoring, freelance design work, volunteer work, a competitive spirit, and meaningful supporting classes are all ways to push yourself to your absolute potential and get ahead.