All four programs at Indiana University of Pennsylvania's Academy of Culinary Arts have received "exemplary standing" status by the American Culinary Federation Education Foundation Accrediting Commission. This is the highest accreditation standard offered by the Commission.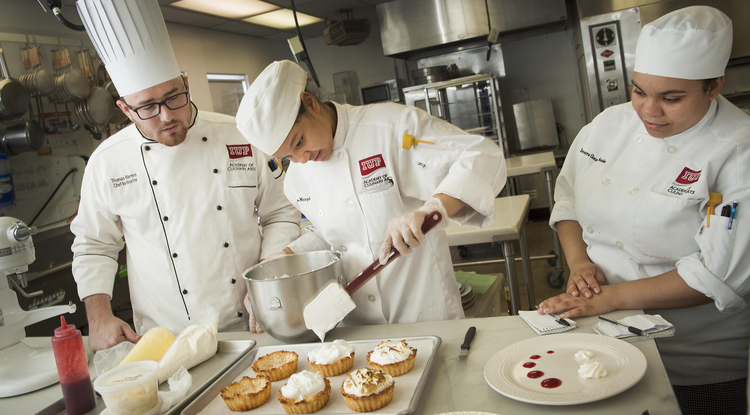 The American Culinary Federation, Inc., established in 1929, is the standard of excellence for chefs in North America. With nearly 20,000 members spanning 200 chapters nationwide, ACF is the culinary leader in offering educational resources, training, apprenticeship, and programmatic accreditation. ACFEFAC is recognized by the Council on Higher Education Accreditation.
"Accreditation is a rigorous and thorough process, requiring examination of five years of information about Academy programs and graduates and a comprehensive on-site visit," IUP Provost and Vice President for Academic Affairs Lara Luetkehans said.
"Receiving exemplary standing for all of the Academy programs reflects the commitment to excellence and to student success shared by all of the Academy chefs and staff," she said. "This recognition is well deserved, and I congratulate everyone for the hard work they have done through this process."
The four programs offered by the Academy that were reviewed by the Commission are the associate degree in applied science in culinary arts, associate degree in applied science in baking and pastry arts, certificate in culinary arts, and certificate in baking and pastry arts.
As part of the team's three-day visit, the Academy hosted a reception for the evaluators where they had the opportunity to meet advisory committee members, alumni, current students, university administration, and Punxsutawney community members.
"The evaluators were impressed with the support shown by the university and the strong ties the Academy has with the Punxsutawney community," Lynn Pike, Academy program chairperson, said. "I am very grateful to the IUP College of Health and Human Services and the Academy of Culinary Arts faculty, staff, and students who helped us reach this goal," she said.
The American Culinary Federation Postsecondary and Secondary Accreditation assures that a program is meeting standards and competencies set for faculty, curriculum, and student services. To be granted exemplary standing, a program must have zero deficiencies.
Since its founding in 1989, more than 4,200 students have studied at the Academy of Culinary Arts. Graduates of this program continue to be in high demand, working in four-star resorts and facilities, featured in national publications, and even in nationally televised cooking competitions.
The 16-month program offered at the Academy of Culinary Arts includes a final semester at a paid externship. Graduates earn a certificate in culinary arts and can also complete a separate baking and pastry program through the Academy. The Baking and Pastry Arts program became a stand-alone program in 2019 to allow for additional growth in this program.
The Academy of Culinary Arts' long-range plan, approved in March 2022 by the IUP Council of Trustees, includes a new, 45,000-square-foot education and multipurpose commercial site anchored in downtown Punxsutawney, with the facility to serve as the main educational, retail, and experiential hub for students and the surrounding community. The new facility will offer between 32,836 and 36,644 square feet of instructional space for Academy students.
Academy students currently have classes at the 36-year-old facility on Gilpin Street in Punxsutawney and at the Fairman Center (the former J.B. Eberhart building) in downtown Punxsutawney.
The long-range building plan calls for the demolition of buildings at 105, 115, 117, and 119 West Mahoning Street (these buildings were gifted to IUP from the Foundation for IUP in 2018); and buildings at 131 and 133 West Mahoning Street, the Dorothy Miller property, that were acquired and gifted in part by building owners Jesse J. Miller and Duane A. Miller in 2021. All of these buildings are adjacent to the Fairman Centre.
A total of $4.75 million of governmental support and $1.36 million in private support and gifts in kind have already been received for the project. Remaining funds for the building project are included in the State System of Higher Education capital allocations budget.
In October 2022, the State System of Higher Education announced that $2.9 million would be released in the 2022–23 budget year for the project; $16 million for construction is in the 2023–24 budget; and $2 million for furnishing and equipment is included in the 2025–26 budget.
Academy of Culinary Arts graduates of either the Culinary Arts program or the Baking and Pastry program are eligible to complete an associate degree in culinary arts with an additional semester of study at IUP Punxsutawney. Students who successfully complete the Culinary Arts or the Baking and Pastry program also have the option to apply up to 38 credits toward a bachelor of science degree in hotel, restaurant, tourism, and event management at IUP or 32 credits toward a bachelor of science degree in nutrition. Admission into the nutrition track is guaranteed for culinary graduates.
Graduates can also apply 21 credits toward a bachelor of science degree in education with a major in K–12 family and consumer sciences. Graduates of the program can choose to take advantage of applying their credits toward any of these bachelor's degree options any time within 10 years after culinary graduation.