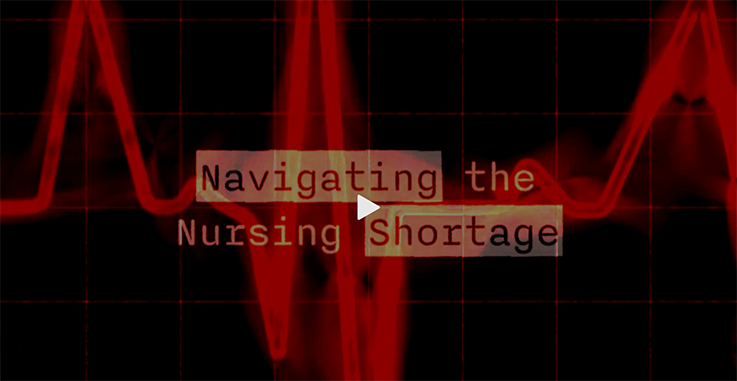 Watch Navigating the Nursing Shortage on YouTube.
Indiana University of Pennsylvania is playing a part in spotlighting the nursing shortage in Pennsylvania and in the nation.
IUP's Department of Nursing and Allied Health is featured in Navigating the Nursing Shortage, a digital documentary produced by WQED Multimedia. The program is funded by the Jewish Healthcare Foundation. It is available on YouTube or at WQED. 
"IUP has been a long-time leader in excellence in nursing education," IUP Provost and Vice President for Academic Affairs Lara Luetkehans said. "IUP nursing and allied health graduates are in high demand because of IUP's outstanding faculty and programs, and IUP is also addressing the shortage of nurses for the workforce through its doctoral program to train nursing educators," she said. "IUP is one of the few universities in the nation to offer degrees through the doctoral level in nursing and allied health."
"We applaud WQED Multimedia and the Jewish Healthcare Foundation for highlighting this important issue facing healthcare in the commonwealth and in the nation," Luetkehans said. "IUP is proud to be part of this documentary."
Theresa Gropelli, chair of IUP's Department of Nursing and Allied Health, and nursing students Brittany Mercinko, of Latrobe, and John Castoldi, of West Chester, are interviewed in the documentary. The program features IUP's simulation laboratory, which continues to be updated with state-of-the-art technology and offers high-fidelity manikins (including infants) who suffer from a variety of health issues. IUP received a competitive $300,000 federal grant in 2010 to establish a simulation lab for students for both in-hospital and in-home care, including telemedicine.
The documentary also features IUP's new virtual reality lab. The VR lab, piloted during summer 2023 in full for the fall semester, offers virtual reality simulations for students.
This means that students, through VR headsets, have the virtual experience of being in hospitals or home-care health settings; they are presented with a number of interactive scenarios; they can also ask for help during the simulation. The simulations are recorded, and then faculty go over the student's responses to provide feedback, answer questions, and provide feedback. This does not replace the clinical experience, but it is designed as an additional training tool for nursing students, including helping them to be more prepared for clinical training. This lab accommodates 24 students.
IUP's master's in nursing and allied health programs include nursing administration, nursing education, or health services administration. The PhD programs are DNP to PhD and PhD in Nursing. IUP also offers a Nursing, Simulation, and Technology Certificate of Recognition.
IUP's master's and doctoral programs are designed for working professionals with online options for all of these programs. Graduates of IUP's Master of Nursing program, accredited in 1992, are qualified to teach nursing students.
IUP's nursing students at all levels are routinely recognized nationally for excellence, including with National League for Nursing Education scholarships.
IUP's nursing graduates hold a 93.5 percent first-time passing rate on the National Council Licensure Examination for Registered Nurses (NCLEX-RN). IUP's rate reflects testing results from 2010 through 2020. IUP nursing graduates' first-time passing rate exceeds the national rate of 86.57 percent, (calculated for 2020 first-time test takers by the National Council of State Boards of Nursing) and the average Pennsylvania first-time pass rate for 2020 of 91 percent.
Annually, more than 130 nursing students graduate from IUP's Nursing and Allied Health Professions program, which holds accreditation from the Commission on Collegiate Nursing Education. More than 700 students are enrolled in IUP's Nursing and Allied Health Department.
The documentary is written, produced, and narrated by Beth Dolinar and edited and photographed by Paul Ruggieri, both Emmy-award-winning professionals.