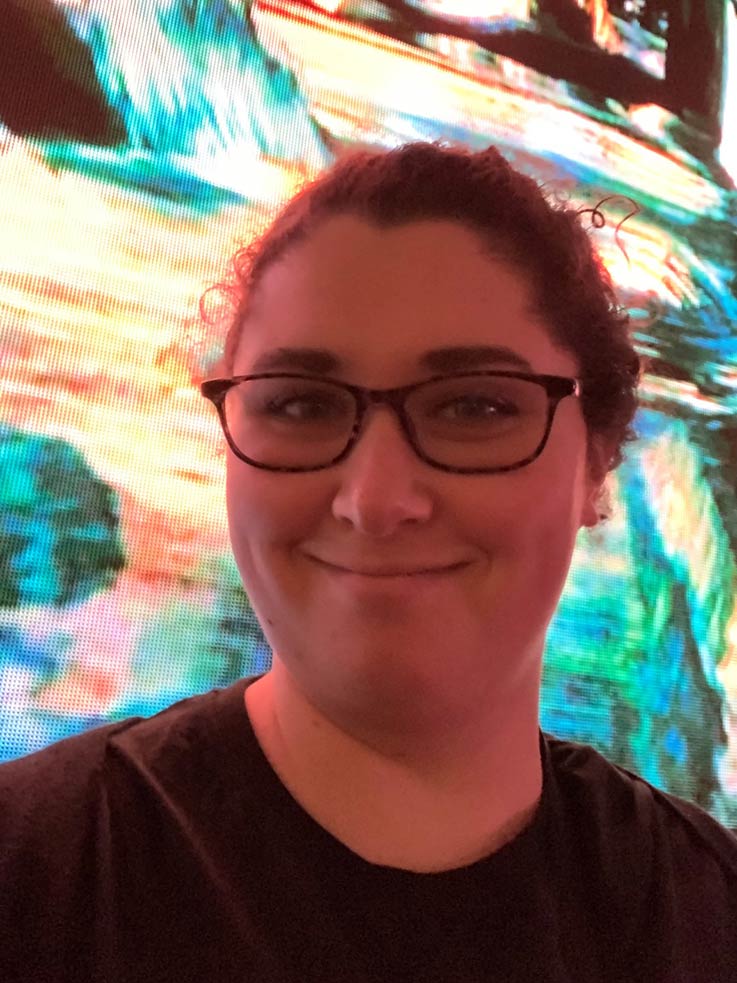 Maddison Hendricks, a 2021 Cook Honors College music education and Spanish education graduate of Indiana University of Pennsylvania, has been selected for a Fulbright English Teaching Award to Spain.
Hendricks, of Sodus, NY, will spend nine months teaching English at a school in the Asturias region of Spain as the recipient of the award.
Hendricks began working toward securing a Fulbright award in 2021 with the IUP National Achievement Scholarship Office, now part of the IUP Office of Undergraduate Research. She was a semi-finalist for the Fulbright Award in 2021 and 2022.
"This has been both a goal and dream of mine for several years," Hendricks said. "It has taken quite a bit of time, dedication, and support to achieve this, but I am beyond excited to embark on this experience."
She is IUP's twentieth student or recent alumni selected for a Fulbright Award since 1968; IUP faculty and administrators have received 75 Fulbright scholarships since 1951.
The Fulbright program is highly competitive, devoted to increasing mutual understanding between the people of the United States and other countries. Fulbright recipients include 62 Nobel laureates, 89 Pulitzer Prize winners, and thousands of leaders across the private, public, and nonprofit sectors. The United States Department of State's Bureau of Educational and Cultural Affairs oversees the Fulbright program. The Fulbright application process is lengthy and involves a number of steps, including essays and letters of recommendation.
"I am in awe of Maddison's determination and persistence," said Christian Vaccaro, who worked with Hendricks on the Fulbright application as IUP's Undergraduate Merit Scholarship advisor. "Her growth through this achievement is such an excellent representation of how IUP helps our students reach heights they didn't know were possible. I hope to see her return to IUP to share her Fulbright experience and inspire the next generation of applicants."
"In addition to Dr. Vaccaro, who has been an invaluable support throughout this process, I received a great deal of help in the editing of my application from Dr. Francis Allard," Hendricks said. "In addition, Dr. Jason Killam, Dr. Craig Denison, Dr. Marjorie Zambrano-Paff, Dr. Vincente Gomis-Izquierdo, Dr. Laura Ferguson, and Dr. Michael Kingan helped throughout the process by providing references, and Kevin Berezansky and Lisa Halmes from the Cook Honors College provided a great deal of support to me throughout the process."
Hendricks graduated from IUP with a perfect 4.0 grade point average. She was selected as the 2021 undergraduate commencement ceremony speaker and was the recipient of a Cook Honors College Achievement Fund Award. She was a University College Fine Arts peer mentor and was active in the National Society for Leadership and Success, the Pennsylvania Collegiate Music Educators Association, Andale Spanish Club, and Conversation Partners. She completed a study abroad experience in Valladolid, Spain.
Daughter of William and Nancy Hendricks, she is a 2016 graduate of Sodus Junior Senior High School. Since graduating from IUP, she has a position teaching seventh grade Spanish at Newark, NY, Middle School.
"I was originally drawn to the Fulbright ETA for many reasons, including excitement about the prospect of gaining teaching experience in music and Spanish and the opportunity to gain experience in the field of Teaching of English to Speakers of Other Languages," Hendricks said.
"However, after falling in love with Spain through studying abroad in Valladolid, I became inspired to pursue an ETA to 'give back' for all the experiences I gained by studying abroad," she said.
"I look forward to using my skills and experiences in language and music education to share my own language and culture and use the elements of music to help students develop understanding of American culture and the English language," she said.
During her time in Spain, Hendricks hopes to use her love of music to strengthen the cultural experience opportunity that the Fulbright provides.
"I plan to take courses in flamenco cajón and txalaparta, both being genres of music which have originated in Spain, in order to increase my understanding of Spanish culture and expand the scope of my percussion studies. As part of my community engagement, I plan to work with area musicians to see what music education is like in Spain and work with percussion students to develop their technique."
When she returns to America at the conclusion of her Fulbright ETA, she to build on the teaching she did in Spain to earn her master's degree in TESOL and join the Peace Corps.
Hendricks credits her student teaching experience while a student at IUP as providing a strong foundation for her ETA program.
"In addition to the classroom skills I've gained in language and in music, with my student teaching experience, I have been able to build on my skills in curriculum design, instruction, and classroom management," she said.
Hendricks said that her experience studying abroad—cut short by the COVID-19 pandemic—taught her a great deal about Spanish culture, but it also reinforced to her that fundamentally, people in Spain and in America are more alike than different.
"After having to leave in the chaos of the pandemic evacuations, I vowed to return to Spain, not only to continue my education, but to give back to the country which gave so much to me," she said. "I'm thrilled to have been selected for the Fulbright ETA, and can't wait to return to Spain," she said.