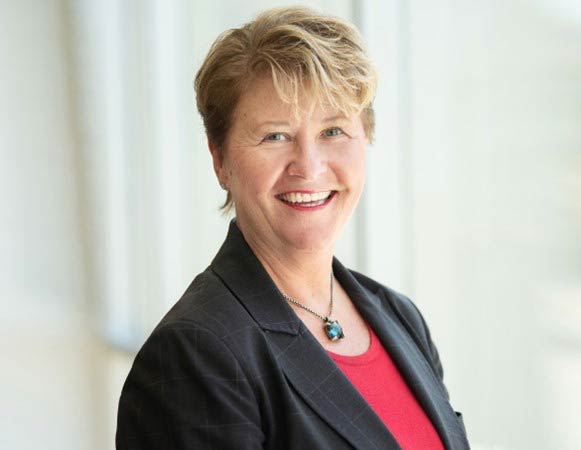 Indiana University of Pennsylvania will honor alumna Bonnie Harbison Anderson, a pioneer in the field of transformative and strategic global healthcare, with an honorary doctor of science degree during the university's spring commencement ceremonies.
IUP's Council of Trustees approved Anderson's selection for an honorary degree at its May 4 meeting.
IUP will hold three commencement ceremonies: the graduate degree ceremony is May 5 at 7:00 p.m.; there are two undergraduate degree ceremonies on May 6, one at 9:00 a.m. for students in the John J. and Char Kopchick College of Natural Sciences and Mathematics and the College of Health and Human Services, and one at 2:00 p.m. for students in the Eberly College of Business, the College of Arts and Humanities, the College of Education and Communications, and the University College.
Anderson will receive her honorary degree from IUP President Michael Driscoll at all three ceremonies and will deliver remarks at each ceremony. Commencement ceremonies will be held at the Kovalchick Convention and Athletic Complex.
Anderson, a 1980 medical technology graduate of IUP, was honored with the university's Distinguished Alumni Award in 2012.
She is the cofounder, former chief executive officer, former president, and chair of the board of directors of Veracyte, Inc., a pioneering genomic diagnostics company headquartered in south San Francisco. The company's tests are dramatically improving clinical outcomes for patients by resolving inconclusive results from traditional diagnostic methods. Veracyte consistently brings to bear evidence that is unprecedented in genomic tests, thereby changing today's clinical practice standards.
In her role as CEO of Veracyte from 2008 to 2021, Anderson spearheaded the company's global strategic expansion, including the development of new products for early cancer diagnosis, designed to help cancer patients avoid unnecessary, costly procedures and surgeries as well as promote significant cost savings in healthcare. 
"Ms. Anderson's work has been groundbreaking in business and the life sciences," Driscoll said. "Not only has she managed her own start-up molecular diagnostics company and directed mature, global enterprises, but she has made a significant impact on future life sciences leaders through her work with the Keck Graduate Institute of Applied Life Sciences. She has a deep respect and passion for the power of education, particularly in the sciences, and IUP is very proud to honor her with this honorary degree."
"This recognition is an incredible honor, and I am humbled," Anderson said. "IUP prepared me for a career I never imagined, and it is with great pleasure I am able to give back to this community of great educators."
Anderson is an active supporter of IUP, currently serving on the current university strategic priorities cabinet, and she will be a member of the President's Task Force for the School of Osteopathic Medicine. She served on the National Campaign Cabinet of the Imagine Unlimited comprehensive campaign and as a member of the John J. and Char Kopchick College of Natural Sciences and Mathematics Advancement Council. In addition to long-time and ongoing service to IUP, Anderson and her late husband, Steve Anderson, made a $250,000 donation to IUP's Imagine Unlimited comprehensive campaign.
In 2020, the Andersons were recognized for their generosity with the naming of the Anderson Rotunda in IUP's John J. and Char Kopchick Hall in memory of her parents, Edward J. and Donna M. Harbison, life-long residents of Indiana.
After graduating from IUP in 1980 with a bachelor's degree in medical technology, Anderson worked for four years in hospital laboratories before being recruited into diagnostic equipment sales. She has directed both early-stage businesses as well as mature, global enterprises.
Prior to founding Veracyte, she provided strategic consulting services to venture capital firms and early-stage businesses. Anderson spent 18 years in executive leadership positions at Beckman Coulter, a global leader in healthcare. She led the company's strategic marketing for its cellular analysis franchise in hematology and flow cytometry, and, as vice president of the intrapreneurial start-up Immunomics Operations, successfully positioned the company's novel tetramer technology as a vehicle for drug and vaccine developers to monitor immune response.
Under Anderson's leadership, Veracyte was named a "Top Workplace" by the Bay Area News Group, based solely on employee feedback, for eight consecutive years (2014–21).
Anderson has received numerous awards for her industry leadership, including the Wallace H. Coulter Award for Healthcare Innovation, 2017; Fierce Pharma's "Fiercest Women in Life Sciences," 2017;  Fast Company's "100 Most Creative People in Business" 2015; San Francisco Business Times "Most Influential Women in Bay Area Business" 2013 and 2014; San Francisco Business Times "Women Bay Area's Most Admired CEOs" 2013 and 2014; and Silicon Valley Business Journal "Women of Influence" 2013.
Anderson serves on the boards of Bruker Corporation and DNA Script and is a trustee of the Keck Graduate Institute of Applied Life Sciences. She is president of the Coalition for 21st-Century Medicine. She previously served on the boards of the Biotechnology Industry Organization and Castle Biosciences.
IUP has granted only 56 honorary degrees in its history. Recipients are leaders in fields ranging from the arts to business to public service and have included the late US Rep. John P. Murtha, Andre Previn, the late James "Jimmy" Stewart, the late Fred Rogers, retired Supreme Court Justice Sandra Day O'Connor, and the late Glenn Cannon.
The IUP Senate Academic Committee makes the nomination and recommends the nominee to the IUP Commencement Committee and the president. The nominee must be approved by the Chancellor of the Pennsylvania State System and the IUP Council of Trustees.