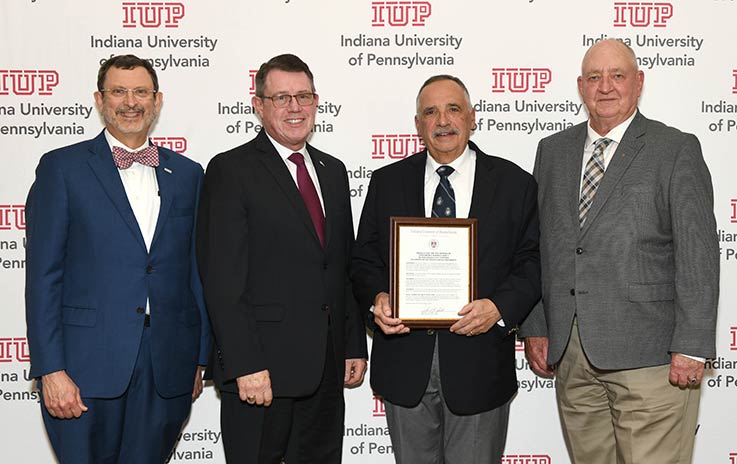 On May 4, 2023, Indiana University of Pennsylvania's Council of Trustees approved naming two rooms in IUP's Kovalchick Convention and Athletic Complex in honor of the contributions from IUP's Phi Sigma Kappa fraternity.
The naming resolution recognized Phi Sigma Kappa as a longtime leader in IUP's Greek (fraternity and sorority) community, including Phi Sigma Kappa's financial contributions to the construction of the Kovalchick Complex.
The Kovalchick Complex opened March 4, 2011; the $79-million, 150,000-square foot facility includes a 5,000-seat arena that is home to IUP basketball and volleyball and a corporate training and executive conference center offering six meeting rooms and three offices for use by event planners. Conference rooms six and seven will be named in honor of the fraternity and its impact.
Alumni of the fraternity Kim Lyttle, a 1972 bachelor's degree and 1974 master's degree graduate; Vito Don Giovanni, a 1972 bachelor's degree graduate, 1975 master's degree graduate, and 1988 doctoral graduate; and Carl Johnson, a 1973 graduate, represented the fraternity during today's meeting.
"The bonds that our alumni create at IUP last for a lifetime," IUP Vice President for Advancement Khatmeh Osseiran-Hanna said. "The care and affection they have for one another, and for this university, continues to be demonstrated through their gifts of time, talent, and treasure," she said. "We continue to appreciate the donations that made the Kovalchick Complex a reality—this facility was transformational for this university, for this community, and for this region," she said.
The Trustee resolution noted Phi Sigma Kappa's national impact as lifelong brotherhood organization, "dedicated to the betterment of the individual, the university community, and the world, by giving its members opportunities to develop leadership skills, participate in service to others, achieve academic excellence, experience cultural diversity, and practice personal integrity."
Alumni of the IUP chapter were recognized as working to help members "combine formal and informal learning experiences, more fully appreciate the importance of both theoretical and practical knowledge, and, through a broadened understanding of human relationships, become men of wisdom who will be better prepared to make positive contributions to society and to all mankind."