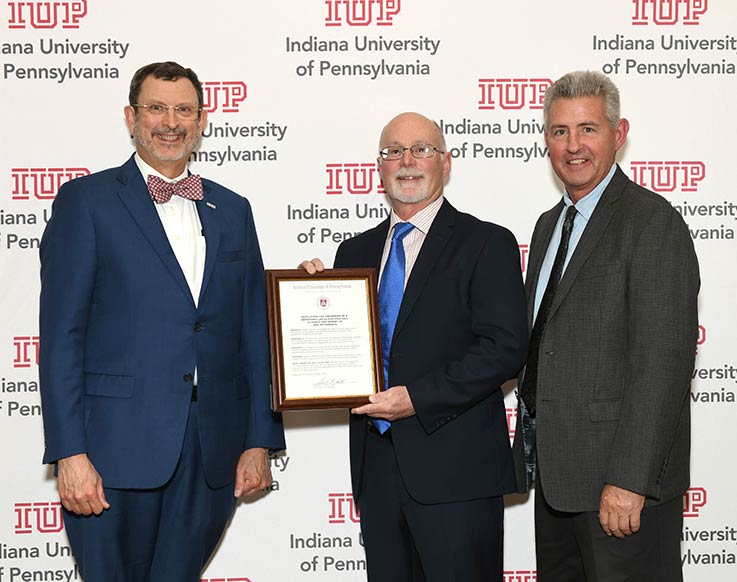 On May 4, 2023, Indiana University of Pennsylvania's Council of Trustees approved the naming of a geoscience laboratory in IUP's John J. and Char Kopchick Hall in honor and memory of one of the founding members of IUP's Department of Geoscience.
The laboratory will honor the late Walt Granata, one of the founding members of the Department of Geoscience. The department was founded in 1968; Granata was chair of the department from 1972 to 1977 and continued leading field trips with students until his retirement in 1981. Granata passed away in 2013.
The resolution recognized that Dr. Granata "was instrumental in building a strong reputation as a field geology program helping students both in and out of the classroom," and that "his presence continues to influence students through the Walt Granata Foundation account which supports field geology experiences."
Granata began his career at IUP in 1967 in the Chemistry Department.
The resolution also recognized the IUP graduates of the program who joined together to create a donation for the lab, including Daniel Markey, a 1977 geoscience graduate of IUP. Markey, formerly from York, now lives in The Woodlands, Texas. He retired as vice president of exploration from Tana Exploration LLC, Houston, Texas.
"Our faculty make a deep and life-long impact on the lives of students," IUP Vice President for University Advancement Khatmeh Osseiran-Hanna said. "In so many cases, alumni tell us that IUP opened doors of opportunity and possibilities, and truly changed their lives. It's very gratifying to see how our alumni want to give back to the university because of the experiences they have had at IUP."
Markey, a member of the Kopchick College of Natural Sciences and Mathematics Advancement Council, made a matching gift commitment of $50,000 in "Doc" Granata's honor and worked with members of the university to solicit alumni support to meet the $100,000 goal for the laboratory, which will be used by geoscience faculty and students. Kopchick Hall, which will be the hub of activity for all things math and science, will open in spring 2024 for classes.
"Doc Granata ensured that we were well prepared for our careers," Markey said. "For much of the success I had in my decades-long career in the oil and gas industry, I owe to IUP. Specifically, Dr. Walter Granata—"Doc G"—was instrumental in my geology education as teacher, leader, and mentor," Markey said. "(Doc G served) in that impactful role to our group of young impressionable students that arrived on campus in the 1970s. He was also the guiding influence on my decision to pursue my graduate degree at Texas Tech University," Markey said.