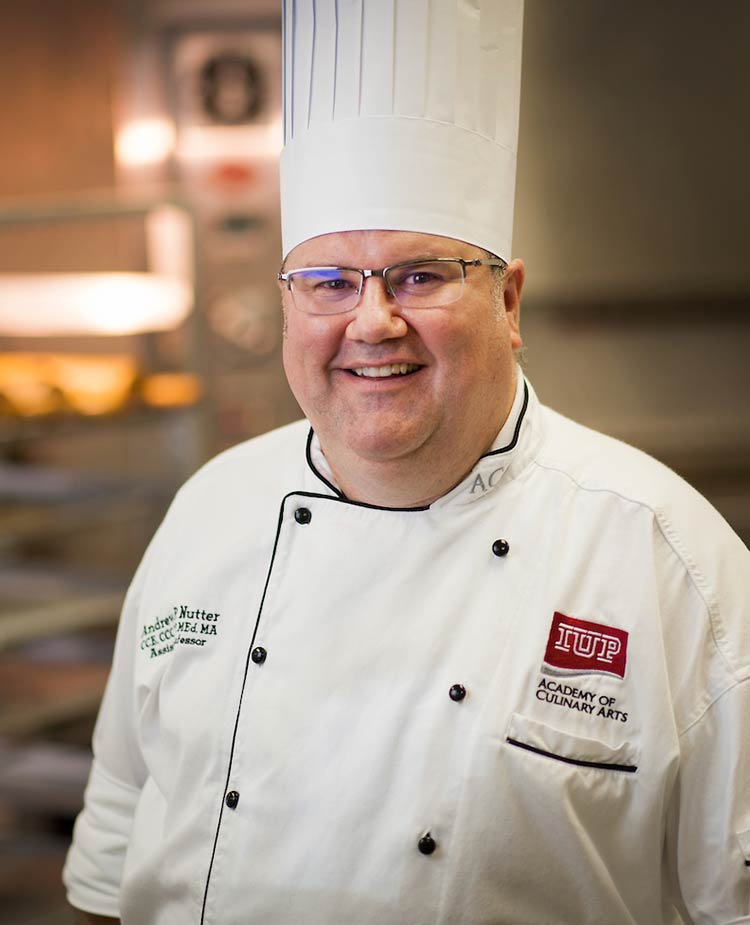 Chef Andrew Nutter encourages his students at the IUP Academy of Culinary Arts to immerse themselves in food.
With a career spent in some of the best kitchens in America—including the Westin Hotels and Resorts on Hilton Head Island, South Carolina, and the Allegheny Country Club in Sewickley—Nutter knows what it takes to land those kinds of jobs.
His chief goal as a chef instructor at IUP is to make sure his students have all the skills they need to be a success.
What is it about the culinary field that initially drew you in—and ultimately keeps you interested?
Growing up as a "latchkey" kid, I was always kind of responsible for making my own food when I was younger. I always enjoyed making food from scratch.
My mom came from a huge Italian family, and I can remember family gatherings where we always celebrated around a table of food. Every Sunday, we would go to my grandma's house, and there was always pasta, bread, salad, and fruit for dessert. There were huge picnics in the summer for all the holidays. We always looked forward to our huge family reunion. We cooked fish and seafood that we would buy on our last day in Ocean City, Maryland, with my dad when I was young, and we helped my mom with Thanksgiving dinner.
I have always believed that family and culture mold a chef's style. Trying to keep what has been a part of me and to implement those methods into using new ingredients keeps me interested in cooking.
How is your experience as a working chef valuable to you in terms of instructing your students?
Real-world experience cannot be learned from a textbook. I always like to compare cooking to music or sports. Anyone who picks up an instrument wants to immediately play a song. You cannot play a song without first learning the notes or the scales. Once you learn that, then you learn the intricacies of your instrument and practice the techniques to make music.
Sports are no different. No one can get good at shooting a basketball by reading a book. These skills and techniques require hours of practice. Cooking is a series of skills and techniques that require practice. One must practice these skills (perfectly) hundreds—if not thousands—of times.
What advice would you give students about how to succeed in culinary school/college?
To be successful in any endeavor, you must commit to it. I ask the students to
immerse themselves in food,
learn all they can learn about the cultures and cuisines they are interested in,
travel to locations that are new to them,
develop a palate by tasting everything that they can,
read industry magazines and periodicals,
get involved in your studies,
pay attention during critique,
taste everything,
ask questions,
respect your chefs,
learn from your mentors,
and always remember that you cannot build a reputation on what you are going to do.