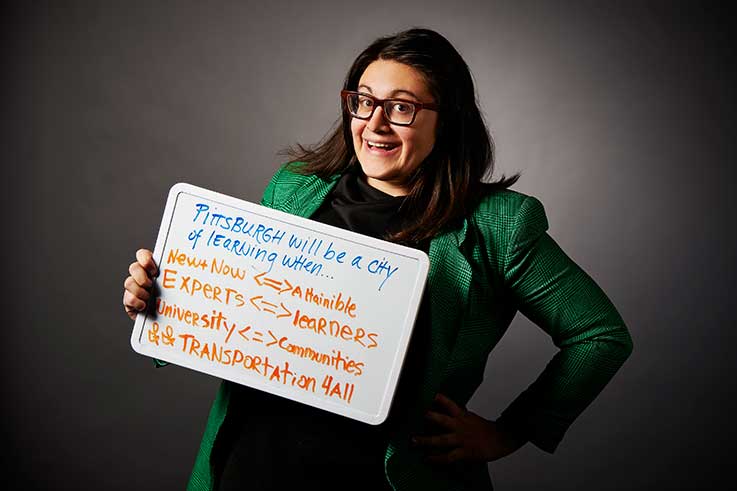 Indiana University of Pennsylvania's STEAMSHOP (Science, Technology, Engineering, Arts, and Mathematics) will host a Future Makers Forum with Pittsburgh-based maker Nina Barbuto on April 25.
The presentation will take place at 4:30 p.m. at the Robertshaw STEAMSHOP, room 25. It is free and open to the community.
Barbuto's passion for art, new media, and social learning led her to found Assemble, a community space in Pittsburgh's Garfield neighborhood for arts and technology in 2011. She also is the cofounder of I Made It! Market, an idea based on urban acupuncture. This nomadic market partners with community, arts, and nonprofit organizations to raise funds and awareness to assist in improving their communities while allowing local artists and crafters to sell their wares. It was named "Best Place to Buy Locally Made Crafts" by Pittsburgh City Paper in 2022.
She was the program manager for the Girls, Math, and Science Partnership at the Chevron STEM Center at the Carnegie Science Center. She also is an adjunct faculty member at Carnegie Mellon University, where she earned a bachelor's degree in architecture. In addition to her Carnegie Mellon degree, she has a master's degree in architecture from Southern California Institute of Architecture.
She works in a variety of media, including architecture, film, sound, and installation, often exploring the idea of recycling noise into a system, or elevating the vernacular to the spectacular. She has also studied biological architecture and was involved in a research project about Los Angeles public schools.
This is the first Future Makers Forum event hosted by IUP, which is designed to showcase makers, especially makers from underrepresented populations. The Forum, designed to continue with additional artists, engineers, designers, and other changemakers, provides an opportunity for these makers to talk about their journey. 
STEAMSHOP is a campus-wide initiative intended to transform learning at IUP by empowering students from all backgrounds and preparations to actively engage with an interdisciplinary digital fabrication lab (makerspace).
The technological, entrepreneurial, and leadership skills gained through participation in STEAMSHOP programming better prepare students for the rapidly evolving workforce.
STEAMSHOP activity is part of all IUP's colleges and many offices, including the School of Graduate Studies and Research.
"In addition to a makerspace focusing on student and new user training, IUP's program is committed to improving diversity in the maker community; bringing a maker like Ms. Barbuto to campus fits perfectly with this mission," said Hilliary Creely, dean of the IUP School of Graduate Studies and Research. "I feel certain it will meet our goal of providing inspiration to our students and to interested members of our community."
Frederick Adkins, a faculty member in the IUP Department of Mathematical and Computer Sciences, is leading a number of STEAMSHOP initiatives.
"IUP continues to be incredibly supportive of STEAMSHOP initiatives," Adkins said. "Connecting students with digital design technology and helping them see how others incorporate creative prototyping into their careers is an important part of our mission."
In addition to the Future Makers Forums programs, IUP will host a summer camp for children who have completed grades 8 to 11 from June 19 to 23.
This camp, coordinated by Adkins and presented by IUP faculty, will offer campers the opportunity to use IUP STEAMSHOP to design and build their own robotic cart, hands-on activities with drones, and time to experiment with a collection of safety and ergonomic data.
The camp is financed through funding IUP received in fall 2022 through the Southwestern Pennsylvania New Economy Collaborative's Build Back Better Regional Challenge grant.
More information about this summer camp experience will be available online or by contacting Professor Adkins at fadkins@iup.edu.
Following Barbuto's presentation on April 25, students in Art and Design faculty members Sharon Massey and Sean Derry's three-dimensional art and design course will present the artwork they have created through IUP's STEAMSHOP in a mock reality competition show, Design Stars of IUP. This program, also open to the community, begins at 6:00 p.m. in Robertshaw, room 25.