Indiana University of Pennsylvania students and faculty are working with Indiana Borough on a national pilot program to help create stronger and more informed community health, especially in rural areas.
As one of five successful applicants in the nation, Indiana Borough—in collaboration with faculty and students from IUP's Department of Biology and Department of Mathematical and Computer Sciences—will evaluate a device supplied by the Water Environment Federation designed to provide simple, "point of use" analysis for wastewater evaluation.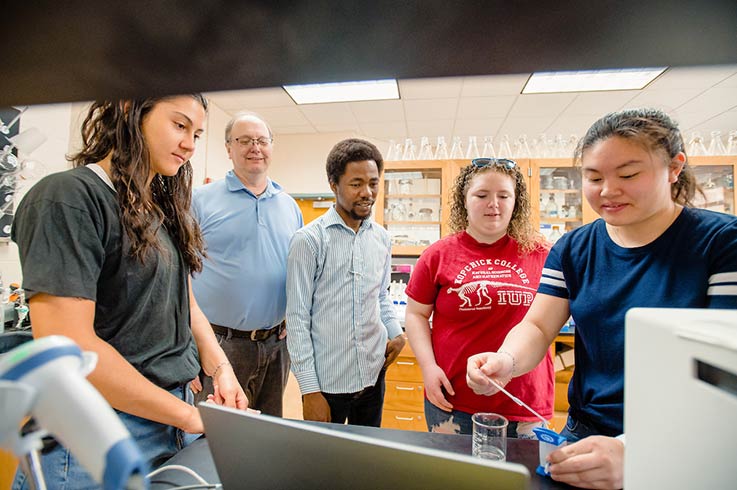 The machine will identify the presence of diseases, including SARS-CoV-2 (COVID-19), various strains of influenza, and respiratory syncytial virus (RSV).
This GeneXpert Automated PCR (polymerase chain reaction) machine will be housed in the Department of Biology, with students supervised by N. Bharathan in biology and Yongtao Cao in mathematical and computer sciences responsible for analyzing the samples.
The WEF project is a collaboration with the Centers for Disease Control and Prevention. The information generated by analysis of the machine's data will help the WEF and the CDC to determine the efficacy of these smaller PCR machines in rural communities.
This initiative builds on IUP and Indiana Borough's ongoing community wastewater surveillance project, which includes data collection, modeling, forecasting, and public health interpretations. IUP began working with the surveillance program in spring 2021.
Roland Francis, pretreatment coordinator and assistant wastewater superintendent for Indiana Borough, has been Indiana Borough's leader for the wastewater surveillance program and authored the grant application for the WEF project. Francis, a 1984 IUP biology graduate, recently joined the IUP Research Institute as a part-time field manager in charge of the wastewater surveillance program, and he will direct the WEF project.
"IUP is really pleased to collaborate with Indiana Borough on this project, which has long-range implications for community health across the nation," Steve Hovan, dean of IUP's John J. and Char Kopchick College of Natural Sciences and Mathematics, said. "It also provides that hands-on, real-life experience for our students, and we couldn't be happier that Roland suggested that IUP students and faculty work on this project," Hovan said. "Roland has been an incredible and steadfast partner throughout our work on wastewater surveillance."
Currently, Indiana Borough collects samples for analysis for COVID-19 and other diseases by a national company, Biobot Analytics, Inc. The samples also are also analyzed by the Allegheny Health Department, and the results are used by the Allegheny County Department of Health, the Pennsylvania Department of Health, and the CDC. Francis then works with the Indiana Borough team to announce results weekly on a dashboard on the Indiana Borough website in order to give everyone the opportunity to make informed decisions.
The goal is to soon have a regional dashboard to disseminate the data so that it is available to all local medical centers, including Punxsutawney and Conemaugh, as well as to the communities at large.
"Because we have this ongoing sampling project—which we will continue during the WEF program—we will be able to compare results from the machine being tested with the results from Biobot Analytics; this duplicative analysis will provide a third data point to help us to determine and ensure reliability of the machine," he said.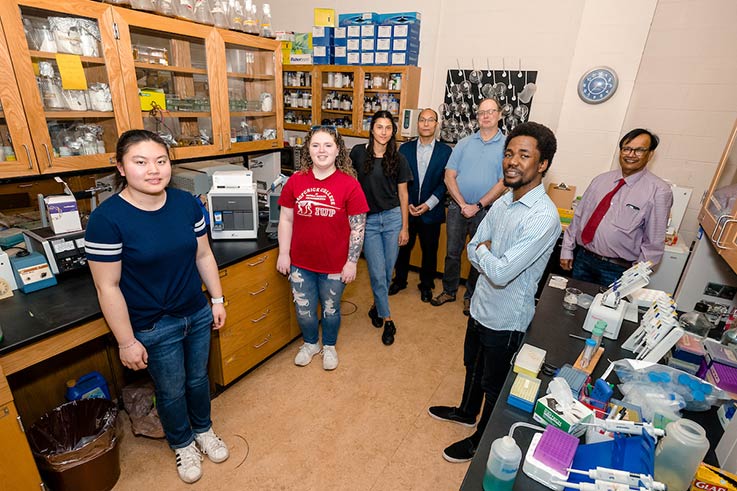 Joining Francis for the WEF project are Dave Allen from Indiana Borough as the sampling lead; testing lead Bharathan; data lead Cao; and Bharathan and Richard Neff from Indiana Regional Medical Center as health leads, in charge of public health clinical action protocols.
The IUP students working directly with sample testing and analysis are Cassandra Booth, a biology-pre-medicine major from Apollo; Akinbusola Olushola, an applied mathematics major from Nigeria; Lydia Vlachou, a public health major from Greece; and Bonnie Lin Xu, an accounting major from Indiana.
At IUP, Booth is a member of the American Medical Student Association, the IUP Anthropology Club, Phi Eta Sigma honor society, and the National Society of Leadership and Success. Vlachou is a Cook Honors College student and member of the varsity tennis team at IUP. Xu is a member of the Student Managed Investment Portfolio and Student Association at IUP.
"We received notification of our selection for the program in February," Francis said. "We set up the PCR machine in the Biology Department in Weyandt Hall, and students began testing and analysis in April.
"It's actually a very straightforward project," he said. "The IUP students pick up the samples from Indiana Borough, process them through the analyzer at IUP, and upload the results through a web-based reporting system."
The first analysis of the data will be sent to the WEF after 12 weeks of sampling.
"The CDC and the WEF want this machine to help expedite the health and safety of individuals and communities, especially in rural areas," Francis said. "Because the machine is both affordable and simple to operate, it can help rural communities that may not be able to afford national testing companies to better understand the health of their communities," he said.
"The manufacturer has also created sampling cartridges that are at a lower cost than those required by larger PCR machines, adding to the affordability for testing and analysis in smaller communities," Francis said.
In addition to Bharathan and Cao, IUP team members working on the Indiana Borough wastewater surveillance program include Frederick Adkins, mathematical and computer science faculty member; Hilliary Creely, dean of the School of Graduate Studies and Research; Hovan; Christina Koren, director of strategic projects; Lara Luetkehans, IUP provost and vice president for Academic Affairs; Khatmeh Osseiran-Hanna, vice president of the Division of University Advancement; and Kristi Storti, director of IUP's Public Health program.
The Indiana Borough Regional Wastewater Treatment Facility services more than 70 miles and processes more than 8 million gallons daily; it includes service to Indiana Borough, IUP, and White Township. The plant is located in Center Township.
The WEF is a not-for-profit technical and educational organization of more than 34,000 individual members and 75 member associations representing water quality professionals around the world. The WEF collaborated with the Centers for Disease Control and Prevention for this initiative, called the Rapid Wastewater SARS-CoV-2 Testing Challenge, to identify simple, "point-of-use" analytical methods for wastewater SARS-CoV-2 quantification that can be used to generate useable data within hours of sample collection. The GeneXpert Automated PCR, offered by Cepheid and Hach, was selected as one of the Challenge winners.
This technology fully automates the extraction and measurement of SARS-CoV-2 and other targets in wastewater in a self-contained cartridge. Each PCR analysis takes approximately 40 minutes with only two minutes of hands-on time, and no prior laboratory experience is required.
The WEF rationale for the project includes concerns about the "intensive labor and capital required for conventional PCR testing," which means that wastewater SARS-CoV-2 quantification has typically been the domain of well-equipped academic, public health, and wastewater utility laboratories.
"Wastewater testing for sites without onsite laboratories, but where such information might be particularly helpful—such as schools, long-term care facilities, prisons, and jails—requires that samples be sent offsite to suitable laboratories for analysis which can impair the actionability of the wastewater data," WEF officials said.