Indiana University of Pennsylvania and the IUP Research Institute were chosen by the International Research and Exchange Board (IREX) to host two international visitors as part of the University Administration Support Program Fellowships in Research Management.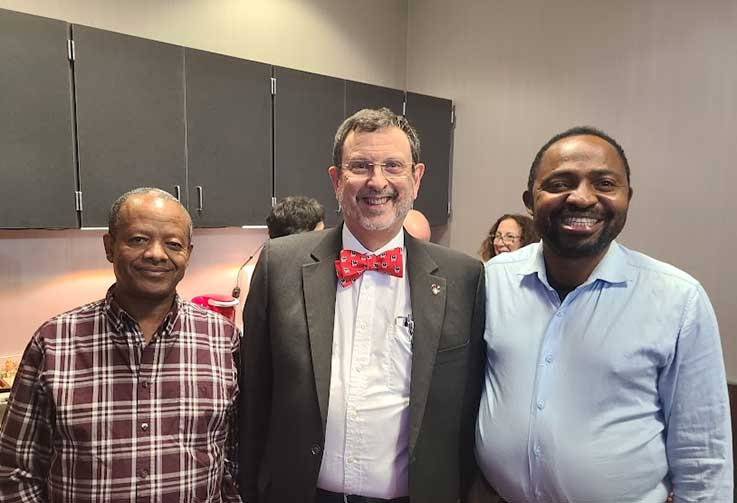 Mekasha Kassaye Gobaw, lecturer in the Center for Comparative Education and Policy Studies at Addis Ababa University, Ethiopia, and Victor Okorie, lecturer/researcher in the Department of Agricultural Extension and Rural Sociology at Obafemi Awolowo University, Nigeria, visited IUP from February 19 to March 18.
The two were chosen from a pool of applicants by IREX and paired with IUP. The two met virtually with IUP personnel during the fall 2022 semester, and upon completion of the virtual meetings, both were chosen to visit the IUP campus.
This is the first time for IUP to participate in the program, which has involved more than 250 fellows from 19 countries. IUP is one of only 80 US universities chosen for a partnership for the program and is the only Pennsylvania university chosen as a 2022 in-person host university.
The purpose of the University Administration Support Program Fellowships in Research Management visit was for these international educators to learn about the overall research infrastructure at IUP.
The two joined several meetings in the RI to learn about day-to-day operations and met with a number individuals and offices, including Provost and Vice President for Academic Affairs Lara Luetkehans, members of the Office of International Education, the School of Graduate Studies and Research, the Applied Research Lab, the Jones White Writing Center, the IUP Libraries and Learnings Commons, Grants Accounting, the IUP Research Institute, and the Scheeren Literacy Center, where they heard an informal presentation of a doctoral dissertation on children's literature used to teach reading in schools in Pakistan.
"It was an honor for the RI, and IUP, to host these two distinguished academics," Interim Director of the Research Institute Tracy Eisenhower said. Eisenhower served as the lead point of contact and host mentor for the visit.
"While they felt that they learned a great deal from us, it was also an excellent opportunity for us to hear from them about the structure of graduate education and research at their home institutions and to hear their perspectives on our organization and use of institutional resources.
"We intend on keeping in touch with Drs. Gobaw and Okorie to see what additional formal or informal relationships or exchanges that can be developed for the future," she said.
The IUP Research Institute works with faculty and staff to provide research administration assistance at all stages of externally funded projects by promoting research and creative activity, encouraging collaborations, responsible stewardship of funds, and award management and compliance. It is a separate, private, nonprofit corporation affiliated with IUP and is the only entity of its type in the State System of Higher Education. It provides research administration services to the campuses of Commonwealth University and Pennsylvania Western University through a shared services initiative.
Both men had high praise for the IUP structure, the RI, and the professionalism of the staff that they met.
"We saw very high standards in everything that was done, from pre- to post-award procedures of the RI," Gobaw said. "Offices like the Applied Research Lab, the Writing Center, and others, all were clearly dedicated to enhancing the research agenda and serving the community. The Kuali grants management system also clearly contributes to the compliance and the efficiency of IUP's research initiatives," he said.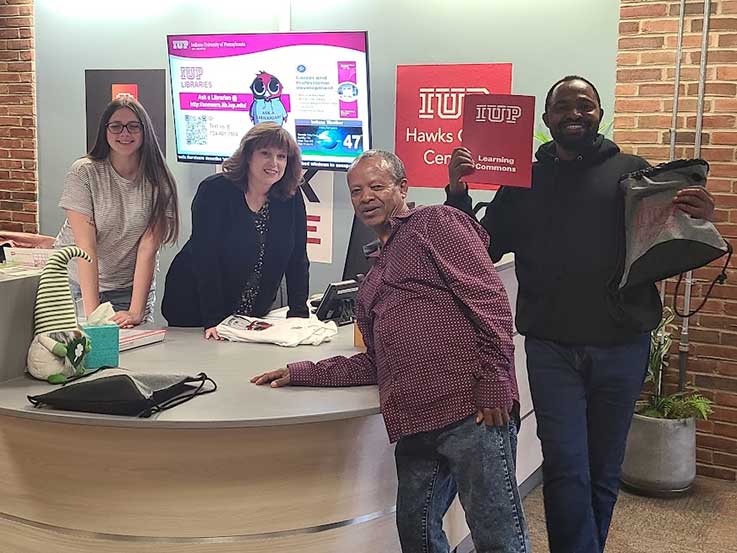 The visitors also recognized the high level of technology use in every place they visited.
"This shows me that the university is truly interested in building its capacity for research and grants," Gobaw said. "It is a very positive takeaway from the visit. We also saw that students were at the center of the operations, and the university's commitment to diversity is well managed," he said. "It's not always easy to get people to work together, but IUP has done a great job with this."
Okorie was impressed with the work IUP's Career and Professional Development Center does to prepare students for the job interview process. Both were impressed with the Writing Center, a program he felt that would significantly benefit the students at his home institution.
"Our visit to the IUP Writing Center and the Literacy Center have inspired me to go back to my home university to see what can be developed for our students and faculty," Okorie said.
"The campus is beautiful, with green spaces, so much tranquility, which can really boost ones' imagination, especially for writers," Okorie said.
The program was developed by IREX with the belief that research management capacity is essential to research excellence, IREX officials said. The program, developed and implemented by IREX and supported by the Carnegie Corporation of New York, assists mid- to senior-level university leaders (managers, administrators, and faculty) from across Africa to develop their capacity to manage research and knowledge transfer through a three-stage program that includes a 70-hour online research management course alongside colleagues from across Africa, a virtual fellowship experience with a US partner university, and—for a subset of fellows—a five-week in-person fellowship in the United States to visit their US partner university and participate in additional training.
Following their visit to IUP, Gobaw and Okorie will be expected to produce a comparative case study and an implementation plan in a specific area of university research management to guide them and their colleagues in implementing sustainable reform at their home institutions.