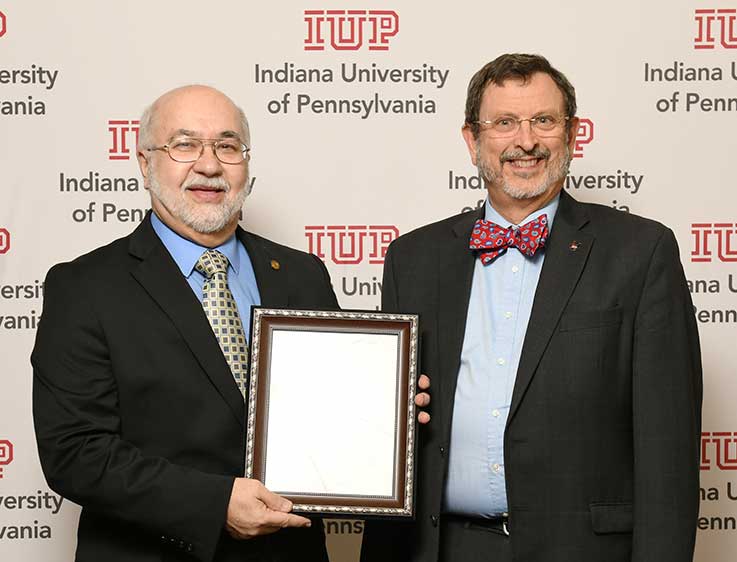 At its meeting on March 23, Indiana University of Pennsylvania's Council of Trustees honored a retired Music Department faculty member by naming a space in IUP's Cogswell Hall, home to the department, in his honor.
The Trustees approved a resolution to name the Kevin Eisensmith Trumpet Studio in honor of Eisensmith, in recognition of his "exemplary work and his significant impact on music and on the lives of IUP students."
Eisensmith was a member of the IUP faculty from 1998 to 2022. He served as assistant chair of the department and, during his years at IUP, directed the IUP Jazz Ensemble, Trumpet Ensemble, Alumni Trumpet Ensemble, and Faculty Brass Quintet.
"Dr. Eisensmith and I were students in the IUP Music Department at the same time, both of us being alumni," said Curtis Scheib, dean of the College of Arts and Humanities. "I have many wonderful memories of that time and of course endless appreciation for Dr. Eisensmith's ongoing work at IUP and the profound influence he had on many generations of students."
Eisensmith has performed in 16 states and 12 countries outside of the United States, including Australia, Austria, China, Costa Rica, the Czech Republic, German, Great Britain, Italy, Japan, Poland, Russia, and Thailand.
He also has been a freelance performer with internationally known musicians including Doc Severinsen, Bob Hope, Natalie Cole, Julio Iglesias, Peter Nero, Marvin Hamlisch, Dave Brubeck, Aaron Neville, Roberta Flack, Melissa Manchester, Peabo Bryson, Gladys Knight and the Pips, Andrea McArdle, Osmond Bros. and Andy Williams, Frankie Valli and the Four Seasons, the Lettermen, the Moody Blues, Mannheim Steamroller, Shari Lewis, Olivia Newton-John, LeAnn Rimes, Frank Sinatra Jr., Judy Collins, Bernadette Peters, Barbara Eden (in Woman of the Year), Richard Harris (in Camelot), and Carol Channing (in Hello Dolly!).
He also has been active in local and regional symphony orchestras, including in Altoona, Johnstown, and Westmoreland symphony orchestras, including as principal trumpet, and with the Wildcat Regiment Band, Keystone Wind Ensemble, and IUP's HoodleBug Brass quintet.
He has made dozens of recordings, including as a member of the IUP Keystone Wind Ensemble, Faculty Brass Quintet, and Symphony Band, the EKU (Eastern Kentucky University) Brass, and the Atlanta Symphony Orchestra. He also has authored more than 50 published papers in professional journals and has been an invited presenter for conferences all over the nation and internationally. 
Internationally known for his work and commitment to the music profession, Eisensmith has received the Distinguished Service Award from the National Trumpet Competition and the Award of Merit from the International Trumpet Guild, an organization he has served as secretary, president, and immediate past president. At IUP, he was honored with the University Senate Distinguished Faculty in the Creative Arts award in 2014.
Eisensmith has also been praised for his commitment to his students and to his active involvement in events and programs responsible for bringing prospective students to IUP, including hosting the IUP Jazz Festival, which brings talented high school students to IUP. He has also served on advisory boards for the IUP Lively Arts and IUP Magazine.
He also served in the US Army Forces Command Band (214th) at Ft. McPherson in Atlanta from 1978 to 1984.
Eisensmith is a 1978 bachelor of science in music education graduate of IUP. He received a master of music in trumpet performance from Georgia State University and his doctor of musical arts degree in trumpet performance from Temple University.