By Bob Fulton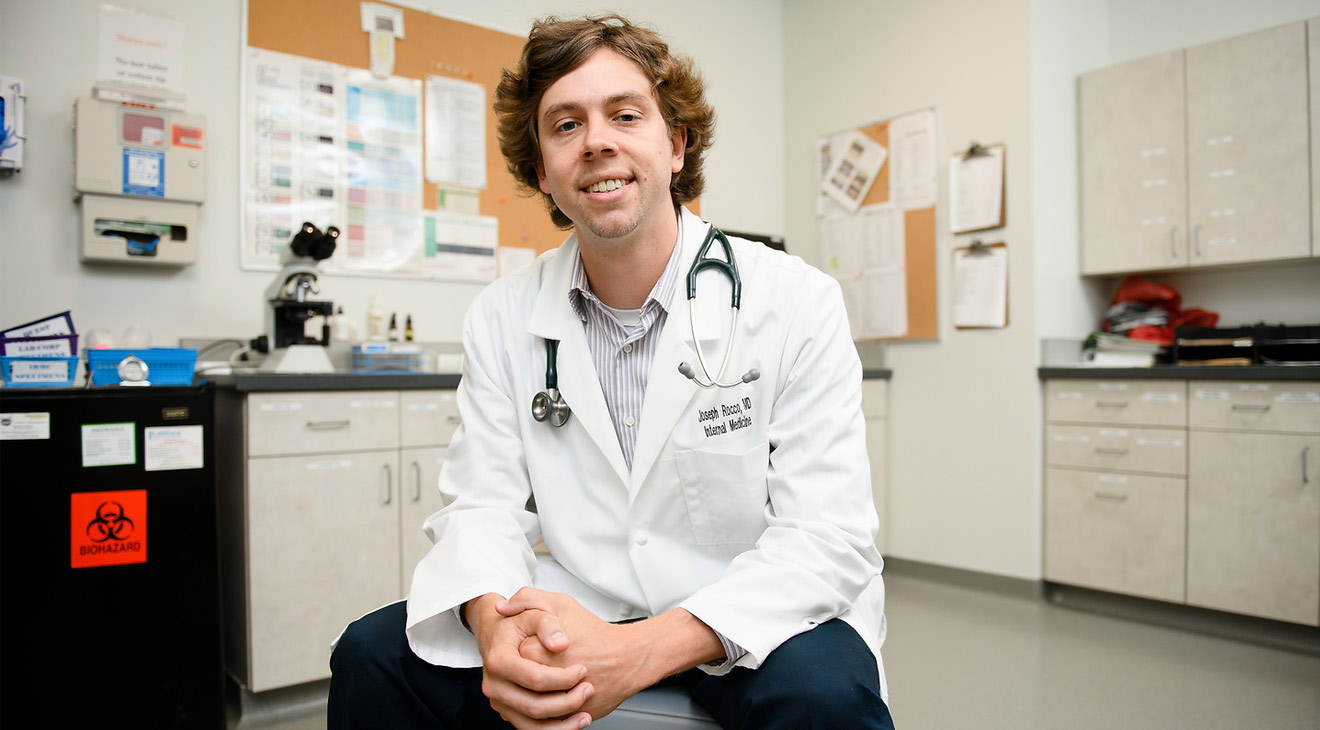 Joe Rocco once played for a record-breaking IUP basketball team. He now excels as a member of an even more celebrated team: the one Dr. Fauci led for nearly four decades.
Rocco began a fellowship in July 2019 at the National Institutes of Health in Bethesda, Maryland, working under Anthony Fauci, who retired this past December as the nation's foremost expert on infectious diseases. Rocco's experience has proved something of a wild roller-coaster ride, especially after a global pandemic thrust Fauci and his team into the spotlight—and under the gun.
Rocco served on the front lines as NIH doctors treated COVID-19 patients while trying to get a handle on the deadly, highly contagious coronavirus. Lab work he and others did played a critical role in arresting the pandemic's progress.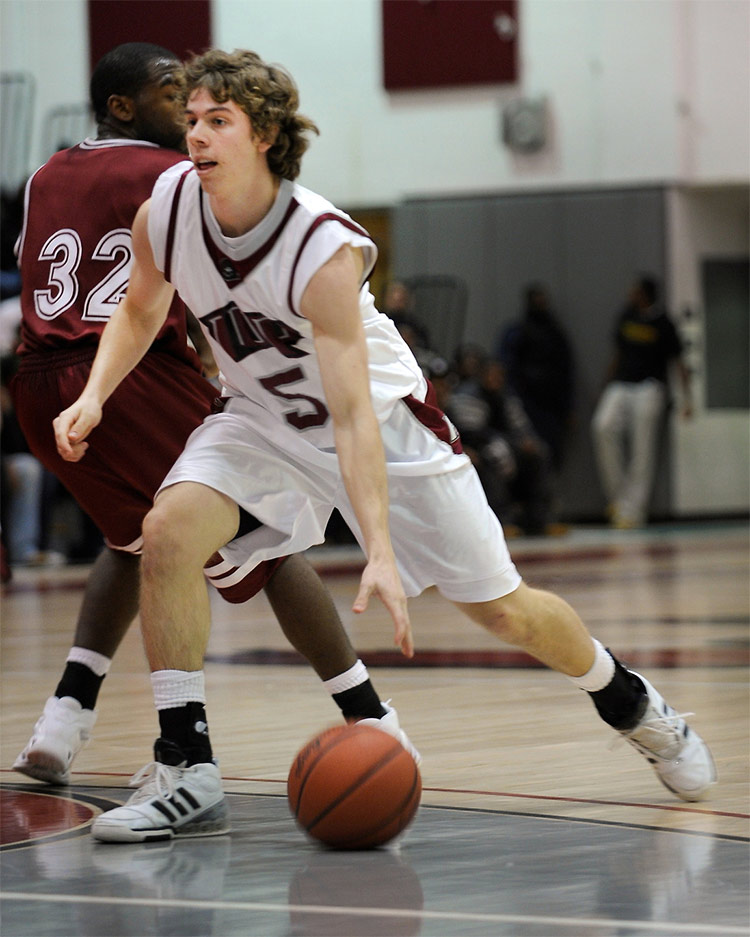 "Looking back, you certainly feel like you contributed significantly from the research side and the clinical management side," Rocco said. "I do sometimes think back to the early days and feel grateful for how far we've come and feel very appreciative that I was able to contribute a piece to the knowledge base."
"I do sometimes think back to the early days and feel grateful for how far we've come."
A native of Northern Cambria, Rocco laid the foundation for professional success while a biology/pre-med major at IUP. He made the dean's list every semester, consistently filling his transcript with As (a B earned in a freshman English class was all that stood between Rocco and academic perfection). Meanwhile, he contributed valuable minutes off the bench for coach Joe Lombardi's Crimson Hawks during their storybook 2009-10 season. IUP (33-3) set a school record for victories (equaled by Lombardi's 2021-22 team), claimed Pennsylvania State Athletic Conference and Atlantic Region titles, and advanced to the NCAA Division II national championship game for the first time before falling to Cal Poly Pomona. Rocco collected numerous scholar-athlete honors during his basketball career, including an NCAA Elite 88 Academic Award.
After graduating summa cum laude from IUP in 2011, Rocco earned his medical degree at the University of Pittsburgh and served his residency at the University of Pittsburgh Medical Center. He then headed to Bethesda to join Fauci's team. When Rocco first arrived at NIH, clinical work occupied most of his time. But he pivoted more to research when a virulent virus about which there were countless questions and few answers began spreading like wildfire.
"The whole first year of this infectious disease fellowship, it's all clinical training, learning how to manage and treat patients with complicated infectious diseases and immune disorders," Rocco said. "Then in March 2020 the pandemic hit. I was still mostly taking care of patients, but almost 90 percent were now COVID patients. And it was incredibly frustrating, because no one really knew what to do for them. You did whatever you could, providing supportive care and treating the complications. But this was before vaccines, before we had any treatments that we knew worked. You saw patients dying in front of you. It was very frustrating—and very scary."
Rocco began spending more time in the lab, analyzing patient data, searching for clues that might help solve the puzzle presented by the virus. As more patients succumbed, the pressure to find answers mounted on Rocco and others at NIH.
"Pressure was not completely unfamiliar to me," he said, "but the stakes were much higher here. There were lives on the line."
Fauci kept the public updated about the virus through regular national television appearances, often alongside the president. The news was almost entirely discouraging at first. But the outlook shifted dramatically in December 2020 when Pfizer and Moderna came out with effective vaccines. Johnson & Johnson soon followed. Variants have since caused case counts to surge for brief periods, but COVID appears to have at last relinquished its grip on the populace.
After demands on his time (as the public face of the COVID response) diminished, Fauci again became a more visible presence at NIH headquarters. Did he ever cross paths with the doctor who once suited up for the Crimson Hawks?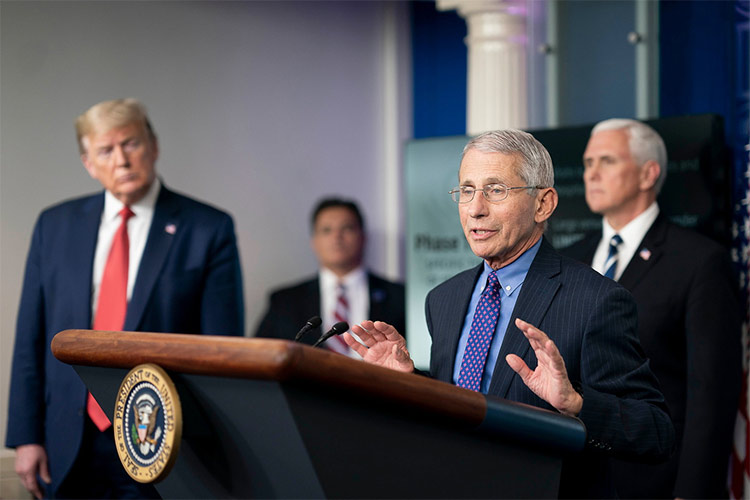 "We actually interacted with him a decent amount," Rocco said. "He still liked doing patient care. When we had patients admitted to the hospital, he made time out of his incredibly busy schedule to come by, and we were able to talk to him, give him sort of a breakdown on the patients we were taking care of, to give him a perspective on what was happening on the ground. He always provided great insight. So I did interact with him every now and then."
Rocco technically finished his three-year NIH fellowship in July, but he's staying on for the foreseeable future.
"There's a massive shortage of physician/scientists in the world, and I think the pandemic highlighted how much they're needed."
"I plan to stick around and continue my research and the career path that I'm on, which is—I guess the technical term is not just a physician or a doctor but a physician/scientist, someone who can not only manage patients but also do the research to help figure things out," Rocco said. "There's a massive shortage of physician/scientists in the world, and I think the pandemic highlighted how much they're needed. So I'm going to continue what I'm doing for now and start applying to the next position on the ladder and go from there."
Wherever Rocco might land, he'll continue to hold IUP close to his heart. After all, it's where he met his wife, Stephanie Chapman Rocco, a 2012 elementary education graduate. It's where he played for a basketball team that nearly ran the table in the NCAA tournament. And it's where Vida Irani, a member of the biology faculty, taught him the ins and outs of conducting scientific research.
"The mentorship I had at IUP—not just from Coach Lombardi but also from Dr. Irani—was so beneficial and has really helped me be successful in this career," Rocco said. "The principles that both of them instilled in me I think have carried me through to this day. The research I did with Dr. Irani, that's what drove me to this career to begin with. I'm just so thankful that I had that experience at IUP."