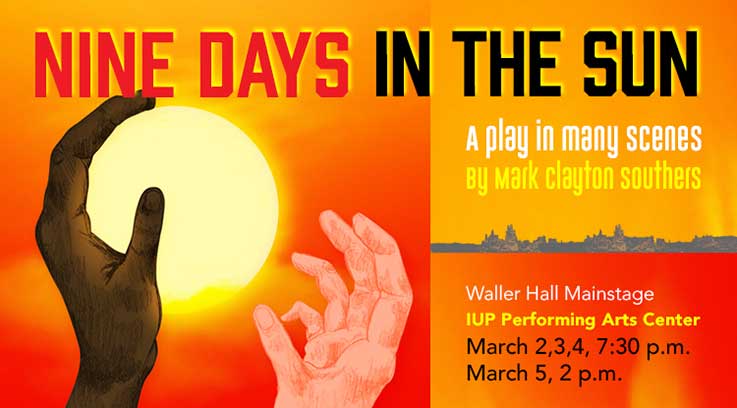 Indiana University of Pennsylvania's Theater-by-the-Grove's association with Pittsburgh Playwrights Theatre Company (PPTCO) begins with the March 2, 3, 4, and 5 presentations of Mark Clayton Southers' Nine Days in the Sun at IUP.
The play explores a world where dark skin is the desired tone, so the racial balance is shifted and the social order in America is turned upside down.
The show's cast is a blending of nine IUP student actors with five Pittsburgh actors affiliated with the PPTCO. The show is co-directed by Jamaica Johnson from PPTCO and IUP theater faculty Michael Schwartz. It includes several additional IUP students working behind the scenes for the production.
The show will be performed at IUP's Waller Hall mainspace theater at 7:30 p.m. on March 2, 3, and 4 and at 2:00 p.m. on March 5. Tickets are available at the door, online, or on the Lively Arts website.
The production at IUP is the first performance of the play since its initial staging in 2005 at the PPTCO.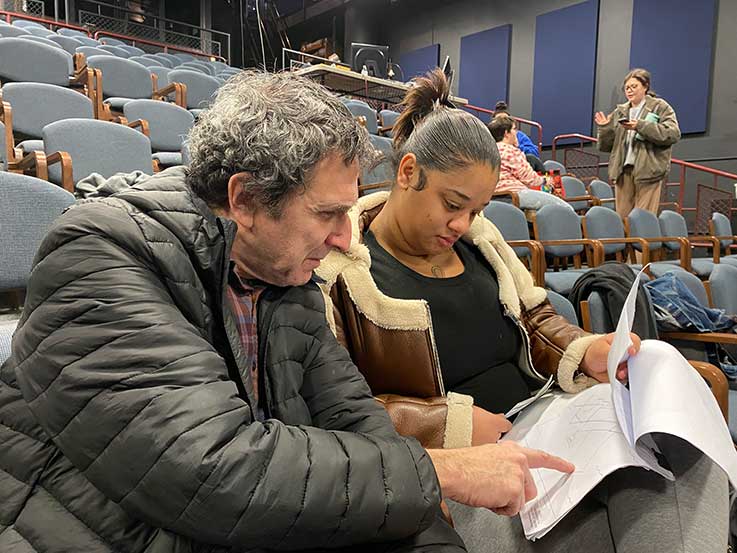 Cast members at IUP and cast members from Pittsburgh rehearse separately during the week for the production; members of the PPTCO, including co-director Johnson, come to IUP on weekends for joint rehearsals. The weekend rehearsals also include time for the cast members to join together for a meal and conversation.
This is Johnson's first time directing one of Southers' plays, but she's worked with him since she was 14 years old.
Johnson, like Southers, is from Pittsburgh's Hill District. She attended Pittsburgh's CAPA High School for grades nine to 11 and graduated from Urban Pathways.
She just started directing, including for a play during her senior year of high school, and directed Devantae Butler's Finding the Kingdom in May; but acting has been her passion, including some Black activism pieces. She has won the August Wilson competition in Pittsburgh twice (the only two-time winner and the youngest winner of the competition). She's also competed and won several Spoken Word competitions.
"As far as our cast being joined, it is a very interesting dynamic, and it's certainly been a journey for the IUP actors," Johnson said. "With the nature of the show being so intense, it started out uncomfortable. So, on day one, I said, 'Let's feel comfortable, let's get it out there.'
"As a director, I like to do conversation starters so people can see things from a different perspective; I want people to talk about political things, diversity issues, and racial issues. All of these conversations were in play," she said.
"I think that art has always been a vehicle to opening people's perspectives to new things. Even having new people from new environments around you, seeing where they are from, especially if they are from environments that you've not been able to see before, is important," she said.
"Mark's work is written to ruffle feathers, and I'm the kind of person who lives in that," she said.
So, what should audiences coming to Nine Days in the Sun expect?
"Audiences should expect nothing—they should come with an open mind and be open to accepting what happens on stage," Johnson said. "Just come as a human being and allow the emotions that happen on stage to create whatever comes to you," she said.
Later this year, Johnson, a member of the Army National Guard, will be deployed to Africa for a year to serve in the field artillery.
Schwartz said that because the cast is geographically separated during the week, it's been a learning experience about theater and about cooperation.
"This is a different process for all of us, and the actors are finding ways to put things together when we meet," he said. "The students are learning a lot about cooperation, and how professional actors communicate."
"The cast has a range of experiences—acting experiences, theater experiences, and life experiences," he said. "I think one of the interesting things happening is that we are using these opportunities to learn from each other about how these issues reach us in different ways."
This is the first time that Schwartz has co-directed a production in this fashion.
"We've had to build a lot of trust and a lot of cooperation, and even when we've made decisions separately in the moment with our respective casts, we realize that we are on the same page," he said. "And, if we have different opinions, we can talk about that and figure it out. We both share a lot of respect for each other's processes, so we can go into the weekend rehearsal sessions confident that everybody is at, or near, where they need to be to take the next step," he said.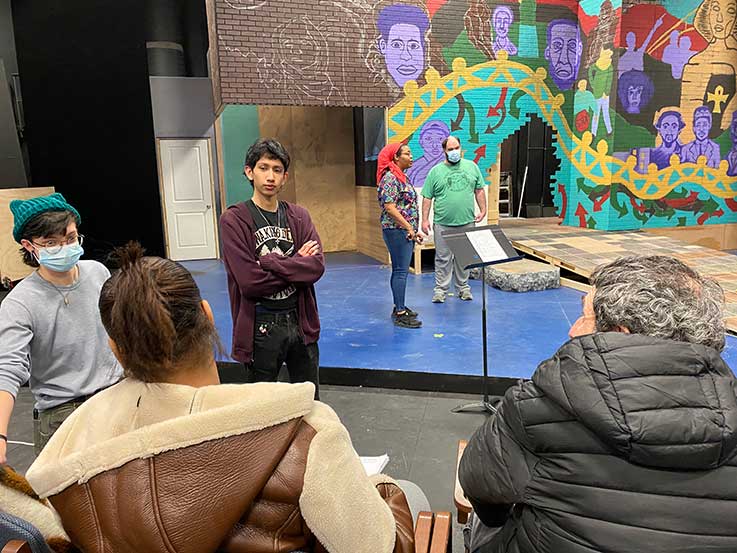 Schwartz believes that this production has given students new opportunities for "growth and maturity."
"For our students, it's giving them a chance to adapt to different and unique circumstances. They are learning that while a situation may not be what they are used to, and it may not be familiar and convenient, with cooperation and understanding they can work through it.
"The IUP students have all expressed their awareness and concerns with some of the things they have to say and do in the play and some of the viewpoints they have to represent. They are all aware of how serious and potentially volatile a lot of those words and actions in the play are, and they are learning how to negotiate needing to do their job as an actor, saying and performing really hurtful things in character," he said.
"The students are all very aware of recent events that have exposed racist attitudes on campus, and they also are very aware that this production is an opportunity to address those issues and be a step toward bringing people together.
"This production and the process has been a lot of fun," he said. "It's exciting, like walking for a long distance blindfolded, then taking the blindfold off and realizing you are where you want to be."
About the Pittsburgh-based cast in Nine Days in the Sun
Nahseya Scoggins
Scoggins is an aspiring actress whose passion, work ethic, and eloquent voice speak for themselves. She first found her love for performing as a child getting a small acting gig, which powered her drive for art and was the beginning of her tapping into her artistic skills. From theater to dance, she has always made sure to exhibit those skills by performing and to elevate those skills by practicing and teaching youth. She is a well-rounded individual, sharp on the edges when it comes to anything vocal. She was known for her unapologetic drive to speak up for things that are wrong and gain social justice for people like herself, especially the youth. This consistent power led her to becoming president of the Black Student Union. Accompanying that role, she is the coach of Urban Pathways Charter School dance team, work she has done for the past three years. After performing and speaking at more than 12 events, Scoggins knows that this is her passion, performing is her life. She dreams to be on Broadway and desires to stay in the spotlight and make her mark on the work through her creativity and ambitiousness.
Tavius Hill
Hill is an aspiring actor, director, producer, and writer. He began his journey acting as a freshman in high school. He portrayed Emmet Till in a Black history event, which he considers one of the pivotal moments in his life to make him decide acting is what he wants and loves to do. Since then, he has performed at various events including Check Please, his first comedy show. On top of acting, Hill was the vice president for his school's BSU; that role included speaking and saying spoken word at many events planned, organized, and presented through the BSU. Hill has dreamt of being in the acting world since a child and can't imagine doing anything other than this. All of his endeavors and dedication goes into forming, molding, and shaping his craft. As of now most of his experience is on stage, but he will explore getting work done in front of the camera as well.
Ofelia Torres
Ofelia Torres is new to stage acting but has a history in modeling, rapping, and film acting. She is a proud Latina who grew up in the Bronx of New York. She discovered her love for being in front of the camera at age 15. She has been featured in local films and magazines but is most known in her community for her music. Torres has music on all platforms and music videos on YouTube. She moved to Pittsburgh in 2017, where she found her footing with stage acting and started her small business.
Amaru Williams
Williams is an actor from Pittsburgh. He started his acting career at the early age of seven and has a plethora of appearances in plays and musicals. Recently he has started moving his endeavors to film. Williams has been included in the ensemble of A League of Their Own and Mayor of Kingstown season two, as well as other indie films and projects around the Pittsburgh area.
Dynasti Lewis 
Lewis is a musician, singer, esthetician, dancer, and aspiring actress. She found love in performing at a young age and is the type of person who wants to know a little bit of everything. She has performed at more than 10 events and won a handful of artists' competitions. Her strong suit has always been singing and is growing to be acting. She enjoys learning the becoming and embodying of a character and relating that to oneself to bring her vulnerable self forward. Lewis has been skilled in playing the violin since third grade and has played the harp since high school. She dreams of playing and singing with an orchestra on a higher level as she would sing in the city choir alongside the Pittsburgh Orchestra as a child. She has recently turned her focus to stage acting and is practicing and learning the works of theater. She has hardworking and a perfectionist when it comes to her work.
About Mark Clayton Southers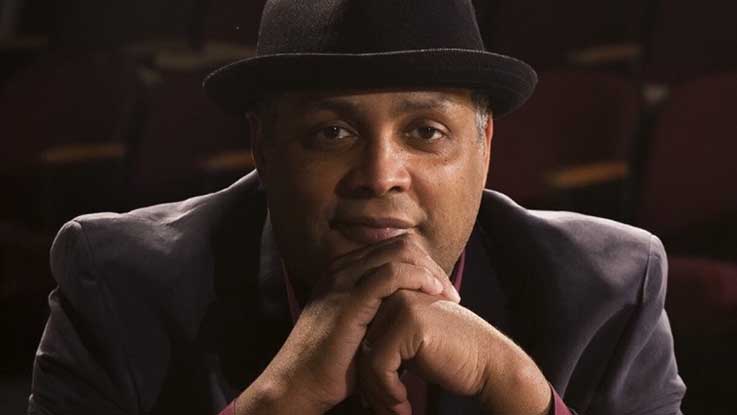 Southers, of Pittsburgh's Hill District, is the PPTCO's founder and producing artistic director. An award-winning playwright, stage director, scenic designer, photographer, and theatrical producer, he is a protégé of Pittsburgh's Pulitzer Prize-winning playwright August Wilson. From 2010 to 2013, Southers served as the artistic director of Theatre Initiatives for Pittsburgh's 486-seat August Wilson Center for African American Culture.
Southers, who started his career as a photographer while in high school, worked in western Pennsylvania steel mills for 19 years.
"My dad taught me photography, and in high school, I took pictures for the school newspaper and yearbook," Southers said.
After graduating from high school, he left Pittsburgh for Alabama's Tuskegee Institute, enrolling in a pre-veterinary program and playing baseball there. He left after a year, and spent some time in Detroit with family members there, eventually returning to Pittsburgh and enrolling at the Art Institute to study photography. At 18, he was hired as a photographer by the New Pittsburgh Courier newspaper and worked there for 12 years.
When he was laid off from his photography job, he started work at a steel mill; while he did that work, he continued to write in his spare time.
That all changed when he met playwright Wilson. He attended Wilson's master class in playwriting at the Grahamstown Arts Festival in South Africa in 1998. Following that experience, he attended the Edward Albee Theatre Festival in Valdez, Alaska, where he did seated readings with Wilson of all of Wilson's plays.
"August Wilson liked my writing style, and he encouraged me to write for the stage. We became good friends, I started an August Wilson Reading Circle at my home, and he would often stop by. I've been wrapped up in the theater ever since," Southers said.
Writing at night while working in the steel mills, he founded the Pittsburgh Playwrights Theater Company in 2003 and quit the steel mill in 2010 to pursue the arts full-time. Shortly after, he was offered the position of director at the August Wilson Center.
"I've always been a storyteller," he said. "First, I was telling stories with my camera, I wrote a couple of review of plays while at the Courier—it was an artistic type of job there. I've always felt that connection, a need to express myself," he said.
Southers acknowledges that it's not always easy for an urban theater company, with actors of color, to work well with theater companies in rural areas. However, he's finding the experience with IUP has been a positive one.
"There's a lot of work to be done, but I think that IUP is taking steps in the right direction," he said. "The dialogue in Nine Days in the Sun has some comedic elements in the different scenarios, so that allows people to view the situations a little more comfortably. I like the fact that the casts are merged together—I think it will lead to a very good production."
In his role with the PPTCO, Southers has produced more than 160 full-length and one-act plays, including August Wilson's complete 10-play "American Century Cycle."
He has written more than 20 full-length and one-act plays, including the poem play Angry Black Man Poetry aka End Angered Species, which had a successful run at Teatr Śląski in Katowice, Poland, in 2009; and Miss Julie, Clarissa, and John, which ran at the 2017 National Black Theatre Festival and also had a three-week run in 2017 at Scotland's prestigious Edinburgh Festival Fringe.
His directing credits include the "August in February Series" for the Pittsburgh Cultural Trust; Angry Black Man Poetry for Teatr Śląski; Ma Rainey's Black Bottom, The Piano Lesson, and Radio Golf for American Stage Theatre in St. Petersburg, Florida; Almost Maine for South Park Theatre; Gem of the Ocean for Human Race Theatre in Dayton, Ohio (named best director by Dayton Most Metro); Passing Strange, Fences, and Ma Rainey's Black Bottom for North Short Stage in Columbus, Ohio; operas Papa Doc, Paul Robeson, W.E.B. / Booker T, and Five for Trilogy: An Opera Company in Newark, New Jersey; The Sty of the Blind Pig for the Banyan Theatre Company in Sarasota, Florida; The Battle of Homestead for the Battle of Homestead Foundation; and A Gathering of Sons for Pittsburgh Festival Opera.
For PPTCO, he has directed Dorothy Six, The Piano Lesson (twice), Two Trains Running (one of the Pittsburgh Post-Gazette's top 10 plays of the decade), Seven Guitars (twice), VALU-MART, Jitney (voted one of the Pittsburgh Post-Gazette's top ten best plays of 2010, it broke all house attendance records), Gem of the Ocean, Ma Rainey's Black Bottom, and Fences. He is a four-time recipient of the AACTA Onyx award for Best Director.
Why Nine Days in the Sun and the PPTCO at IUP?
The idea to bring Southers' influence, network, and talent to IUP through one of his plays has been an idea in the mind of Brian Jones, chair of the IUP Department of Theatre, Dance, and Performance, for some time.
"After George Floyd's murder and the massive social protests, as a department, we were very public in our commitment to develop anti-racism practices," Jones said. "As a department, we've been clear that in order to have meaningful change, we must take the time to do the work, which often means dismantling current practices, and trying different things.
"One of our objectives in our anti-racism work is to create long-lasting, creative relationships with BIPOC (Black, Indigenous, Persons of Color) artists, including inviting them here and listening and employing their ideas of doing things differently," he said.
In September 2022, Jones organized students and faculty to present public readings of Southers' two plays—Nine Days in the Sun and Miss Julie, Clarissa, and John—to request input on which play should be performed at IUP. Based on feedback from attendees and the readers, Nine Days in the Sun was chosen for the spring performance.
"Having BIPOC artists here, working with our students, brings a whole different perspective and flavor to this production," Jones said. "The cast members are extraordinary, the co-directors are great, and I believe it will be a very thought-provoking experience for our audience," he said.
"Our students and the PPTCO cast members are learning about one another, and from one another," Jones said.
Jones recognized the university-wide support for this project, including support from the IUP Office of Social Equity and Title IX.
"We appreciate this support from the Office of Social Equity and Title IX," Jones said. "It fills a critical need to bring our students on stage together in a fuller range of human experience. This funding impacts our student, staff, and faculty creative teams by giving them the creative resources necessary to play stories on stage reflecting ideas and issues of our diverse university community," Jones said.
"The Office of Social Equity and Title IX is very proud to provide funding and support to the Department of Theater, Dance, and Performance for Nine Days in the Sun and for the Department's ongoing diversity, equity, and inclusion programming," Social Equity and Title IX Office Director Elise Glenn said.
"Not only is the play itself important because of its themes and messages, but by bringing BIPOC writers, directors, and performers to our university and to our community, we have the opportunity to support talented Black and Brown artists while modeling excellence and success in the arts by BIPOC artists and others who are part of the project.
"Hosting performances like this by artists who bring new perspectives and experiences grows the repertoire of diverse programming available here at the university for our students, employees, and the community; these programs influence all who are involved as audience members or performers, which helps us to make positive culture change through the arts," she said.
About the Pittsburgh Playwrights Theatre Company
The PPTCO was established in 2003 at the Penn Theater in Bloomfield/Garfield by Southers. In 2005, with funds supplied by the Pittsburgh Foundation and the RK Mellon Foundation, the PPTCO opened a 75-seat theater in the Cultural District of downtown Pittsburgh.
The Company has staged plays in a variety of settings since then, from dedicated theater spaces above a parking garage and at 937 Liberty (from 2011 to 2018), and in empty lots, hillsides, and even on film. In 2022, the PPTCO began staging performances at its new space in Pittsburgh's historic Hill District.
Since 2003, the PPTCO has produced seasons of plays that serve two roles: to focus on local playwrights and to use the stage to examine the Black experience. Sometimes this work is hyper-focused, as seen in the play about Jonny Gammage. Sometimes the plays address experiences that impacted our nation, such as Hercules Didn't Wade in the Water, set in post-Katrina New Orleans. Often, the plays address issues that are regrettably timeless, as even if they are set in a historical era, are as relevant today as they were 50 years ago, which the Company sees in the works of August Wilson.
"Throughout all our work we developed a reputation as a place where one could enter into the world of theatre—as an actor or as a sound technician," the Company website notes. "In 2020 we formalized our mentorship mentality into a training program, Ground Up Theatre, that works to train and uplift people of color in theatre careers.
"Today, 21 years after our founding, we remain committed to our playwrights, our community, and our goal to build a better Pittsburgh. Pittsburgh Playwrights Theatre Company has continued to grow and thrive, moving to the Cultural District in 2005."