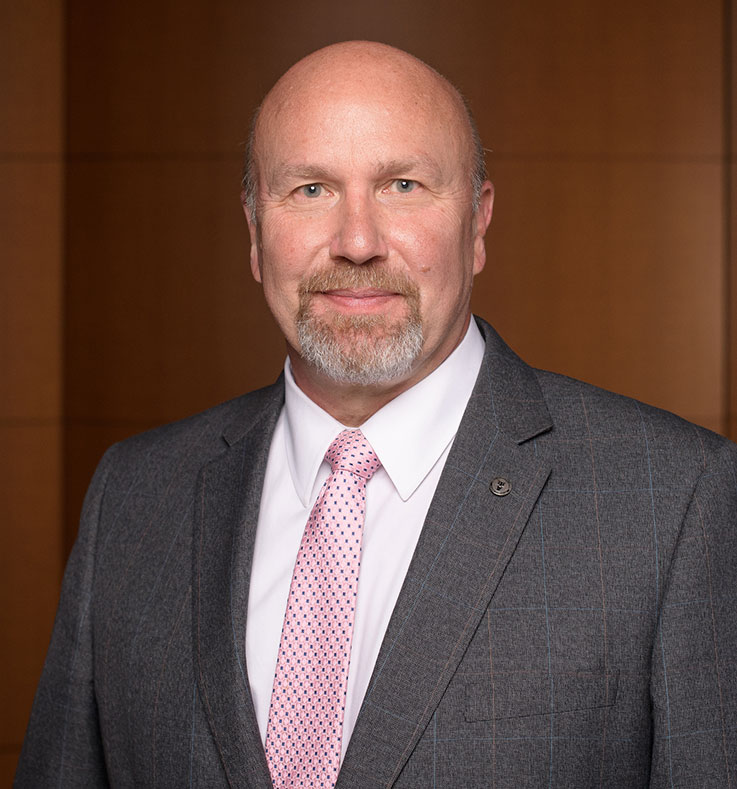 Steven Hovan has been selected to serve as the dean of Indiana University of Pennsylvania's John J. and Char Kopchick College of Natural Sciences and Mathematics.
"Steve has consistently been a leader in the Kopchick College and in the university community," IUP Provost and Vice President Lara Luetkehans said. "He has an ongoing commitment to research and a true focus on student success. I am confident that he will continue to move the Kopchick College forward in new and exciting ways."
Hovan, who has been the interim dean of the Kopchick College since July 2021, joined the IUP community in August 1993 as a faculty member in the Department of Geoscience. He was promoted to the rank of professor in August 2001 and was department chair from 2006 to 2020. In 2007 he was selected as an IUP Distinguished University Professor. 
From January 2020 to July 2021, he served as a program manager with the National Science Foundation in Alexandria, Virginia, working with the Division of Ocean Sciences in the Marine Geology and Geophysics program.
"I am very excited for the opportunity to continue serving IUP and the Kopchick College," Hovan said. "The sciences will play key roles in IUP's future helping to transform the regional workforce and serve the community. I am delighted to be part of this growth."
Hovan's scientific research focuses on examining the relationships between atmospheric circulation, oceanic currents, and global climate changes. He has conducted research on 16 ocean vessels, most funded by the NSF, and has involved IUP students on a number of those expeditions.
He has been published and presented extensively in his field throughout the United States and internationally and has been successful in securing millions of dollars in grant funding, including serving as principal investigator on two successful NSF research awards. His grant-funded projects include a range of climate studies to the acquisition of a scanning electron microscope and development of a crowd-sourced phone application to identify and track environmental conditions of abandoned gas wells in Pennsylvania.
In 2007, he was awarded with the title of Distinguished University Professor, the highest distinction given to faculty. In 2010, he received the College Achievement Award for his continued commitment to the Kopchick College and students. He was selected for the Outstanding Achievement in Research Award from the School of Graduate Studies and Research in 2000.
In addition to his research, teaching, and administrative responsibilities, Hovan has worked on a number of committee and board memberships, including Sigma Xi honor society, the McNair Scholars Advisory Committee, the IUP Undergraduate Scholars Conference program, the IUP Student Co-op Board, the IUP Research Institute Faculty Advisory Board, the Middle States Accreditation Steering Panel and Subcommittee, and the IUP Sustainable Energy Research Cluster, and he currently chairs the Eberly College of Business dean's search committee. 
He also has served on a number of national and international advisory boards and panels related to ocean research and science education, including the Ocean Drilling Program Shipboard Software Evaluation and Development group, the Schlanger Fellowship Selection Committee, the National Ocean Sciences Bowl, the US Advisory Committee for Ocean Drilling, the Integrated Ocean Drilling Program Shipboard Systems Evaluation, the Marine Geoscience Leadership Symposium, and the International Ocean Discovery Program Science Evaluation Panel, and he served as instructor with a variety of workshop programs designed to enhance scientific understanding of global climate history and broaden participation in ocean sciences.
Hovan completed his bachelor's and master's degree in atmospheric and oceanic sciences at the University of Michigan, where he also received his PhD in oceanography: marine geology/geochemistry.
Kopchick College of Natural Sciences and Mathematics includes the Department of Anthropology; the Department of Biology; the Madia Department of Chemistry, Biochemistry, Physics, and Engineering; the Department of Geography, Geology, Environment, and Planning; the Department of Mathematical and Computer Sciences; and the Department of Safety Sciences. It also is home to pre-professional programs preparing students for admission to professional schools (chiropractic, dentistry, optometry, physical therapy, pharmacy, and physician assistant), the IUP OSHA Consultation Program, and the minor in professional teamwork and leadership.
Many of the departments in the Kopchick College will be relocated to John J. and Char Kopchick Hall when construction of the 142,000-square-foot building is completed during the 2023–24 academic year.
The Kopchick College and Kopchick Hall are named in honor of John Kopchick and his wife, Char Kopchick. Kopchick earned a bachelor's degree in 1972 and a master's degree in 1975 from IUP, both in biology. Char Kopchick graduated from IUP with an education degree in 1973.
The couple currently lives in Athens, Ohio. John Kopchick is a professor of molecular biology and the Goll-Ohio Eminent Scholar at Ohio University; Char Kopchick is the assistant dean of students there. John Kopchick is a co-inventor of the drug Somavert, which combats acromegaly, a growth hormone disorder.