Net Gain: Former IUP Basketball Star Scoring Big in Healthcare Field
Posted on 12/5/22 6:00 AM
A 2016 IUP graduate, Leslie Stapleton knew from a young age she wanted to work in healthcare and thought there were two main options—be a doctor or be a nurse. In high school, she picked doctor and started looking at colleges. They were already looking at her—a standout in basketball who also excelled in the classroom.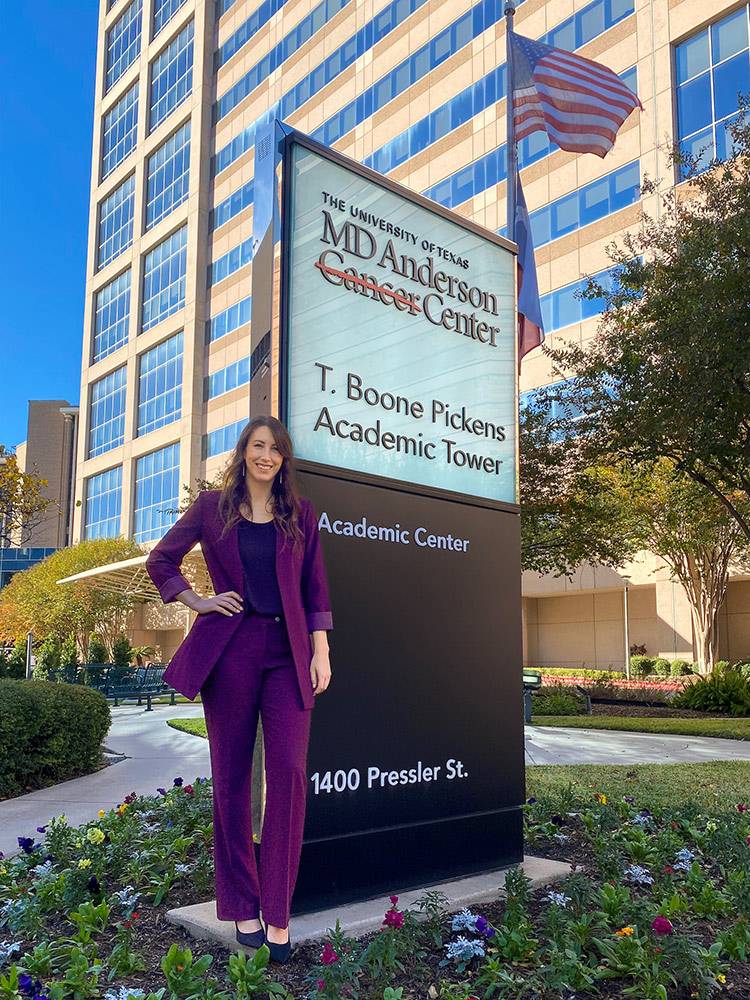 She hadn't planned on staying in her hometown for college, but she discovered IUP was a perfect fit.
"When I was making that decision, it just felt right," she said. Now, looking back, she's happy with where it's taken her. "Being at IUP and the experience I had—I wouldn't change it for the world."
From scoring her 1,000th point and playing in the PSAC championship game while on the women's basketball team to discovering new career options in the healthcare industry, IUP gave her opportunities that made a big impact on her life.
"When you start out in college, you maybe have an idea of what you'd like to do in the future," she said. "I think it's important to really think about what you want to do later in life, and explore, and be open to new things."
As a biology major on track to earn a chemistry minor, Stapleton was preparing for medical school, but she wasn't sure that being a physician was what she wanted to do with her life.
Finding Her Future
When an injury and surgery sidelined her for the rest of her sophomore season, Leslie made a plan to stay at IUP for five years so she could play a fourth season of basketball. She decided to use the extra time to add a minor in business, thinking it would make her more well-rounded and give her a broader scope.
"That's what kind of opened my mind more to the business side of healthcare," she said. "Biology was more of a pre-medicine track. I was glad to be able to take those minor courses in business because that kind of helped steer me toward what I do today."
Inspired to reimagine her career, Stapleton graduated from IUP in 2016 and went on to earn a master's degree in health administration from George Washington University. Following an administrative fellowship, she is now working as an administrative director of radiation oncology at the University of Texas MD Anderson Cancer Center in Houston. She's enjoying the professional path she chose, working in the administrative side of healthcare.
"There's so much you can take from the basketball court to the workplace. One of the main, direct correlations is being a good teammate, learning how to work on a team, as a team, for a common cause." —Leslie Stapleton
MD Anderson has been named the top hospital for cancer care in the nation for 2022-23 by U.S. News & World Report's "Best Hospitals" rankings. It's been named one of the top two hospitals in cancer care every year since these rankings began in 1990.
"I absolutely love working there. Everyone is very gathered around the mission," she said. "The mission is simple—to eliminate cancer in Texas, the nation, and the world. Everyone is there for that reason and works so well together, wants to help the patients, and really wants to find a cure for cancer. Just being around people like that, being in that inspiring environment, I am so humbled to be able to work where I do."
In her professional life, she draws on some of the lessons she learned playing basketball.
"There's so much you can take from the basketball court to the workplace," she said. "One of the main, direct correlations is being a good teammate, learning how to work on a team, as a team, for a common cause. In the workforce, you work with many different people, with different roles. You are all there to help the patient and make a difference.
"For me, personally, being on the administrative side of things, it's actually really rewarding knowing that the work that I do can indirectly impact patients and make a positive change upstream to help people who come to MDACC who struggle with this illness."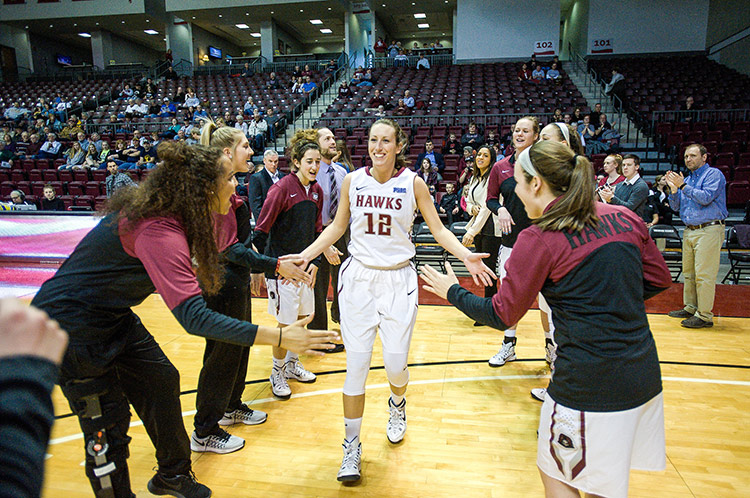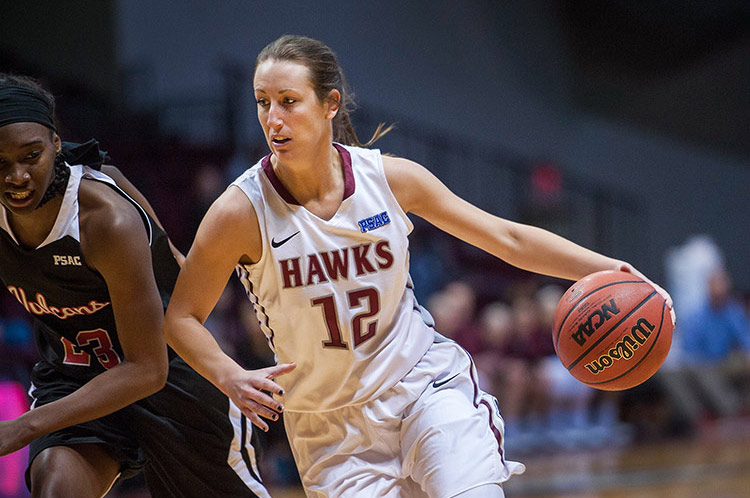 One of the Best
Tom McConnell, Stapleton's coach during her last few years at IUP, isn't surprised that she takes a teamwork approach and has been highly successful early in her career. Both were true at IUP as well.
"She was an amazing player," he said. "She was very skilled, and one of the best three-point shooters that IUP has ever seen. She made everybody on the floor better because of her long-range shooting. She stretched the floor and just made us such a better team."
Stapleton wore No. 12 as a shooting guard throughout her IUP basketball career. When she scored her 1,000th point, it had added meaning because she had come back from an injury to achieve it. Another highlight was her highest-scoring game—33 points in a playoff game against West Chester, where she also broke the IUP women's basketball career three-point record.
The team made the NCAA Division II tournament most of the years she was at IUP and made it to the PSAC championship game her senior year.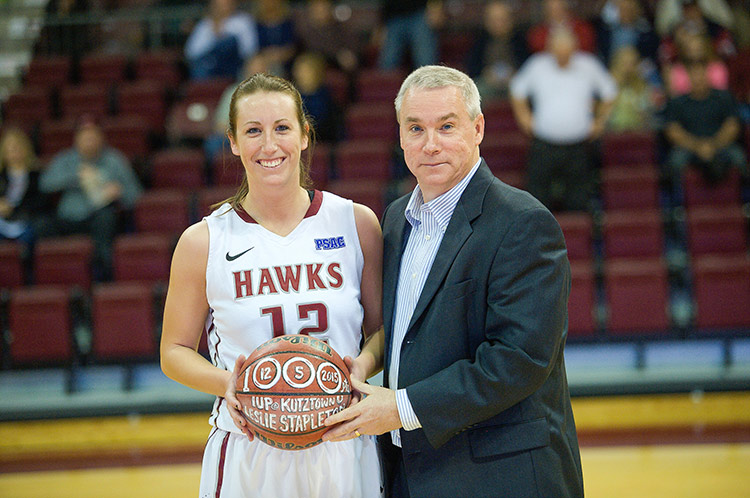 "She's what IUP basketball is all about. She was so dedicated, so committed, such a great leader, as well as an amazing student." —Tom McConnell, former IUP women's basketball coach
"She's what IUP basketball is all about," McConnell said. "She was so dedicated, so committed, such a great leader, as well as an amazing student, very disciplined in her studies. I could set my watch by the times that I knew she would be in the gym, working on her game, when nobody else was around."
McConnell, now retired, remembers her as a player with many strengths.
"She was way, way more than a great shooter," he said. "She was a very skilled ball handler, and she was an excellent defender. What makes her unique, and I say this with all sincerity—she was probably the best player I've ever coached as far as playing without the basketball. Her basketball IQ was off the charts. She was just a master at it."
Playing without the basketball in your hands involves strategy, quick reflexes, and the ability to anticipate what opponents will do and what could help your teammates. Stapleton was so skilled in this area that the coaches made teaching tapes for younger players to watch how she played without the ball.
"She was a leader by example, but when she spoke, the players really listened," McConnell said. "She was not shy—whether it was on the floor pulling our team together, or off the floor if a younger player had an issue or a challenge they were dealing with. She was a young woman of empathy and really took those younger players under her wing."
Stapleton said that the players were all so close, and some still keep in touch. "Your teammates are like your sisters, your family."
Had she been able to stay for one more year, she could have shared the basketball court with her actual sister, Audrey, who joined the team after transferring to IUP from Slippery Rock.
Scholar-Athlete Success
Leslie said her academic experience at IUP was all she could have wanted it to be.
"Academically, I had good professors and learned a lot," she said. "I felt like it gave me a good foundation. A lot of the building blocks that the professors helped lay down for me translated well to my master's classes and subsequently in my career and the work I'm doing now."
When she had surgery for her injury and missed several classes, her professors helped her catch up on what she missed with a few individual lectures. She said little things like that along the way helped give her a good college experience.
"Being surrounded by good people at IUP, a good experience, and good academics, coupled with the life lessons I learned on the basketball court—all of that together—made it more clear to me the direction I wanted to go in life, what I wanted to do, and how I wanted to help people," she said.
"I always like to look back on that time, and I'd say it was one of the best times of my life—playing a sport you love, with people you love, and being successful together. I mean, it was truly amazing."