Includes 4.0 Area Graduates
Indiana University of Pennsylvania will hold commencement ceremonies on December 10 for 551 graduates, including honoring students who have completed their bachelor's degrees and who are graduating with perfect 4.0 grade point averages.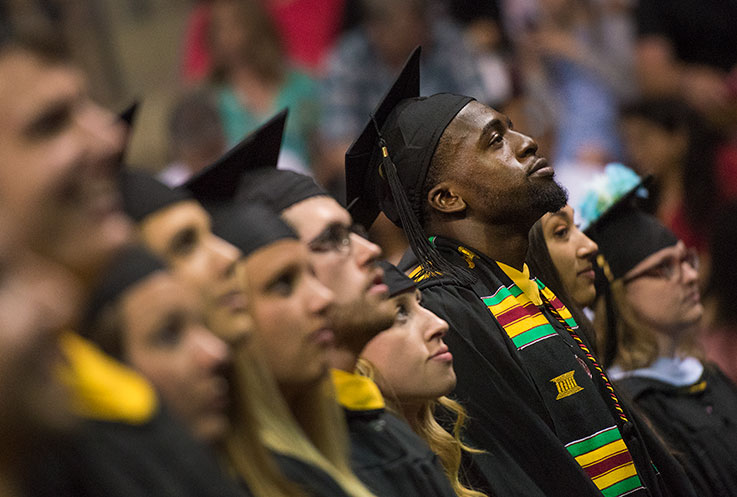 The ceremony for students receiving graduate degrees is at 9:30 a.m. The ceremony for students receiving bachelor's and associate degrees is at 1:00 p.m. Both ceremonies will be held at the Kovalchick Convention and Athletic Complex. Students who have completed academic requirements for their degrees in December 2022 and January 2023 are eligible to participate in the ceremonies.
The ceremonies will be broadcast live on the IUP YouTube channel; links to the broadcasts are available on the IUP Commencement website. After the event, the video recorded during the livestream will be available to watch anytime. Each webcast will begin 15 minutes before the actual start of the ceremonies.
Tickets are not required for the December commencement ceremonies.
Of the invitations to students to receive degrees at the December ceremonies, there are 363 bachelor's degree recipients, 153 master's degree recipients, 30 doctoral degree recipients, and five associate degree recipients. 
Of the bachelor's degree applicants, 188 qualify for honors (3.25 or above cumulative grade point average). The total number of graduates by college is 65 from the College of Arts and Humanities; 85 from the Eberly College of Business; 46 from the College of Education and Communications; 107 from the College of Health and Human Services; 55 from the John J. and Char Kopchick College of Natural Sciences and Mathematics; 10 from the University College, and 183 from the School of Graduate Studies and Research. 
IUP President Michael Driscoll will preside over both ceremonies. All students participating in both commencement ceremonies will be recognized by name and congratulated on stage. President of the IUP Alumni Association Board of Directors Tonya Anthony Hsiung, a 2000 bachelor's degree graduate and 2003 master's degree graduate, will offer greetings from the Alumni Association at both ceremonies.
Emily Zimmerman Vogel, a graduate from the College of Education and Communications, will present the Senior Class Gift during the undergraduate ceremony. Graduates who contributed to the Senior Class Gift are recognized with crimson and gray philanthropy cords. Graduates donated more than $5,200.
The undergraduate ceremony student speaker is Elizabeth Garraway, a theater major from Pottsville. She is the daughter of James and Danette Garraway and is a 2018 graduate of Pottsville Area High School.
The graduate student speaker is Nicol Epple of Altoona, who will receive a PhD in graduate studies in literature and criticism.
Her dissertation, "Transforming Trauma to Transcendence: Sex-trafficked Activist Memoir as Freedom Narratives," introduces holistic embodied-experience transformation theory and emphasizes the potential of story to evoke empathy which enacts personal and social change. Epple has presented nationally and internationally, and in 2015 she co-edited Sexuality, Oppression & Human Rights, and in 2021, her chapter, "Experiencing yada: Holistic Encounters of Spiritual Bliss," was published in the co-edited volume of Exploring Sexuality and Spirituality.
During the years of doctoral work, Epple was the founder and director of the LOV ("love") Foundation, an NGO empowering woman overcoming sexual trauma. Along with being an academic, she is also a doctor of naturopathy and a holistic counselor and coach.
She has a private practice in Hollidaysburg and is a teaching professor at Pennsylvania State University.
As a student at IUP, she did volunteer work in curriculum development with the IUP Women's and Gender Studies program.
Daughter of Barbara and Michael Hatch of Altoona, she earned her bachelor's degree in English, history, and women's studies at Penn State Altoona and is a graduate of Altoona Area High School, where she was an exchange student to Venezuela sponsored by the Altoona Rotary Club.
Students who completed their bachelor's degree studies with a perfect 4.0 grade point average include:
Kathryn Aderman, a supply chain management major from Butler, daughter of Ed and Cindy Aderman. She is a 2007 graduate of Lafayette Senior High School. At IUP, she was president of the Association for Supply Chain Management.
Katlyn Hippchen, an accounting major from Homer City, daughter of Scott and Alicia Hippchen, 2019 graduate of Homer Center Junior Senior High School. At IUP, she received the PHEAA Ready to Succeed Scholarship for outstanding academic achievement and Sutton Scholarship. She participated in a consulting project with IUP's Small Business Institute.
Lyndsay Killian, a psychology major from West Reading, daughter of Beth Killian and a 2019 graduate of Wyomissing Area School District. At IUP, she was a member and vice president of the IUP chapter of the International Honor Society for Psychology.
Krystin Thomas, a family and consumer sciences education major from Mountain Top, daughter of Kathleen Miroslaw and Gary Thomas, a 2019 graduate of Crestwood High School. She is the recipient of the Oxley, Rhodes, and Merriman Scholarship and the Academic Success Scholarship. She was a member of the IUP Family and Consumer Sciences Education Student Association.
Brynn Wingard, a Spanish education (K-12) major and anthropology minor, of Johnstown, daughter of Dean and Angela Wingard and a 2019 graduate of Richland High School. At IUP, she was president of the Ándale Spanish Club and was student vice president of the Phi Kappa Phi honor society. She is a member of the Kappa Delta Pi education honor society. She studied abroad in Valladolid, Spain, and completed a C1 level certificate; presented original anthropological research at the Appalachian Teaching Project and the Society for Applied Anthropology; and is a recipient of the Global Seal of Biliteracy. She was also a member of the IUP Drill Team.
Designated parking lots near the ceremonies and across the IUP campus will be used for commencement parking at no charge. Parking attendants will direct drivers to available lots and parking spaces in the area. Free shuttle service will be available during the day. A parking and shuttle map is available on the Commencement website. 
Guests who require handicapped (ADA) accessible parking may park in the lot directly in front of the Kovalchick Complex or directly west of the facility; parking attendants on-site will direct drivers to the available spaces in the area. A disability parking placard is required to park in these areas; drivers are asked to have this placard displayed when arriving on campus.
For the safety of IUP guests and to maintain traffic flow, stopping and drop-off are prohibited along Pratt Drive. Limited accessibility drop-off is permitted in the drive-through circle directly in front of the Kovalchick Complex. Persons who have difficulty walking extended distances are asked to use the Indigo shuttle service available in each primary parking lot.
For questions about commencement parking, call the IUP Parking and Visitors Services office at 724-357-8748.