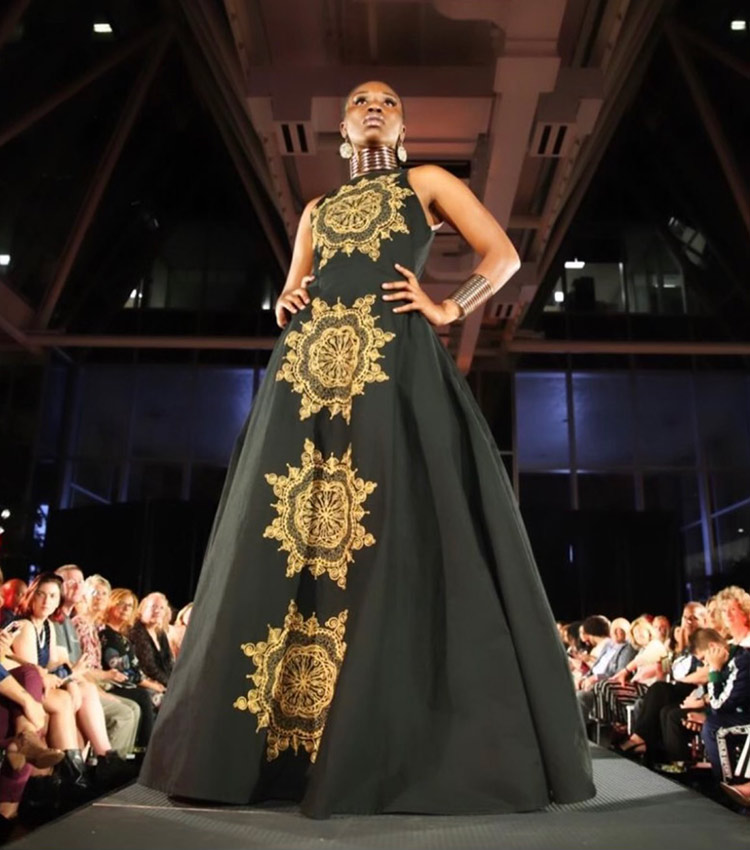 Jordan Brown left IUP in December after earning her bachelor's degree in fashion studies, but her commitment and initiative will impact students for many years to come.
Brown, of Pittsburgh, organized taking 22 IUP fashion studies majors (freshmen to seniors) to work as volunteers for the fall 2022 Pittsburgh Fashion Week event on September 21 in downtown Pittsburgh.
As a result of the "professionalism and enthusiasm" of the IUP students (as noted by the Pittsburgh Fashion Week organizers), Brown then secured an opportunity for students to continue to work for the Pittsburgh Fashion Week show and other events in the future.
Pittsburgh Fashion Week is an organization dedicated to growing the Pittsburgh fashion community through fashion shows and other community events. It is supported by the Downtown Neighbors Alliance.
Brown transferred to IUP from the Community College of Allegheny County in 2020. She had extensive experience as a model for Allegheny County stores and fashion designers, and she modeled and worked in marketing for Pittsburgh Fashion Week from 2015 to 2019. She also worked for six years in luxury sales in stores in Pittsburgh. She began modeling after winning a modeling competition in Pittsburgh at age 16.
While at CCAC, she also got experience through marketing internships at the University of Pittsburgh Medical Center and at WAMO radio.
"I thought I wanted to go into marketing, but I just couldn't do a cubical corporate life," Brown said. "I changed my major several times at CCAC—I loved fashion and modeling, and I loved marketing, but I didn't realize that I could combine the two.
"I wasn't sure what I would do next, and then I ran into my high school literature teacher [Brown graduated from Brashear High School in 2015], who encouraged me to follow my passions. I went back to CCAC and finished 12 more credits, learned about the IUP Fashion Merchandising program, applied, and got accepted," she said.
She brought up the idea for IUP students to participate as volunteers for Pittsburgh Fashion Week during the spring 2022 semester with IUP fashion majors.
After determining student interest, Brown used her contacts with the Fashion Week administrators to secure the opportunity for IUP students, promising that her peers were talented and motivated. As soon as students returned for the fall semester, Brown worked to develop the roster of students who wanted to take advantage of the experience.
"All of the students had the chance to decide what they wanted to do—they could work in show production, hair and makeup, or assist one of the designers," she said. "Four of the students actually got a chance to model on stage to fill in for models who dropped out at the last minute.
Fashion Studies, BS
Design a Career in Fashion
Do you find the fashion industry exciting? You'll learn about the apparel industry and how to work in it successfully—from predesign to postconsumer and beyond—in IUP's BS in Fashion Studies program. You'll focus on preparing for the many employment opportunities in the fashion world.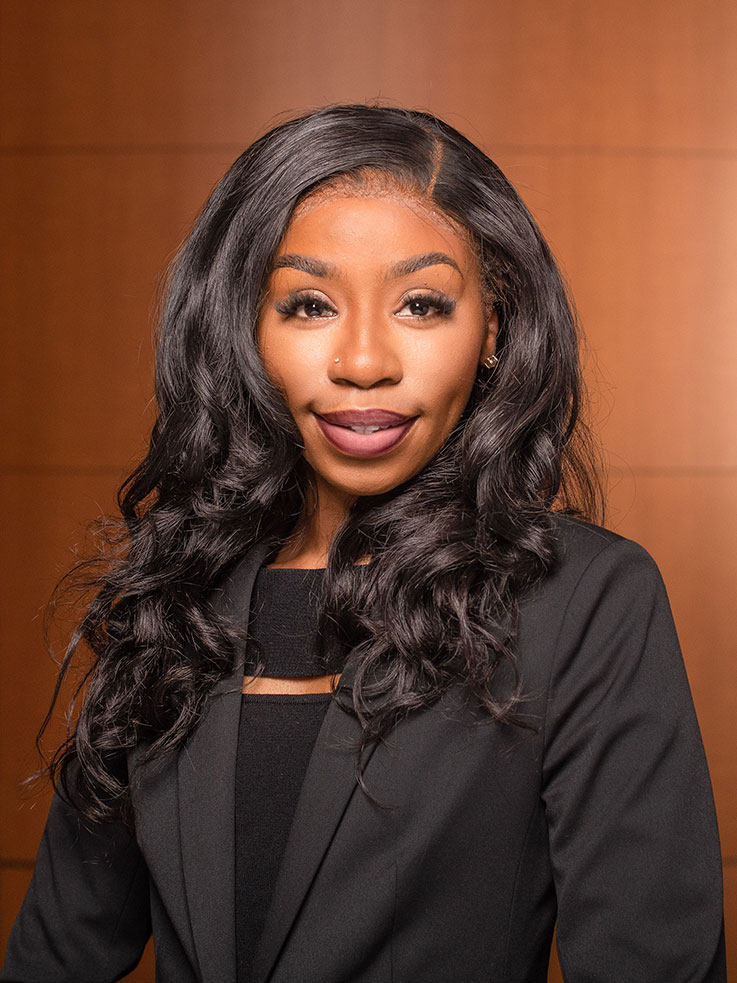 "This year's event was the first show since the pandemic, so it was perfect timing all around—the students had a chance to really participate in the event and to network and make connections with the show organizers and the designers," she said. "One of the students who participated has already been contacted by one of the designers with the offer of an internship," Brown said.
"As a freshman at CCAC, I talked to employers, and everyone said that they wanted to hire students who had experience," she said. "Real-life experience really adds value to your degree."
After the success of the day, Brown contacted the Pittsburgh Fashion Week director to ask if the 2022 experience could turn into an ongoing opportunity. She received a written proposal from the director inviting IUP students for the 2023 year and beyond, noting that "the students showcased professionalism and enthusiasm for fashion, and were an important component of the success of our show."
Brown hopes that IUP can expand the Pittsburgh Fashion Week opportunity to students from majors outside of fashion studies. "They are also looking for students who want to work in photography, video, and social media for the event," she said.
Brown, who has been an active member of the IUP community and served as a mentor for the IUP Crimson Scholars Circle program, talked informally with IUP Vice President Thomas Segar about the opportunity—"and he was completely on board," she said.
"Dr. Segar was totally supportive and funded the coach bus for us to get to and from Pittsburgh," she said. Brown was also asked by IUP Chief Diversity and Inclusion Officer and Title IX Coordinator Elise Glenn to present her project to Denise Pearson, vice chancellor and chief diversity, equity, and inclusion officer at Pennsylvania's State System of Higher Education, during Pearson's recent visit to IUP.
"I really felt it was important for students to get this experience," Brown said. "You need to try things to see if they fit you—does the passion and drive for that work click in for you.
"Gaining experience early allows you to create a better balance in your academics, too," she said. "It's a great complement to what you're learning in the classroom, adds to your degree, and shows employers that you are a well-rounded person."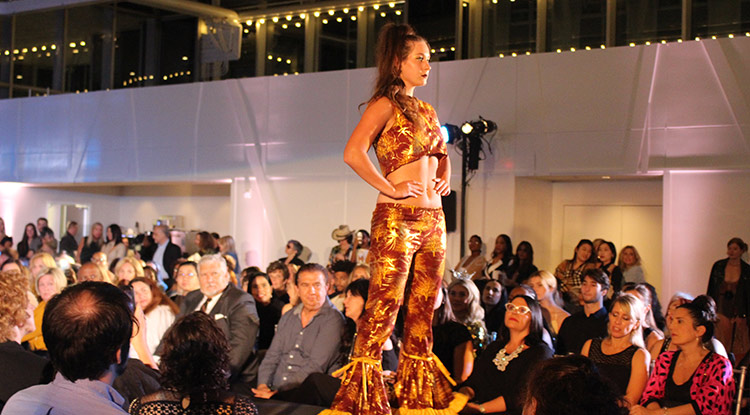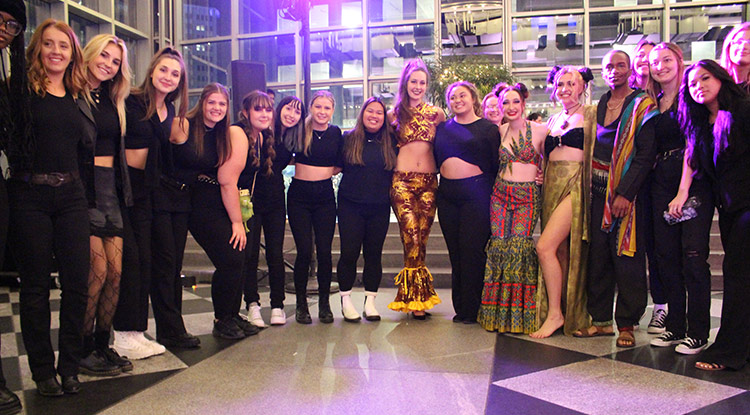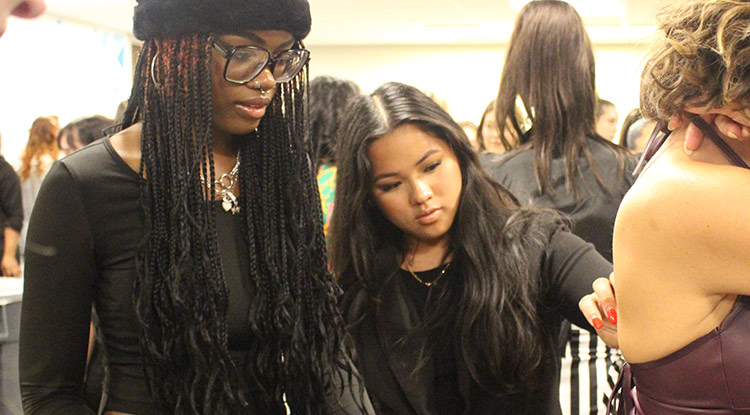 While Brown has had years of experience in the fashion world, the work of coordinating and leading the group offered her new challenges.
"Being in this leadership position made me a little more vulnerable, organizing a large group of people, with a lot of unpredictable as part of the day. I just had to allow it to flow. The students were amazing—they totally stepped up and did an excellent job, and they got a lot of positive attention and recognition, which helped them to feel more confident while facing their fears of the unknown. Doing something like this allowed me to face my fears about organizing a large group of people," she said.
In the future, Brown would like to focus on the sales and business side of the fashion industry, perhaps as a client advisor or coordinator. She will also be focusing on her own fashion business, Mozell Fashions, and plans to work with the Center for Women's Entrepreneurship in Pittsburgh as she continues to build her own business. She also plans to continue to stay involved with the Pittsburgh Fashion Week program—which now includes Maggie Prutznal, a 2021 IUP graduate, who is the fashion coordinator for the Downtown Neighbors Alliance.
"I've had great professors at IUP who have really helped me to build my skills for the fashion industry," Brown said. "As I've gotten more experience, I realize that modeling and the business side go hand in hand."