They share a bond of military service and fellowship as members of the Indiana University of Pennsylvania Veterans Club—and 40 years later, they don't want their fallen brothers and sisters from IUP to be forgotten.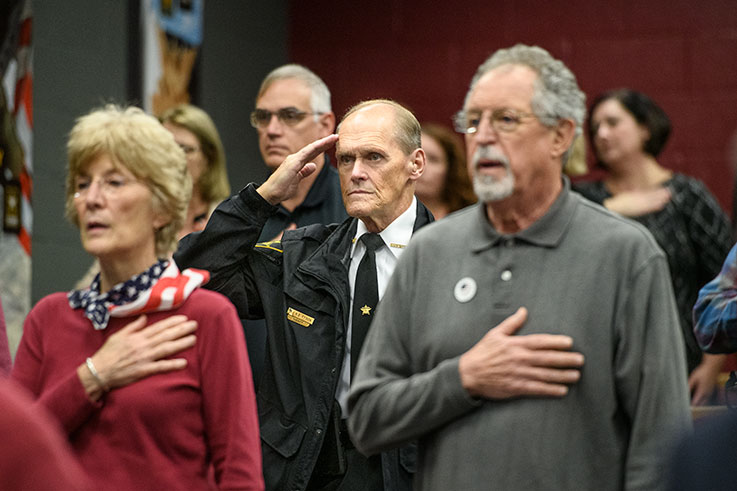 Five graduates of Indiana University of Pennsylvania who served during the Vietnam War have organized a rededication ceremony for IUP's Vietnam Veterans Memorial in its new location in front of IUP's Pierce Hall—marking the fortieth anniversary of the original dedication of the memorial.
About 100 students, university employees, and community members—many of them veterans—attended the rededication ceremony, held at noon on November 11 at Pierce Hall (the event was moved indoors due to inclement weather).
Pierce Hall is home to the university's Department of Military Science and ROTC.
The rededication program included:
Andrew Corriente from St. Thomas More, who delivered the invocation and benediction

Marine Corps veteran Robert Gault Jr., a 1983 graduate and former president of the IUP Veterans Club who served as emcee for the event

Riley David, a junior medical imaging major from Mansfield who is president of Rho Tau Chi ROTC service fraternity

IUP President Michael Driscoll

Michael Stas, US Army (retired), Vietnam War veteran, Gault's uncle

Retired US Army Lt. Col. Barry Gasdek, a 1964 IUP graduate
Rho Tau Chi members Nick Reynolds, a junior criminology major from Dubois, and Ebona McRavion, a junior chemistry and pre-med major from Philadelphia, laid the wreath on the memorial.
IUP Trumpet Studio students Sarah Cisney and Miles Basinger performed Taps/Taps echo.
IUP is the first college or university in the nation to have a Vietnam Veterans memorial. It was originally placed near Leonard and Keith halls on the IUP campus, which have both been razed for construction of the John J. and Char Kopchick Hall, future home to the Kopchick College of Natural Sciences and Mathematics.
The Kopchick Hall project placed the Vietnam Veterans Memorial within the construction zone.
And that's when Gault, Albert Manzlak Jr. '80, Edward Holben '83, Frederick Samarelli '84, and Robert Chess '80 got together to talk about moving the memorial to a place more visible and appropriate. Gault and his wife had visited IUP over the past several years, so they were aware of the construction situation, and Samarelli also was aware of the issue of the memorial location related to construction of the new building.
Chess lives in Cranberry Township; Holben is in Alpharetta, Georgia; Gault is in Wichita, Kansas; Manzlak is in Newport News, Virginia; and Samarelli is in Vienna, Virginia.
Gault offered the history of project, thanking the university for its support in moving the memorial, and introduced David.
Riley David
"In 2020 I joined Rho Tau Chi and fell in love with community service," she said. David talked about the Rho Tau Chi membership, which works to address homelessness in the veteran population.
She also recognized a phrase on the Answering the Call Monument (placed in honor of Iraqi war veterans on Veterans Day 2018): "The phrase is 'on the shoulders of courage, we stand free.' I believe that means that we are where we are today, a free country, because of the battles fought before us. And it is up to us to continue fighting to remain free. But today, I am here standing on the shoulders of the men who had the courage and commitment necessary to dedicate a memorial to the veterans of a controversial conflict. Thank you for all you've done. I am awed by your hard work and honored to stand here today with strong shoulders to support future veterans."
President Driscoll
President Driscoll offered his appreciation to the men involved in the original dedication of the monument and the rededication, and noted that IUP having the first memorial on a college campus specifically in honor of Vietnam veterans "says a lot about one of the core values of IUP, which is to honor and welcome veterans and their families."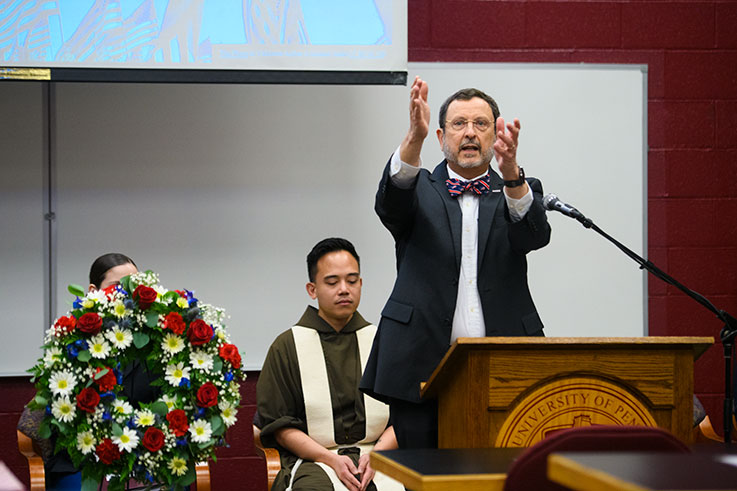 "The plaque on the memorial is simple. Twenty-six words explain what it's about, and they leave no room for misinterpretation: 'in honor of the patriotic men and women who served their country in the Vietnam War and in memory of those who made the supreme sacrifice.'"
President Driscoll talked about his remembrance of how many returning Vietnam veterans were treated with "tragic disrespect," and said, "But this memorial goes against that line of thinking. It speaks to the compassion and patriotism of those who worked so hard to make it happen because they knew honoring our veterans was the right thing to do, especially for those who lost their lives, because these people were more than footnotes to history, and they should be honored."
Michael Stas
Stas told his personal story about his experience serving in Vietnam and ended with a quote from Eleanor Roosevelt: "You gain strength, courage, and confidence by every experience in which you really stop to look fear in the face." He received a standing ovation following his remarks.
Barry Gasdeck
Gasdeck talked about his experiences in Vietnam, and paraphrased comments by a 2021 proclamation on Vietnam War Veterans Day by Governor Thomas Wolf: "Vietnam vets have since been instrumental in ensuring that future veterans get the 'welcome home' that they deserve and that they get the thanks for their service from a grateful nation.
History of the Rededication Work
There's a lot of "coming full circle" within the rededication project.
Back in 1981, while a student and president of the IUP Veterans Club, Gault had the idea for a Vietnam veterans memorial. He shared the idea with IUP's ROTC Department, with then IUP President John Worthen, and with Indiana's R&P Coal Company President Bill Kegel and got great support.
For a year, the IUP Veterans Club and the Department of Military Science—with the approval and support from university administration—worked on designing and building the memorial. Pittsburgh firm GWSM, Inc. created the site design and selected the materials for the memorial. The rock for the memorial was donated and delivered to the site by R&P Coal Company.
The memorial was dedicated at noon on November 11, 1982, with veterans who marched earlier in the day in the local Veterans Day parade along with members of the community and university.
In recognition of the dedication, the university received letters of support from the late Congressman John Murtha, himself a Vietnam veteran, saying, "I feel it is fitting that those dedicated persons who served or presently serve our country be honored in this way."
A second letter received was from Dodie Livingston, special assistant to the late President Ronald Reagan, which said "President Reagan was very happy to hear about the dedication of a memorial to Vietnam veterans on the campus of Indiana University of Pennsylvania on November 11. The President has asked me to send you the enclosed copy of his Veterans Day Proclamation and his warmest good wishes to all who will be with you on the very special day."
The originals of these documents from the White House are in the IUP Archives.
The men are proud of those recognitions, and very proud that IUP was the first college or university to honor Vietnam veterans with a memorial. They also noted that sentiment about the Vietnam War didn't always lead to appreciation or gratitude.
"Even though we never felt any animosity from the IUP or Indiana area community, we always felt a little different than the other students, so being around each other and having that fellowship was very important to us," Gault said. "The IUP Veterans Club was a very tight-knit organization. Typically, we'd have between six and 10 veterans who would meet every day in the student union for coffee or between classes. Sometimes we'd have 60 to 70 students show up for our monthly meetings in the student union building."
"It was a group where we felt comfortable and a chance for us to check in with one another, to make sure that we were all okay," he said. "We did activities together, like intramural sports, and did service in the community with Big Brothers Big Sisters (now Little Hearts Big Hands)." 
The group also remembered that each September, the IUP football coach would come to one of their first meetings looking for recruits for the team.
The university did a good job in making them feel welcome at IUP, and Jack Frank, who worked at IUP as a counselor in the office of Career Services and Veterans Affairs, played a major role in helping veterans at IUP, the men stressed.
"Doc Frank made us all feel welcome, offering work study opportunities to us and mentoring us to help with our assimilation to being students at IUP," Manzlak said. "He was a great help to us and to the IUP Veterans Club."
Frank, of Indiana, a 1958 graduate of IUP and a 2006 Distinguished Alumni Award recipient, retired from IUP and is a professor emeritus.
The newly placed Vietnam Veterans Memorial at Pierce Hall joins three memorials there for individual veterans who died while serving in the Vietnam War: Captain Robert M. Young, First Lt. James K. Flannery, and Maj. Richard John Curry.
About Speaker Barry Gasdek
US Army retired Lt. Col. And Army Reserve Ambassador Emeritus Barry D. Gasdek is a retired Infantry (Airborne, Ranger, Pathfinder) soldier, having served in a variety of senior leadership and staff positions in addition to Army Reserve Ambassador to Wyoming. Gasdek earned the Distinguished Service Cross, Silver Star, Five Bronze Stars, Soldiers Medal, Two Purple Hearts, 17 Air Medals for over 180 air combat missions, as an aerial observer, and was shot down twice, while serving in Vietnam. 
He was honored by serving as the Legion of Valor national commander 2008–09 and currently serves on the LOV Board of Directors. Gasdek also serves as Wyoming Cowboy Chapter president, Association US Army, past Wyoming State director, American Legion Boys State, Past Region III and current State Commander, Military Order of the Purple Heart, and Military Outreach director, Employer Support Guard/Reserve DOD.
In addition to his 1964 bachelor of science in education degree from IUP and a master's in counseling/psychology from Georgia State University, Ambassador Gasdek is very active in multiple civic, military, and private organizations and has established valuable working relationships with military support organizations, veteran and local service organizations, and community, state, and federal leaders.
He has been an active supporter of IUP and its Military and Veterans Resource Center, IUP ROTC, and received the UP Distinguished Alumni Award in 2015. He has established a number of scholarships for IUP students.
A Tradition of Commitment to Veterans and Military-Affiliated Students
IUP opened its Military and Veterans Resource Center in January 2014. The Center provides both a physical space and a system that coordinates services, information, and guidance for military-affiliated students. The center is staffed by student workers who are veterans or military affiliated.
IUP is a participant in the Yellow Ribbon program, a provision of the post-9/11 Veterans Educational Assistance Act of 2008 that allows US colleges and universities to enter into an agreement with the Department of Veterans Affairs to fund tuition expenses that exceed the highest public in-state undergraduate tuition rate.
More than 800 of IUP's current students are active military, veterans, and military affiliated. Since fall 2014, IUP has increased the enrollment of veterans and military-affiliated students by almost 70 percent. IUP has graduated 12 generals (two of them women) and one Navy rear admiral and one vice admiral.
IUP has one of the largest ROTC programs in the nation, celebrating its seventieth anniversary in 2021; IUP ROTC commissioned its 2,000th cadet in May 2015. IUP's ROTC program was selected for the 2014 MacArthur Award, given to the top program in the country, and has won the Governor's Trophy, presented to the most outstanding military science program at a Pennsylvania college or university, three times.
IUP has consistently been named by Military Times magazine as one of the nation's "Best for Vets" institutions; in 2022, it was one of the top four public universities selected for the listing. IUP has also been recognized by GI Jobs Magazine as a best university for veterans and as a "Best Colleges for Veterans" by U.S. News & World Report.
IUP is also one of only 10 universities in Pennsylvania and one of only 30 universities in the nation selected as a Pennsylvania National Guard Association Guard-Friendly School.
IUP ROTC established a Hall of Fame in 2013 to honor outstanding IUP graduates, including its generals.
Honoring Veterans of All Wars and Conflicts
In addition to the Vietnam Veterans Memorial, IUP has several memorials to veterans of wars and conflicts, including:
IUP Memorial Field House, the largest and most significant memorial facility on campus, dedicated to the memory of alumni of IUP who lost their lives in the US Army Services. It lists fallen members of the IUP family from World War I, World War II, the Korean War, and the Vietnam War.

The Sutton Hall Memorial Plaque, created to honor the men and women of then-Indiana State Teachers College who served during World War II.

The Sutton Hall Flagpole, placed in 1925, which has a memorial plaque for all veterans.

The "Answering the Call" memorial to honor veterans of Operation Desert Storm, Operation Iraqi Freedom, and Operation Enduring Freedom, produced by Operation Iraqi Freedom and Operation Enduring Freedom student veteran Heather Kaiser. It is placed outside Jane E. Leonard Hall and was dedicated on Veterans Day 2018.