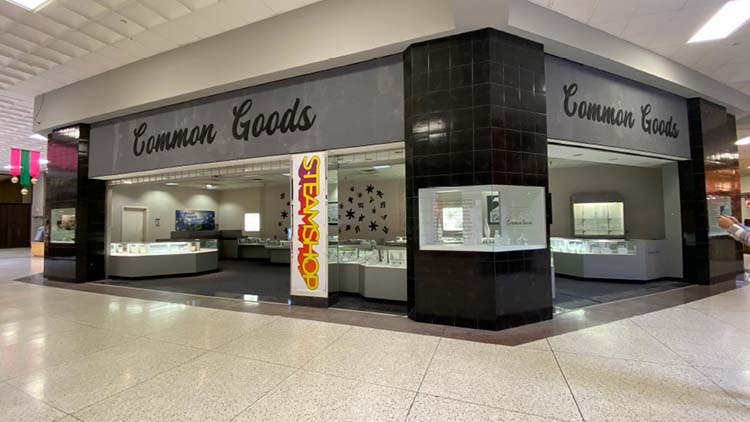 Students in Indiana University of Pennsylvania's 3D design classes will be continuing the tradition of the "Common Goods" pop-up store, featuring laser-cut paper packages of items, "things we need but cannot buy, such as kindness, health, and rainbows."
The packages are designed by students in 3D classes taught by art faculty Sharon Massey and Sean Derry. This year's packages will be laser cut in brown craft paper, and a few of the ideas they are designed to hold include relaxation, imagination, and a sense of humor.
The pop-up store will be in the Indiana Mall across from JC Penney. The store's grand opening celebration is on November 17 from 6:00 to 7:00 p.m. It also will be open November 18 from 10:00 a.m. to 6:00 p.m. and November 19 from 10:00 a.m. to 2:00 p.m.
The packages are first designed as hand-cut paper prototypes, then translated into digital files for reproduction. Students use a large format laser cutter in STEAMSHOP, IUP's interdisciplinary maker space (STEAM stands for Science, Technology, Engineering, Art, and Mathematics), to create precision cut multiples of their designs.
Sales from the Common Goods pop-up store are donated to charitable causes; this year, sales from the packages are raising funds for a program called Future Maker Forum, which brings visiting scholars from multicultural backgrounds to IUP for workshops and public talks.
The first "Common Goods" project in 2020 raised $1,555 for the IUP Student Assistance Fund, which provided support for students facing financial challenges due to the COVID-19 pandemic; the 2021 project raised $1,100 for the Indiana Free Library.
This multi-faceted project results from professors Massey and Derry's interest in developing and implementing effective strategies for integrating undergraduate research experiences into a curriculum that includes scaffolded introductions to digital fabrication technology.
Students participating in "Common Goods" each make an original creative contribution to the project and are provided a real-world presentation for their work, giving students an experience that extends beyond the classroom, Massey and Derry said.
Although each participant creates their own artwork, the project requires collaboration with their peers, their professors, and the community. "Common Goods" exposes IUP students to new trends in the field of participatory public art and engages students in real-world professional development opportunities such as grant writing, proposal development, and public outreach.
The Common Goods project continues Massey and Derry's efforts to make art more accessible by involving community members in the production and exhibition of public projects.
In 2019, the pair collaborated to create Sculpture Support System, designed to provide a more in-depth professional experience for highly motivated students through social practice projects that engage community members in a range of art-making processes.
As part of the Sculpture Support System, in September 2020, Massey and Derry and their students presented "Traffic Island Oasis," transforming a traffic island on Oakland Avenue in Indiana into an island oasis.
In March 2020, the two professors and their students were commissioned by Pittsburgh's Office of Public Art to create a participatory art project called "The Quarantine Companion." The project consisted of kits containing a needle, thread, googly eyes, and instructions for creating a "companion" while staying at home. After the companions were completed, pictures of the final artworks were hosted in a virtual exhibition on the Sculpture Support System website.
Additional projects in the Sculpture Support System include "The Community Quilt" and "The Monument Project."