Indiana University of Pennsylvania will mark the anniversary of the September 11, 2001, terrorist attacks on Sept. 12 starting at 11:40 a.m. in front of the 9/11 memorial in the IUP Oak Grove.
In addition to an opportunity to reflect on and mark the anniversary of the attacks, the event includes a remembrance of the three IUP alumni lost in the World Trade Center attacks: Donald Jones, a 1980 graduate; William Moskal, a 1979 graduate; and William (Bill) Sugra, a 1993 graduate.
Jones and Sugra worked for Cantor Fitzgerald in the north tower of the World Trade Center. Jones was a bond broker from Bucks County.
Moskal, a safety sciences graduate and Johnstown native, was a risk consultant for Marsh and McLennan in Cleveland, specializing in heavy construction. He was in New York on Sept. 11, 2001, for a meeting at the World Trade Center.
Sugra lived in Manhattan and worked for e-Speed, Cantor Fitzgerald's electronic trading unit. Sugra's family, of Allentown, continues to provide the funding for an annual memorial scholarship in his honor for IUP students.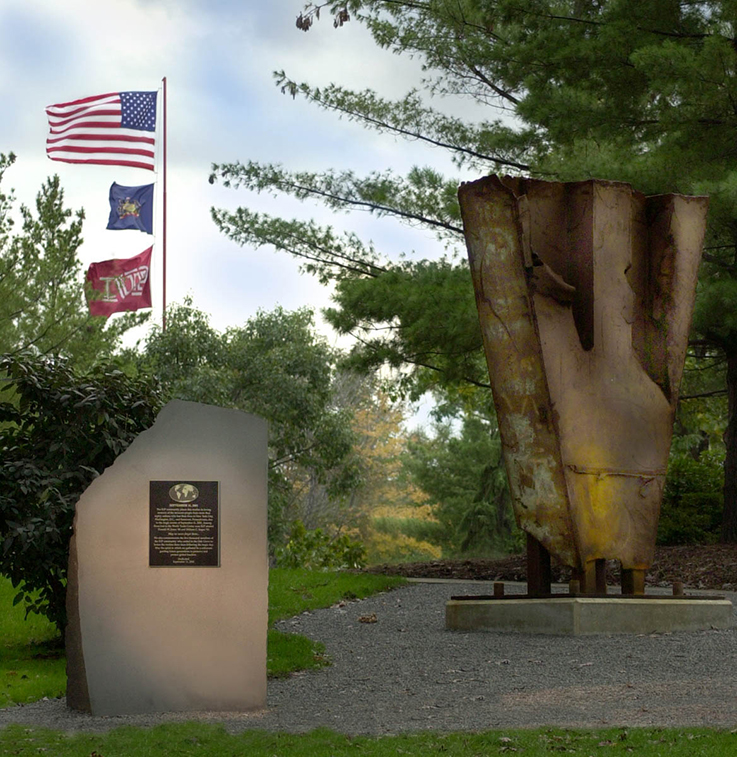 The university's September 11 memorial in the Oak Grove is located between Sutton Hall and Stapleton Library. It includes a 13-foot remnant of the World Trade Center, on long-term loan to the university from the Kovalchick family, of Indiana.
Speakers for the 2022 event will include IUP President Michael Driscoll; Danny Sacco, a lifelong resident of Center Township, who was deployed to Ground Zero in New York City in September 2001, and who has been recognized locally, regionally, and nationally for his a five-decade career in public safety, including by President George W. Bush and Pennsylvania Governor Mark Schweiker; and Kristen Collins, a senior in the Public Health-Behavior and Mental Health program from Mount Pleasant and an IUP Alumni Association student ambassador.
Lt. Col. Erich Steffens, chair of IUP's Department of Military Science, will serve as master of ceremonies. Music will be performed by the IUP Wind Ensemble, under the direction of Timothy Paul, director of bands.
Sacco began his career in emergency service and public safety assisting in the development of the Indiana County Emergency Management Services system. In 1977, he joined Citizens' Ambulance as the assistant county director; in 1980, he was tapped by Latrobe Hospital to establish that hospital's first full-time paramedic service.  
In 1982, Sacco joined Indiana Hospital (now Indiana Regional Medical Center) as its first paramedic coordinator. In 1984, he was named director of Safety, Security, and Disaster Service. He retired from IRMC in 2014 after a distinguished 32-year career.
Sacco has made an impact on public safety at the local, regional, and national level, serving with a number of planning and response agencies. He was a safety officer and founding member of the Pennsylvania Urban Search and Rescue Task Force, with 20 years of service. In addition to his service in New York City at the time of the terrorist attacks, he has been deployed all over the United States. Governor Tom Ridge selected Sacco as a founding member of the US Department of Homeland Security.
Since his retirement from IRMC, Sacco has operated his own public safety consulting service, helping schools, health care agencies, business, and industry. He has taught in emergency medical technician, paramedic, hazardous materials, and fire service programs all over the commonwealth and was instrumental in the formation of a tactical medical component that responded with the FBI's Pittsburgh bureau and locally with the district attorney's High Risk Warrant Service Tactical Team.
Sacco has been featured in numerous books, magazines, and publications, including the book 9 For 9 by Andrew Morton, the story of the 2002 successful rescue of nine minors in Somerset County. Sacco coordinated all of the public safety services on site with the Pennsylvania Bureau of Deep Mine Safety.
Collins, daughter of Frederick and Mary Collins, is a 2019 graduate of Mount Pleasant Area Union Senior High School. She is a member of the Cook Honors College and is a dean's list student. She is a recipient of the Sutton Scholarship, Academic Success Scholarship, and Academic Provost Scholarship. She was selected for membership in the National Honor Society of Leadership and Success and Phi Eta Sigma Honor Society.
She is president of the IUP chapter of Kacie's Cause, an organization that prioritizes education, prevention, and support for those in addiction and those affected by it. She is a volunteer for the IUP Haven Project, which provides education about domestic violence and support for survivors, and she is a member of IUP Public Health Club.
Past speakers for the event have included national award-winning journalist Tim Lambert, a 1992 communications media graduate, whose family owned part of the land where Flight 93 crashed on Sept. 11, 2001; and the late Glenn Cannon, a 1971 graduate of IUP and former member of the IUP Council of Trustees, who was the founding director of Pittsburgh's Emergency Medical Services Department, director of disaster operations for the Federal Emergency Management Agency in the aftermath of Hurricane Katrina, and director of the Pennsylvania Emergency Management Agency.  
In the event of inclement weather, the program will be moved to the Performing Arts Center's Fisher Auditorium.
This annual event, usually held on Sept. 11, has been scheduled this year in conjunction with IUP's Common Hour, a time period each weekday set aside for events and programs.
During September, the IUP Libraries offers a special display in the first-floor lobby area about the attacks.