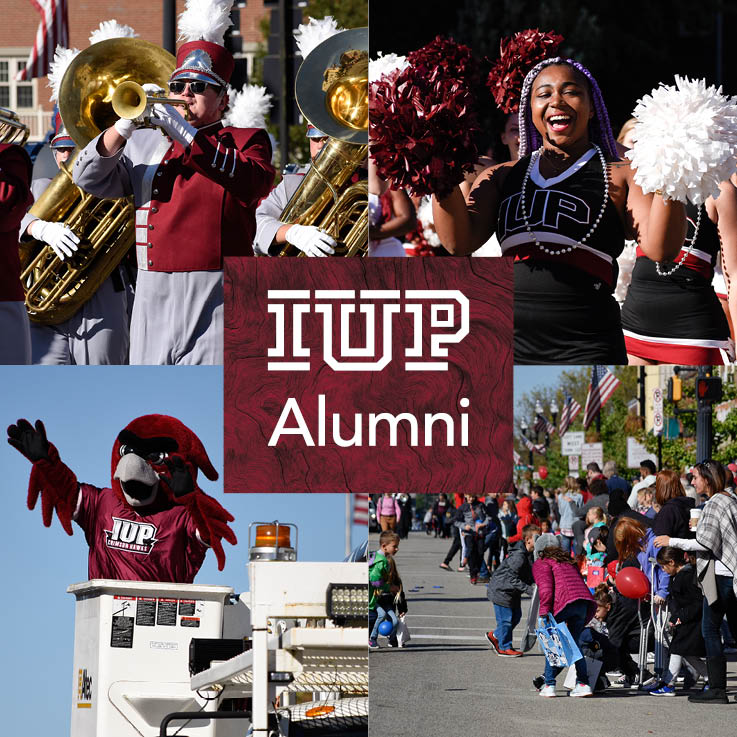 Indiana University of Pennsylvania's annual Homecoming celebration, September 30 through October 2, is expected to draw thousands to Indiana for alumni reunions and events for the entire community, including the annual parade and football game.
"The support of the IUP alumni and friends' community has never wavered, even when the coronavirus pandemic forced us to have Homecoming 2020 events virtually," IUP Vice President for University Advancement Khatmeh Osseiran-Hanna said. "We had an incredible response to our 2021 Homecoming celebration, and we have both traditional and new events this year for our IUP family to enjoy," she said.
The Homecoming parade, with a theme of "Superheroes," will start at 10:00 a.m. on October 1. It will feature more than 70 campus and community units, including the following floats by IUP fraternities and sororities:
Batman by Delta Phi Epsilon, Theta Phi Alpha, Sigma Chi, and Phi Delta Theta

Wonder Woman by Delta Gamma, Alpha Xi Delta, Delta Zeta, Sigma Pi, and Kappa Delta Rho

Spider-Man by Alpha Sigma Tau, Alpha Gamma Delta, Theta Chi, Zeta Tau Alpha, and Phi Sigma Kappa

The Incredibles by Alpha Sigma Alpha, Sigma Kappa, Acacia, and Sigma Sigma Sigma
The parade will start at 11th and Philadelphia streets and travel east to Sixth and Philadelphia streets, south on Sixth Street to Church Street, west on Church Street to Oakland Avenue, and southwest on Oakland Avenue to 11th Street, where the parade will disband. All motor-driven floats will continue southwest on Oakland Avenue to the Robertshaw building for disassembly.
Immediately following the parade, student volunteers from IUP's sororities and fraternities will clean the parade route and Mack Park, where the floats were constructed.
Four float prizes will be given: first prize of $1,000, sponsored by the Alumni Association; second prize of $900, sponsored by Aramark; third place of $800, co-sponsored by the Student Government Association and the Center for Multicultural Student Leadership and Engagement; and fourth prize of $700, sponsored by University Advancement.
Parade judges this year will be Dean of the College of Arts and Humanities Curt Scheib '77; Indiana Mall Manager/Director of Marketing Sherry Renosky '89; Cate Planisky, community member; Sam Kenly and Joyce Sharman, representing Downtown Indiana Inc.; and Indiana Borough Council President Peter Broad.
In addition to the IUP Marching Band, the parade will feature marching bands from five area high schools: Purchase Line, Indiana, Marion Center, Penns Manor, United, and River Valley.
Now in its 12th year at IUP, the Crimson Court will take part in all university Homecoming activities, including the parade. The Crimson Court consists of students chosen by a university-wide vote to represent each of the colleges at IUP.
To qualify for the court, students must have at least a 3.0 cumulative grade-point average and be in good judicial standing.
IUP's 2022 Crimson Court is:
College of Education and Communications – Tamzan Schmidt, a speech language pathology and audiology major with a minor in deaf studies from Export. Daughter of Desiree Smith and William Smith, Export and James Schmidt, she is a 2019 graduate of Franklin Regional High School. She received the Sutton Scholarship and is a dean's list student. She is president of the IUP National Student Speech Language and Hearing Association and is president of the IUP Audiology Association. She is a member of Alpha Xi Delta sorority.
College of Arts and Humanities – Jorge Tapia Becerril, a political science pre-law major in the Cook Honors College from Kennett Square. Son of Susana Becerril, he is a 2019 graduate of Kennett High School. He is Promising Scholar, a dean's list student, provost scholar, and a recipient of the Dean's Merit Scholarship. He is president of the IUP Ambassadors student-alumni group and is president of Rho Alpha Sigma National Honor Society. He is the head resident assistant in Wallwork Hall, and is a Promising Scholar peer mentor, a Cook Honors College Executive Board senior representative, and is a member of the National Society of Leadership and Success. He has served as an orientation leader and Welcome Week leader.
John J. and Char Kopchick College of Natural Sciences and Mathematics – Morgan Buterbaugh, a mathematics major from Clymer. Daughter of Steven and Kelli Buterbaugh, she is a 2019 graduate of Penns Manor High School. She received the Sutton Scholarship, the Ken and Lois Widdowson Scholarship, the Ida Arms Math Scholarship, the Terry Serafini Scholarship, and the Academic Success Scholarship. She is co-president of the IUP Math Club.
Eberly College of Business – Rachel Kochanowski, a marketing major with a graphic design minor in the Cook Honors College from Murrysville. Daughter of Patrick and Cheryl Kochanowski, she is a 2020 graduate of Franklin Regional Senior High School. She is a dean's list student, a member of the Eberly Business Honors Program, a Sutton Scholarship recipient, and was accepted into the 4+1 MBA program as a college freshman. She is vice president of philanthropic services for Sigma Kappa sorority and is marketing director for Phi Gamma Nu national honor society.
College of Health and Human Services – Jacob Drexler, a psychology major with a minor in human resource management in the Cook Honors College from Hershey. Son of Michael and Christine Drexler, he is a 2020 graduate of Hershey High School. He received the 2022 Emerging Leader Award and the Sutton Scholarship and is a dean's list student. He is president of Phi Eta Sigma National Honor Society and is a Crimson Guide, a member of the IUP Ambassadors student-alumni association, a Department of Psychology tutor, and the social media manager and recruitment chair for IUP Ultimate Frisbee.
University College – Kayla Granlund, an exploratory major from Huntingtown, Maryland. Daughter of Tanea and James Granlund, she is a 2021 graduate of Huntingtown High School. She is a member of the IUP Ambassadors student-alumni association and is a peer mentor for the University College.
IUP President Michael Driscoll and Tonya (Anthony) Hsiung '00, president of the Alumni Association Board of Directors, will lead the parade.
Hsiung, a mathematics graduate, serves as an instructor for the National Association of Student Financial Aid Administrators. The Alumni Board of Directors works with the IUP Office of Alumni and Constituent Engagement to create and enrich relationships with current and future alumni in the advancement of IUP.
Open to all, the Alumni and Friends Crimson Huddle Pregame Party will be from 11:00 a.m. to 2:00 p.m. October 1 in the Kovalchick Convention and Athletic Complex. It will feature reunion groups—including sororities, fraternities, academic departments, and sports teams—along with an appearance by the IUP cheerleaders, live music from the Steel City Yacht Club band, and a performance by the IUP marching band and drum line. The IUP Ambassadors student-alumni group will offer special activities for children.
Reunion groups in addition to the class of 1972 who plan to meet at the Crimson Huddle include Alpha Tau Omega Fraternity; Alumni Association Board of Directors; Black Experience Alumni Committee; IUP cheerleaders; all of IUP's colleges; the Communications Media Department; Cook Honors College; Delta Tau Delta; Division of Student Affairs; Journalism and Public Relations;  Lambda Chi Alpha; Nursing class of 1989; Phi Kappa Psi Alumni Association; Phi Mu fraternity/sorority; Phi Sigma Kappa; Phillips Family; Safety Sciences; Sigma Sigma Sigma sorority; Sign In Cast-Class of 2012; and the University Advancement team.
Admission at the door is $25 per individual age 15 and older, $10 per child 7–14, and free for children six and under. Admission includes food and beverages.
More than 700 alumni and friends are expected at the Crimson Huddle, which will include a special celebration of graduates from the class of 1972.
Tailgating will open at 10:00 a.m. in the parking areas designated for tailgating in the stadium south lot between Miller Stadium and the Kovalchick Convention and Athletic Complex.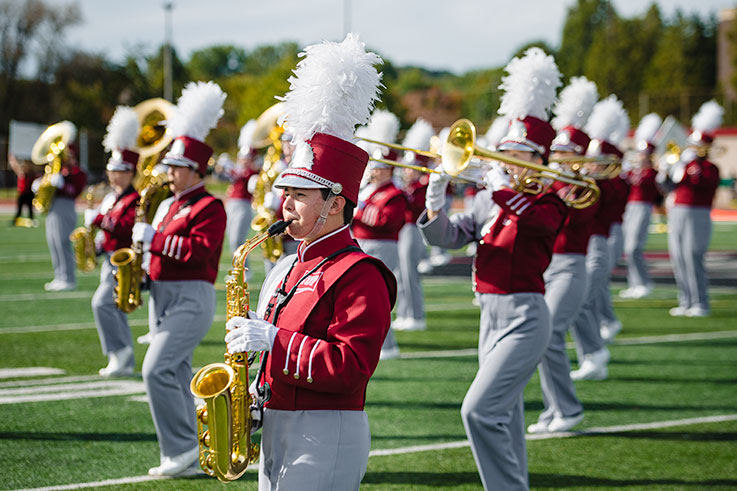 The Homecoming football game between IUP and Slippery Rock University will begin at 2:00 p.m. October 1 at Cignetti Field in George P. Miller Stadium.
During halftime, the Crimson Court and prize sponsors for the parade floats will be recognized. The halftime show will feature the IUP Marching Band, under the direction of Zach Cheever. The band will present the postgame show at the stadium immediately following the game.
Among the other events on the Homecoming calendar is the annual "official homecoming party" at 8:00 p.m. on October 1 in Folger Student Center.
The annual Homecoming concert featuring the IUP Symphony Band will be at 3:00 p.m. October 2 in the Performing Arts Center's Fisher Auditorium. Tickets for the concert are available in advance at the IUP Hadley Union Building ticket office. Remaining tickets may be purchased at the door starting at 2:15 p.m.
Hundreds of IUP students from fraternities, sororities, and other student organizations are expected to participate in a community cleanup on October 1–2.
A complete list of Homecoming events and information on how to register for events is available at the IUP Homecoming website.