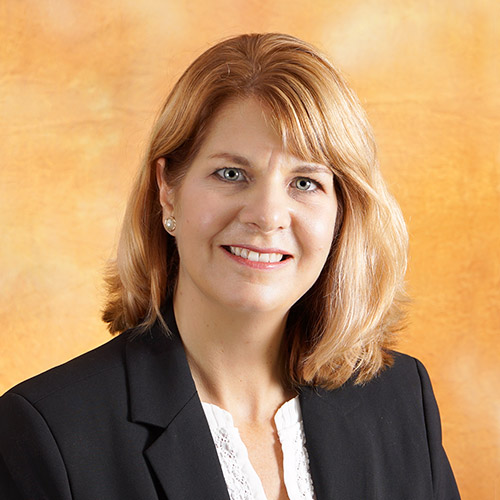 Laurie Connors, a student in Indiana University of Pennsylvania's PhD doctoral program in nursing, has been selected for a 2022 National League for Nursing Education Scholarship. She will be recognized as a scholarship recipient at the National League for Nursing Education Summit on September 29.
Connors is currently a full professor at Vanderbilt University, in Nashville.
In addition to this recent scholarship, she received the Oncology Nursing Foundation Research Doctoral Degree Academic Scholarship earlier this year and is the 2021 Rising Star of Research and Scholarship Award from Sigma Theta Tau International Honor Society of Nursing.
"I've been a lifelong learner and nursing educator for 10 years and am so impressed with the quality of IUP's nursing program," Connors said.
Connors received her bachelor's and master's degree in nursing from the State University of New York at Buffalo and worked at Roswell Park Comprehensive Cancer Center as a family nurse practitioner in oncology for nearly 20 years. Following her mother's breast cancer diagnosis, she developed an interest in solid-tumor oncology and translational clinical genetics. She became certified as an advanced practice nurse in genetics and taught at SUNY at Buffalo for several years. During this time, Connors established and led clinical innovations at the point of care and in management to advance the role and scope of nurses in genetics.
She completed her doctor of nursing practice degree with a project focusing on individual decision-making following clinical genetic testing, and never planned to go back for a PhD. However, her passion for genomics—and expanding genomics informed nursing and workforce skilling of  nurse practitioners in genetics and genomics—led her both to Vanderbilt and eventually to IUP.
"Vanderbilt welcomed my interest in genetics, and they have a genetics institute there," she said. She submitted a proposal for a National Institutes of Health grant for health education and was successful in receiving a five-year award totaling nearly $700,00 to develop and promote genomics education in nursing. Connors has also developed three new courses at Vanderbilt and supports a DNP clinical fellowship in n genetics.
She decided that she wanted to go advance her research skills to the "next level," had heard about IUP's Nursing DNP to PhD program—"IUP's program definitely is well regarded by nursing professionals,"—and was excited to begin the program with a statistics course. She credits IUP nursing faculty Meigan Robb and Kristy Chunta for serving as mentors along the way.
IUP's PhD in nursing program offers a unique blend of both the DNPs and nurses on a direct path to the PhD component. The program is based in nursing education research, nursing pedagogy, and faculty role development, designed to offer students the skills necessary to excel as professors in the nursing field.
The DNP to PhD opportunity definitely appealed to Connors.
"IUP's program is just stellar, there are not many programs like it available. I also like how IUP's program has developed an inclusive academic environment of nursing students blending both DNPs and PhDs," she said.
"The nursing profession allows for an individual's professional growth and innovation, which should be supported by lifelong learning," she said. "I've been so impressed with the quality of the IUP PhD program and its faculty."
Connors plans to use the NLN scholarship to assist with the costs associated with her doctoral dissertation research. The goal of her dissertation is to explore genomic competency of nurse practitioners—she calls it "workforce skilling."
"With so many companies offering direct-to-consumer genetic testing, it's now a clinical topic that patients want to know and understand. Patients have questions about genetics, and what that means for both them and their families' health," she said. "Nurse practitioners are in the perfect position to respond to patient concerns and questions about personalized health care and genetic testing.
"There are only 5,500 genetic counselors in the United States, whereas there are 355,000 nurse practitioners, with nearly 90 percent in primary care, so nurse practitioners are the ideal group to provide and translate genetic information for patients," she said. NPs should be utilized to provide accessible and equitable person-centered health care.
"Nurses in practice may need to upscale their skills as health care needs change and evolve, and they need to be prepared to understand and educate patients about genetics," she said. Nurses have always answered the call to provide vital healthcare services, and these services now include clinical genetics and genomics.
Connors is incoming president of the International Society of Nursing in Genetics, so she has the opportunity to globally reach nursing and others in genomics.
She will be entering her dissertation phase this fall, which will include executing a national survey to evaluate the genomic competency of nurse practitioners and explore factors that may impact genomic competency such as education and practice.
"As faculty, we need to embrace and build on genomic knowledge for ourselves and our students," she said. "The field is evolving so rapidly, many nursing faculty have not had an opportunity to update their own education in genomics, and students are coming into the classroom with this new information seeking to enhance and build knowledge that faculty might not have. We need to address and expand genomic competency in the nursing profession."