It's common for Indiana University of Pennsylvania to see "legacies"—students following a member of their family (parent, grandparent, aunt, or uncle) to IUP.
Usually, there are quite a few years separating graduating students and their parents.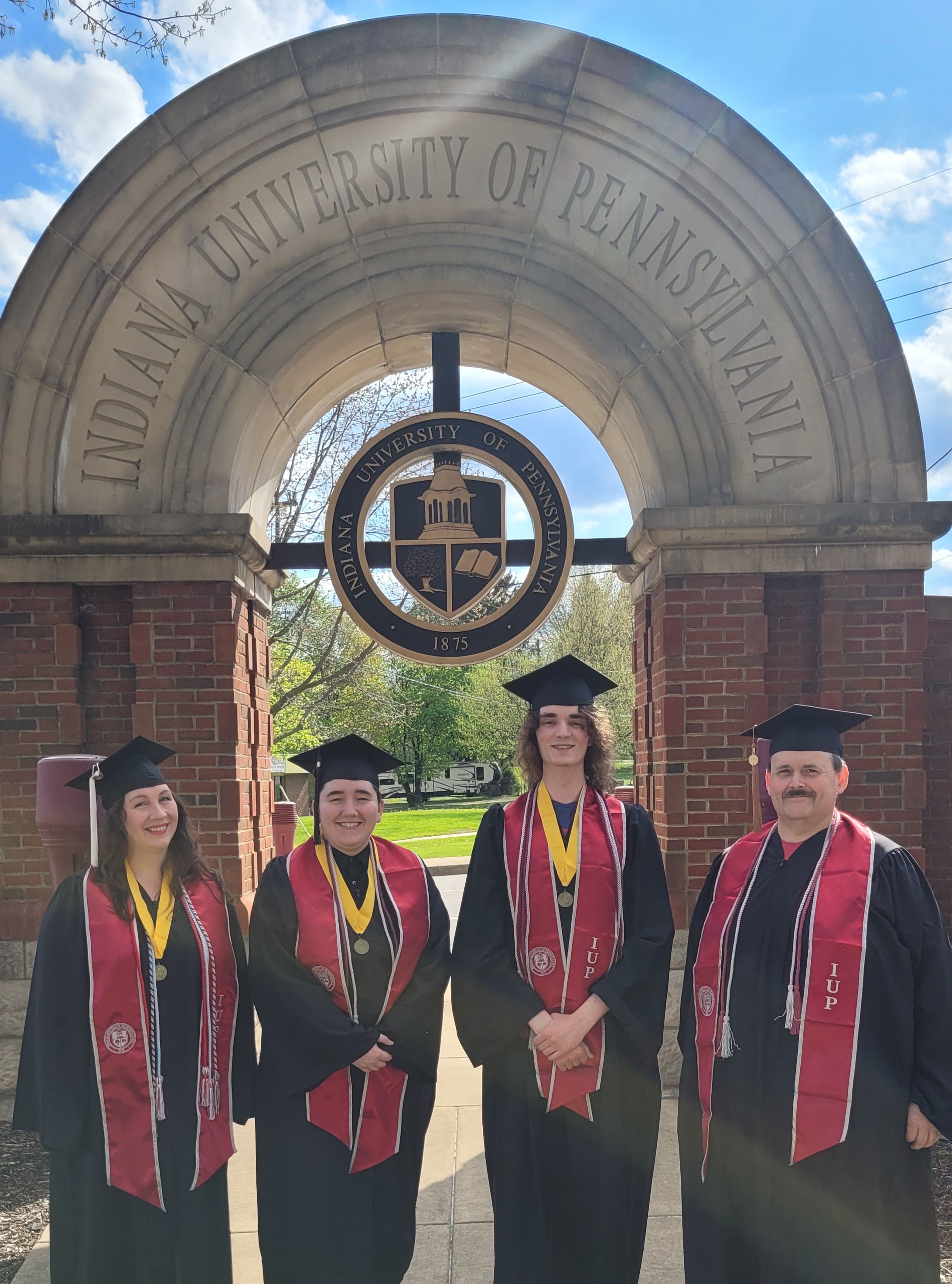 However, at IUP's May 2022 commencement, two Indiana County families who are longtime friends will celebrate parent and child graduating together.
Ron Burkhardt and his son, Jared Burkhardt, and Sharon Herring and her daughter, Jane Herring, all of Indiana County, will be graduating from IUP on May 7.
The four will be participating in the university's 2:00 p.m. ceremony as part of their colleges: the College of Arts and Humanities (Jared, Sharon, and Jane) and the Eberly College of Business (Ron).
Ron will be celebrating the completion of his bachelor's degree in Hotel, Restaurant, Tourism, and Event Management; Jared will receive a bachelor's degree in English with a concentration in writing studies. Sharon will be graduating with a general studies degree with a concentration in geography and two minors: history and women and gender studies; Jane will receive her degree in music.
While Jane and Jared's path to IUP and a bachelor's degree has been fairly straightforward—they both graduated from Marion Center High School in 2018, started IUP in fall 2018, and completed their studies in four years—their parents' path to a college degree has been a little more circuitous. In the end, they circled back to where they started.
Ron started studies at IUP in 1986 as a biology pre-medicine major, after his 1986 graduation from Warrior Run High School, in Turbotville, Pa. After five years at IUP—which included working as a paramedic with Citizen's Ambulance in Indiana from 1987 to 1995—he left IUP to pursue full-time employment and to start a family. He and his wife, Jolene Burkhardt, in addition to son Jared, have a daughter, Sara.
In 1994, Ron decided to go back to school, this time, at IUP's Academy of Culinary Arts in Punxsutawney. He completed that program in 1995, which included an externship at the Boulders Resort and Spa in Arizona. After his time at the Academy, he went on to work for the Indiana Country Club in 1999, advancing to the position of executive chef.
For 10 years, the couple owned and operated Stonybank Restaurant in Clymer.  Currently, Ron is director of dining services with Cura Hospitality at Punxsutawney Area Hospital. Jared has also worked at Punxsutawney Area Hospital as a COVID-19 screener.
Social media can be credited for Ron's return to IUP.
"It all started on Facebook," Ron said. "I saw a post from academy chef Lynn Pike about converting your culinary arts degree into the associate degree. I had the academy certification and about 100 credits from IUP floating around from the 1980s, so I emailed her to see if my credits from that time could work toward the associate degree. They did," he said.
He received his associate degree from IUP in 2021, and in May 2021, "the faculty talked me into pursuing the bachelor's degree," he said.
"Everyone has been great at IUP, and I've done a lot better in my classes than I did in 1986," Ron said. "Most of my classes have been offered online, so that's been very helpful with my work schedule, which can be a bit unpredictable, especially with the pandemic," he said.
"I worked in the industry for a lot of years before I went back for my degree, so my studies and my work experience really went hand in hand," Ron said. He says he's happy in his current position, but he's also glad to have the bachelor's degree, to position himself well for his future.
Jared, a dean's list student and provost scholar, hasn't had the opportunity to be in class with his father, but he's proud and supportive.
"I think it's a pretty cool and unique dynamic, and kind of a humorous situation, especially with my friend Jane and her mom graduating at the same time," Jared said.
At IUP, Jared, who has a minor in communications, has received a number of awards for his academic work, including an award from the Department of English as most outstanding first-year student in 2019. His passion is writing and editing, and he has worked at the Jones White Writing Center at IUP since his freshman year. In 2021, he achieved his master tutor certification.
Jared says that his overall experience at IUP has been interesting and rewarding and has expanded his perspectives. "My favorite courses have been a creative writing course that really challenged what I thought about the subject because it introduced me to writing non-fiction in that style, and a poetry writing course because it also made me think about poetry in a number of new ways. I also enjoyed the persuasive media writing course which expanded my communication skills," he said.
IUP is a tradition for the Herring family. Afton and Lindsay Herring, Sharon's two oldest daughters, are IUP graduates (Afton, a 2017 music major, and Lindsay, a 2020 theater major).
Like Ron, Sharon started at IUP right after her high school graduation. She stayed at IUP for "two or three" semesters but then left to raise a family. Ten years ago, she took a position at IUP in Custodial Services, which includes a tuition waiver for her children and herself.
"When Jane started at IUP, I decided that I wanted to come back to school. My supervisor has been very supportive, and the general studies major has allowed me a lot of flexibility to take courses around my work schedule," she said.
"The general studies major has also allowed me to discover so many things that I've come to really like studying," she said. Sharon took advantage of IUP's Fresh Start program to use the credits she earned during her first time at IUP.
"I'm kind of a nerd, that student who always sits in front and isn't shy about asking questions," Sharon said. "It's a whole different dynamic now for me as a non-traditional student than when I was here the first time. Sometimes I think that my asking questions takes a little bit of pressure off the other students who might be a little more hesitant to ask things.
"My first semester, I had an English class, and I was so nervous," Sharon said. "I hadn't written a paper for years. We reviewed our papers in small groups, and that put my mind at ease—the professor was great and the students were so nice."
For the first two years she was at IUP, she was here with both Jane and Lindsay, while her oldest daughter was in graduate school elsewhere.
"I really enjoyed learning as a young woman, but in high school, I was just over it," Sharon said. "Now, this second time at IUP, it's been wonderful, I've loved my classes and learning about so many different things."
Both mother and daughter are graduating from IUP with summa cum laude honors (for students with an overall grade point average of 3.75 to 4.0).
"I have the most supportive husband in the world, and every member of my family has been my biggest cheerleader," Sharon said. "They listened to me when I talked about something that interested me in my classes, and they made sure I had time to study and do my classwork. They have been amazing," she said.
Jane, who is a dean's list student and provost scholar and percussionist, also hasn't had a chance to be in a class with her mother, but she's very proud of her mother's achievement and is glad that they are at IUP together. While at IUP, Jane was part of the Percussion Ensemble, Symphony Band, Wind Ensemble, Marching Band, and Orchestra. She is also the drummer of Pittsburgh-based band Wasted Space.
"It's also been nice to have my best friend here at school with me—we do the paperwork together. I've had friends who have been in class with my mom, and they tell me, 'your mom is the sweetest person'," Jane said.
The return to university as an adult isn't new to Sharon's family; Sharon's mom came to IUP when Sharon was here for the first time, in 1991, and they had a health and wellness class together.
So, what's next for the four graduates?
Jane is planning on graduate school but not for a year or so; for now, she's planning to work as a percussion performer with area orchestras.
Jared is also thinking about graduate school, but not immediately. He plans to work in remote editing, building on the skills and experiences he has gained at the Jones White Writing Center.
Sharon says she's loved learning and would like to continue her studies if circumstances permit. She enjoys her current job but would be open to new opportunities, especially where she can use her new skills. She wants to stay at IUP and in the community.
Ron is going for more at IUP: he's already enrolled in the dual master's degree program for Employment Relations and Health Services Administration.  After a one-day break, he will be starting in the program on May 9. And in the spirit of coming full circle, he worked with both directors of his master's program—Scott Decker and David Piper—at Citizen's Ambulance when he was a student the first time around at IUP.
No decision yet if the IUP tradition will be continuing for Sara Burkhardt, who will be graduating in June from Marion Center High School. But no matter her choice, a path to setting and meeting goals is well laid by her family and friends.