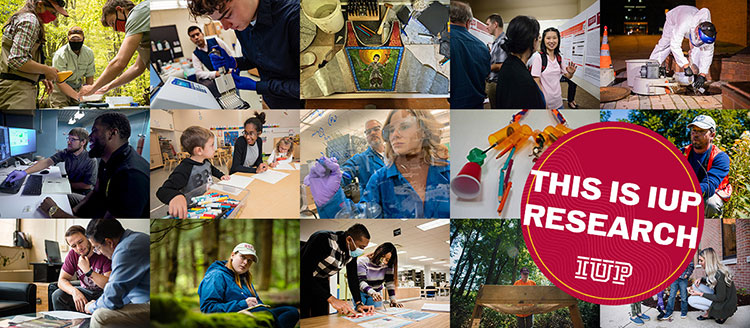 It's Research Appreciation Week, and it's a great time to find out how you can get involved with research at IUP.
If you're looking for inspiration, the Scholars Forum and the Three-Minute Thesis finals are the places to start.
If you're already researching, you'll find help with making research presentations, conducting surveys, working with human participants, partnering with our local medical center, getting your dissertation done, and much more.
There are events every day this week, so take a look at what's on offer and make plans to go.
Monday, April 4
Science, Technology, Engineering, and Mathematics (STEM) Women's Summit
Toretti Auditorium/Foyer, Kovalchick Complex, Noon–3:00 p.m.
Ready to be inspired? Attend a poster session presenting research by IUP women in STEM fields, then hear from Kelly Tretter, a microbiologist and senior quality integration manager at New Belgium Brewing Company in Denver.
Academic Oral Presentation Workshop
Kathleen Jones White Writing Center, Eicher Hall, Room 218, 2:00–3:00 p.m.
Presenting your research to others is a key skill for all researchers—undergraduate, graduate, and beyond. Attend this session to get started with oral presentations or to hone your presentation skills.
Tuesday, April 5
IRB Overview
Held via Zoom, 11:30 a.m.–12:30 p.m.
If your research will involve working with human participants, you'll need to work with IUP's Institutional Review Board for the Protection of Human Subjects, better known as the IRB. The chair of our IRB will give an overview of the IRB process at IUP and answer some common questions. Zoom link
Qualtrics Overview with the Applied Research Lab
Held via Zoom, 2:30–3:30 p.m.
Need to conduct a survey? Get familiar with the Qualtrics survey software. IUP's Applied Research Lab will cover creating your survey, getting it to participants, getting your data out of Qualtrics, and more. Zoom link
ABD to PhD: Ten Tips for Completing Your Dissertation
Held via Zoom, 7:00 p.m.
Finishing your dissertation can be overwhelming. It's hard to know where to begin, how to stay motivated, and how to find your path to finishing. This session can help! Kelly Heider, graduate information literacy librarian, will provide tips about finding a topic, reviewing literature, selecting a chair, developing research questions and methodology, managing your time, handling stress, and more. Zoom link
Wednesday, April 6
Scholars Forum
Kovalchick Complex, 9:00 a.m.–2:00 p.m.
If you attend one Research Appreciation Week event, make it this one.
Graduate and undergraduate students will present their original research, scholarly activities, and creative endeavors. Expect to see research posters and art, hear presentations, and take in performances. Every field of study at IUP has opportunities for research, and you'll see just about every field represented here.
Stop by, learn what other students are doing, and get inspired for your own research project. Find more information about the Scholars Forum.
Three-Minute Thesis Finals
Toretti Auditorium, Kovalchick Complex, 1:00 p.m.
Presenting your research is one thing. Presenting your research project in three minutes with just one PowerPoint slide is something else.
This exciting competition will showcase the Three-Minute Thesis finalists as they present their original scholarship to a panel of judges in only three minutes. Stop by and cheer them on!
Find more information about the Three-Minute Thesis.
Thursday, April 7
IRMC Day
Kovalchick Complex, 8:00 a.m.–1:00 p.m.
Health care professionals, IUP students, and community members are invited to attend the inaugural IRMC Day at IUP. The half-day conference will feature partnership discussions on rural health care, research projects, and health care initiatives. Register online.
Friday, April 8
Coffee and Collaborate Session
Held via Zoom, 1:00–2:30 p.m.
Research is better when you collaborate. Drop by this Zoom event to chat and connect with others interested in research and scholarship. Information about copyright, authors' rights, open access, how to get started in grant writing, and financial support from IUP for scholarly publishing will also be available at this informal networking event. Zoom link