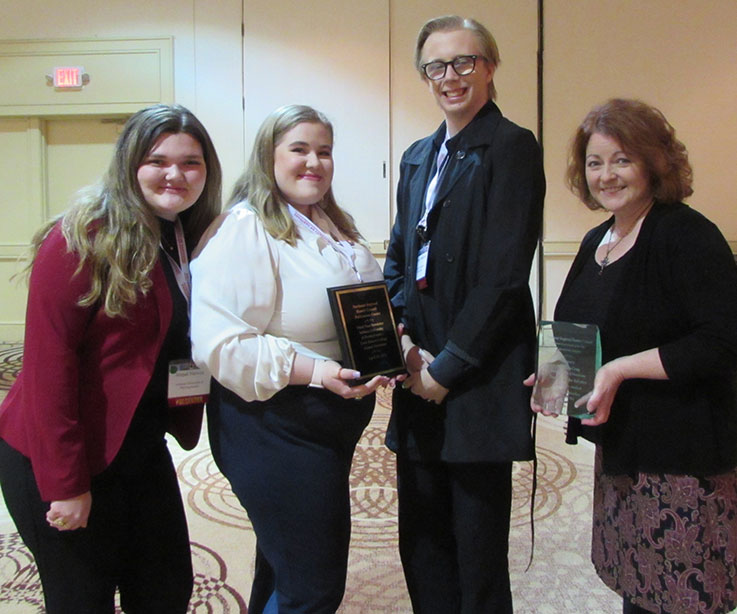 A faculty member and students in Indiana University of Pennsylvania's Cook Honors College have been honored by the Northeast Regional Honors Council, an affiliate of the National Collegiate Honors Council, at the organization's conference on April 10 in Philadelphia.
Chauna Craig, professor of English and director of the Honors College, was selected as the Honors Professional of the Year (administrator category), and three students were invited presenters for the conference, including Thomas Oraskovich, a regional planning and political science pre-law major from Homer City, who won a minority scholarship for his work on LGBTQ issues. His conference registration cost and a stipend were included in the recognition.
In addition to Oraskovich, first-year students Callie Bland, an anthropology and political science major from Indiana, and Abigail Hancox, a political science major from Albion, presented at the conference. The theme was "A More Perfect Union: Creating and Restoring Community in an Age of Disruption." The student presentations reflected work from a history unit taught by Elizabeth Ricketts.
IUP received third place in the publications contest for the Cook Honors College alumni newsletter. Amy Kukula, an English education-interdisciplinary fine arts (dance) double major from Blairsville, is the editor and writer for the newsletter.
Bland, daughter of Nadene L'Amoreaux-Bland and Elmer Bland, is a 2021 graduate of Marion Center High School. She is a dean's list student and received the Professional Golf Association Scholarship. At IUP, she is a member of Students Against Racism, the IUP Ambassadors student-alumni group, the Pride Alliance and Queer Conversations groups, the Anthropology Club, and the Cook Honors College Book Club.
Hancox, daughter of Melissa Gibson and Mike Hancox, is a 2021 graduate of Northwestern High School. She is a dean's list student and is an officer in IUP's Student Government Association.
Kukula is the daughter of Marilyn and Henry Kukula and is a 2019 graduate of Blairsville High School. She is a dean's list student, received the Patricia Lommock Dance Theater Scholarship, and is a student representative for the Department of Theatre, Dance, and Performance. She is a member of Kappa Delta Pi education society, the National Council of Teachers of English, the Dance Theater Company, Alpha Psi Omega theater society, and is a tutor for calculus and math. She is a volunteer for Habitat for Humanity.
Oraskovich, son of Thomas Oraskovich, is a 2021 graduate of Apollo Ridge High School. At IUP, he is a dean's list student, was selected as the "student spotlight" for the IUP Social Equity and Title IX Office's newsletter, is a member of the Planning Student Organization, is a member of the Student Government Association (serving as the LGBTQIA+ senator and was senator of the month), the Queer Conversations group, and attended the American Planning Association as a Pennsylvania chapter member. He was a volunteer at Groundhog Day in Punxsutawney.
"I'm grateful to Lisa Halmes, our incredible administrative assistant, for believing in me and nominating me, and to the Northeast Regional Honors Council for all they do to support honors education and undergraduate research," Craig said. "Despite challenges and changes at IUP and a global pandemic, the Cook Honors College continues to thrive as a community where students can find support for who they are and want to be. I feel so lucky to work here and cannot wait to see how we grow as we move forward," she said.
"IUP was the only university to be recognized with three awards, and I couldn't be prouder of our students and the Cook Honors College."
In 1993, Robert E. Cook, a 1964 graduate of IUP from Altoona who now lives in California, presented a gift of $3.26 million to establish the Robert E. Cook Honors College. It is the first endowed honors college in the state of Pennsylvania.
Admission to the Cook Honors College is selective, limited to 100 students per year. All Cook Honors College students receive four-year, renewable scholarships, and can take advantage of the Cook Achievement Fund, which helps students pay for additional learning opportunities such as study abroad or internships.
Students in the Cook Honors College complete honors core classes in addition to classes in their major. These core classes are student-centered, writing and discussion-based honors learning experiences that take the place of traditional liberal arts classes required of all IUP students.