Biology Major Selected for Kopchick Summer Internship at MD Anderson Cancer Center
Posted on 4/28/22 1:09 PM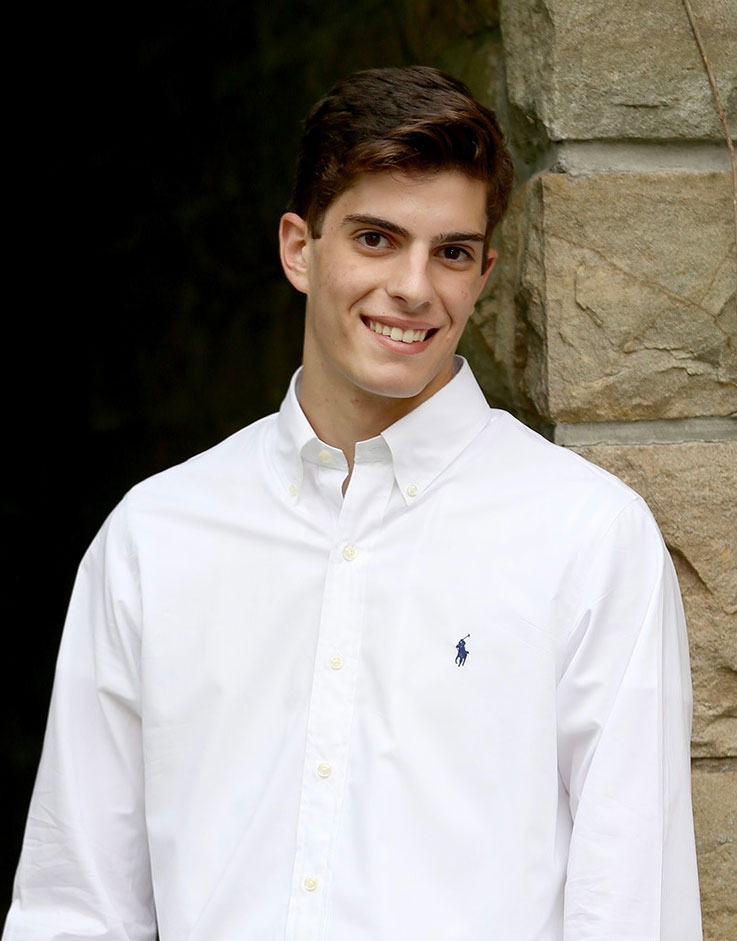 Scott Semelsberger, a junior biology pre-medicine major at Indiana University of Pennsylvania from Northern Cambria, has been selected for IUP's 2022 Kopchick Summer Fellowship.
As the fellowship recipient, he will spend 10 weeks during the summer (from June 6 to August 12) engaged in research at the internationally known MD Anderson Cancer Center in Houston.
John J. Kopchick, who earned a 1972 bachelor's degree and 1975 master's degree in biology at IUP and a graduate degree from MD Anderson UTHealth Graduate School, made a $10.5-million gift to the University of Texas MD Anderson Cancer Center UTHealth Graduate School of Biomedical Sciences to create an endowment that funds up to 15 student fellowships at the cancer center, as well as competitive research awards to students and their faculty mentors.
An IUP student has been selected for one of these fellowships annually since 2018.
Kopchick is a professor of molecular biology and the Goll-Ohio Eminent Scholar at Ohio University. In April 2018, it was announced that Kopchick and his wife, Char, a 1973 IUP education graduate, made a $23-million gift to IUP through the Imagine Unlimited comprehensive campaign for science and math initiatives. Both Kopchicks are originally from Indiana County. IUP recognized the Kopchicks with the naming of the College of Natural Sciences and Mathematics and the new science and mathematics facility in their honor.
"I knew about MD Anderson and its prestigious reputation before I came to IUP," Semelsberger said. "The Kopchick Summer Fellowship is an incredible opportunity for IUP students, and I am beyond thankful to Dr. Kopchick for providing this phenomenal fellowship."
At IUP, Semelsberger works with IUP biology professor Cuong Diep studying the ability of zebrafish to regenerate kidneys. Understanding and manipulating the mechanisms behind essential proteins in this process could provide insights for future therapies to treat the millions of people who struggle with kidney diseases.
"Dr. Diep is an extraordinary researcher and mentor," Semelsberger said. "I have learned many research techniques from him, and he's allowed me to train other students on these techniques. He's made me feel very confident in my skills as a scientist and prepared me well for the experience at MD Anderson. Without his guidance and mentorship, pursuing this fellowship would not have been possible.
"I've learned so much from all of my classes, especially from faculty in the Department of Biology. I'm very excited to put my skills into practice during the summer program," Semelsberger said.
At MD Anderson, Semelsberger will be working with Jeffrey Molldrem, who studies stem cell immunotherapies and how they can be used to treat hematological diseases such as leukemia. Molldrem looks to understand how T-cells may be able to target and eliminate cancer cells.
After graduating from IUP, Semelsberger plans to attend medical school to become a physician-scientist. "I want to bridge the gap between scientists and clinicians. I hope to translate findings from the research lab to the clinic—giving new hope to patients everywhere," he said.
Semelsberger, a member of the Biology Honors Program, is the recipient of the Sutton Scholarship, Sushak Research Award, and an IUP Undergraduate Research Grant. He is the coauthor of a recently published study in the Journal of Visualized Experiments that presents a new in situ method for detecting gene expression in older zebrafish larvae. He was awarded first place at the Commonwealth of Pennsylvania University Biologists Annual Research Conference for his oral presentation and received a grant from the organization.
He is a member of the Biology Honors Program, Phi Kappa Phi honor society, Phi Eta Sigma Honor Society, the National Society of Leadership and Success, and Alpha Chi Sigma Honor chemistry fraternity, serving as the alumni coordinator of the chapter. He is a biology student peer mentor and is a member of the American Medical Student Association. He has been trained as a medical assistant and did an internship in 2021 at Indiana Regional Medical Center's Center for Orthopaedics and Sports Medicine.
He received a Biology Undergraduate Research Experience grant and a scholarship for IUP's Undergraduate Summer Opportunities for Applying Research (U-SOAR) program and presented research at the U-SOAR symposium. He is a volunteer for the Chevy Chase Community Center in Indiana.
Son of Scott and Carolyn Semelsberger, James Street, Northern Cambria, he is a 2020 graduate of Bishop Carroll Catholic High School.