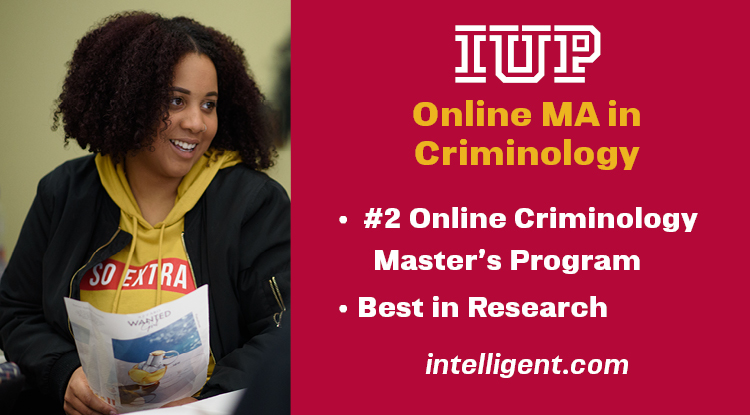 Indiana University of Pennsylvania's online master's in criminology has been ranked second in the nation and first in Pennsylvania by Intelligent.com in its 2022 Best Online Programs in Criminology listing. The ranking is due in part to IUP's reputation as a research university.
More than 400 programs were compared by editors for the ranking, designed to recognize "top-quality programs that are offered online to ensure flexibility and accessibility for working professionals and those who cannot attend on-campus classes," editors said.
Programs were evaluated on the basis of cost, course offerings, outcomes, flexibility, faculty, and reputation, with special focus on review of program strength, student readiness, return on investment, cost, and student engagement. IUP's program achieved a near perfect score of 98 out of 100.
"It is great to have our program recognized with such a strong ranking," Daniel Lee, chair of IUP's Department of Criminology and Criminal Justice, said. "It is humbling to see us placed alongside other strong programs, but this ranking is evidence of how hard our faculty work to bring a strong curriculum to our students. Our program emphasizes the integration of theory and research to produce sound evidence-based practices, and our students are well-prepared to establish their careers and make a difference in the world."
IUP is consistently ranked as one of the nation's top doctoral universities by U.S. News & World Report. It has been included in the Princeton Review's "Best Colleges" guidebook for two decades and has been included in Washington Monthly magazine's national rankings of schools based on their contributions to society. Individual programs and departments continue to gain accolades in national surveys, including in the top three Safety, Health, and Environmental Applied Sciences programs in the nation by Universities.com; and the Bachelor of Science in Hospitality Management program, recently ranked ninth in the nation by Study.com, among others.
IUP also has been selected for national rankings that recognize value in online programs.
IUP offers more than 100 undergraduate majors and more than 60 graduate programs and certificates, including 14 doctoral programs. Students can complete more than 65 minors and scores of specialized tracks and certificate programs, including certificates in athletic coaching, gerontology, photography and digital imaging, popular music, and public history.