By Mary Ann Slater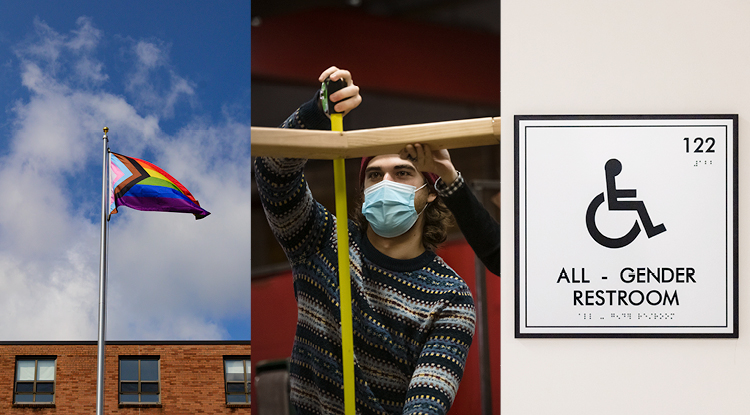 Careful observations and thoughtful conversations from IUP's first walking audit last fall are helping to make the university a more welcoming place for all.
These two walks around campus in September 2020—incorporating places like the Oak Grove, Sutton Hall, and Wallwork Hall—gave small groups of students from diverse communities the opportunity to let their voices be heard. By talking with the IUP officials who accompanied them and later by completing a written survey, the students revealed just how the campus looked and felt to them.
Their comments suggested some parts of campus were overdue for a makeover—a redo with color and vibrancy that emphasize hope, success, and the diversity of today's IUP.
In response to those comments, a working group of administrators, faculty, and students has been overseeing a host of changes. For example, a flagpole with a Progress Pride flag has been dedicated, and an art installation made by students for students is under way.
"Every student body has its own IUP, and students today want their IUP."
Elise Glenn, IUP's chief diversity and inclusion officer and Title IX coordinator, said the students on the walks made it clear to her that much of the campus's art seemed from a bygone generation they couldn't relate to. The students—members of the LGBTQIA and Black and Brown communities—wanted more imagery that was colorful, meaningful, and positive.
"One of the things the students expressed is they want to see themselves represented on campus," Glenn said. "Every student body has its own IUP, and students today want their IUP."
Possibly the biggest initiative to emerge from the audit is new signage for single-occupancy restrooms to indicate they serve all genders.
"Single-occupancy restrooms were on campus but labeled other things, like 'family' or 'handicapped,' and it wasn't clear to students that they were welcome to use those facilities," said Michael Powers, executive director of the Division of Marketing and Communications, who leads the working group that is implementing the changes.
Now there are more than 70 facilities labeled all-gender restrooms. Their locations are marked on an interactive campus map available online and will be on posters soon to be placed around campus. The working group is looking into having an all-gender restroom in every campus building.
In response to student comments about drab colors, old images, and aging designs, some campus areas are targeted for new artwork.
Clark Hall's lobby has a new design, leaving space for art projects. Officials are discussing a new mural for the Center for Multicultural Student Leadership and Engagement to showcase the diversity of IUP's student body. Campus diversity will also be featured in a new photo display planned for the first floor of Sutton Hall, near the Office of Admissions.
After comments from the audit, IUP has also updated its television commercials and print materials to showcase student diversity and highlight Black students finding success in a variety of fields.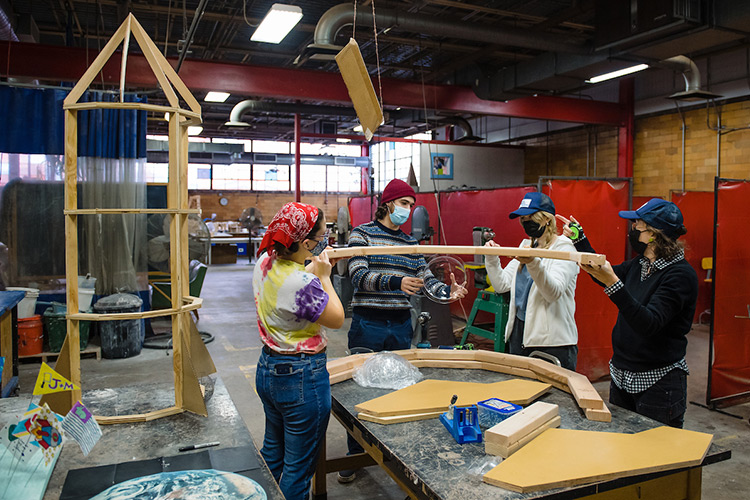 Department of Art and Design faculty members Sharon Massey and Sean Derry, along with other members of the Sculpture Support System, a faculty-student artist collective they lead, are working on a new campus art installation called Free Space .
Answering a call for more participatory art projects on campus, the outdoor installation will include a nine-foot rocket amidst an array of small flags. Interested students will have the opportunity to design a flag that reflects a part of their life story. The installation will be portable, so it can engage students on different parts of campus.
"Some of the goals are to give students a hands-on activity and to create photo opportunities—something new and exciting on campus," said Massey, who is also on the group addressing suggestions from the audit. She and Derry hope their work will prompt students to think about their role in creating art for public spaces.
Another project the working group is overseeing is the painting of a rainbow sidewalk depicting the Progress Pride flag, intended to help members of the LGBTQIA community feel more welcome on campus. The sidewalk, painted in large blocks of multiple colors, will be located between Stapleton Library and the new Leonard Hall (formerly the Humanities and Social Sciences Building). Plans had called for the sidewalk's completion by the start of this school year, but supply chain problems delayed arrival of the paint. The group hopes for completion next semester.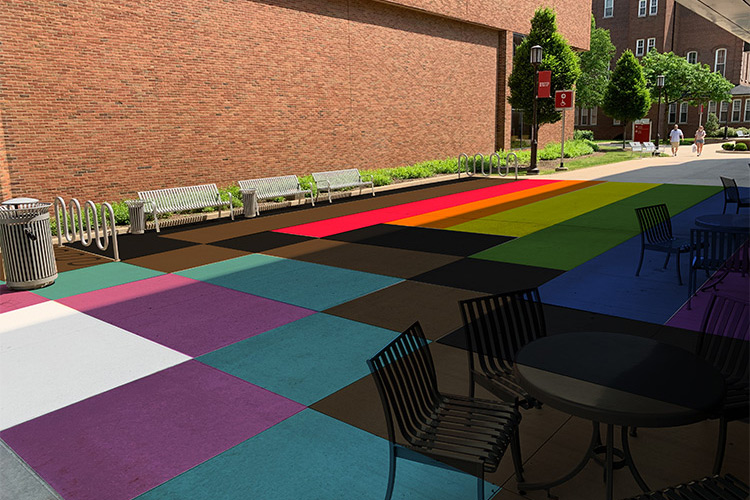 This fall also saw the dedication of a Progress Pride flag that flies outside the Center for Multicultural Student Leadership and Engagement in Elkin Hall. Powers and Glenn credit Tedd Cogar, senior assessment coordinator and LGBTQIA support, for much of the work on the new flag as he won support from a state-funded "It's on Us" grant. Cogar also contributed to the design of the rainbow sidewalk.
Glenn said Cogar's work shows that many departments and offices want to recognize and celebrate the diversity of the university community.
"The walking audit was a good initiative, but it is part of a broader effort that many are championing to help IUP grow in diversity and in its equity and inclusion," Glenn said.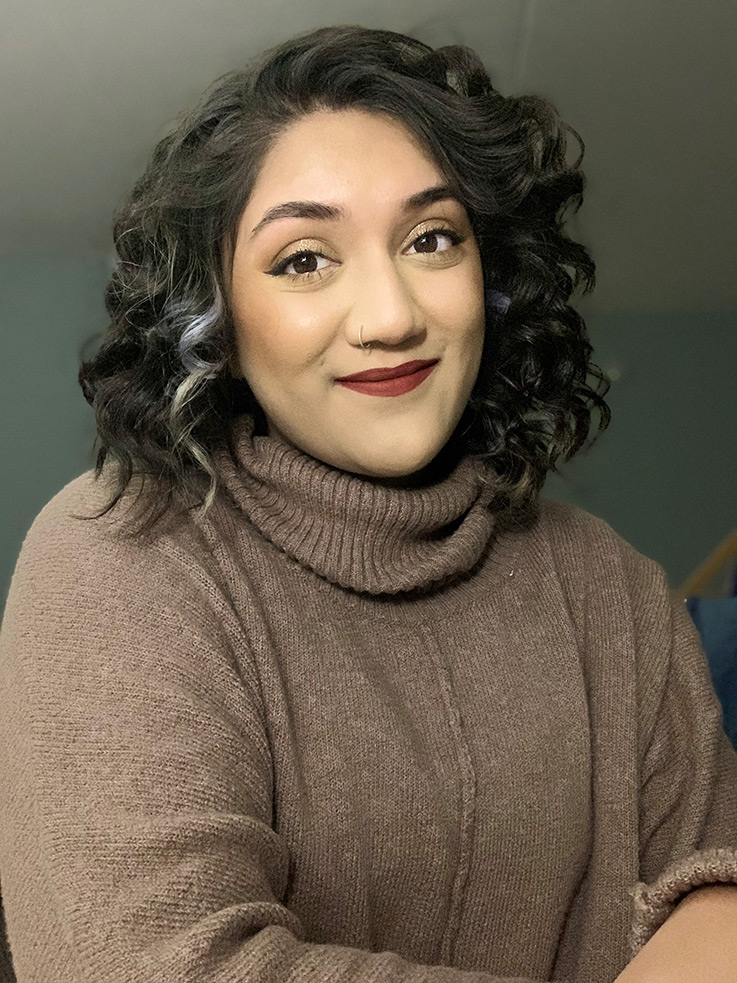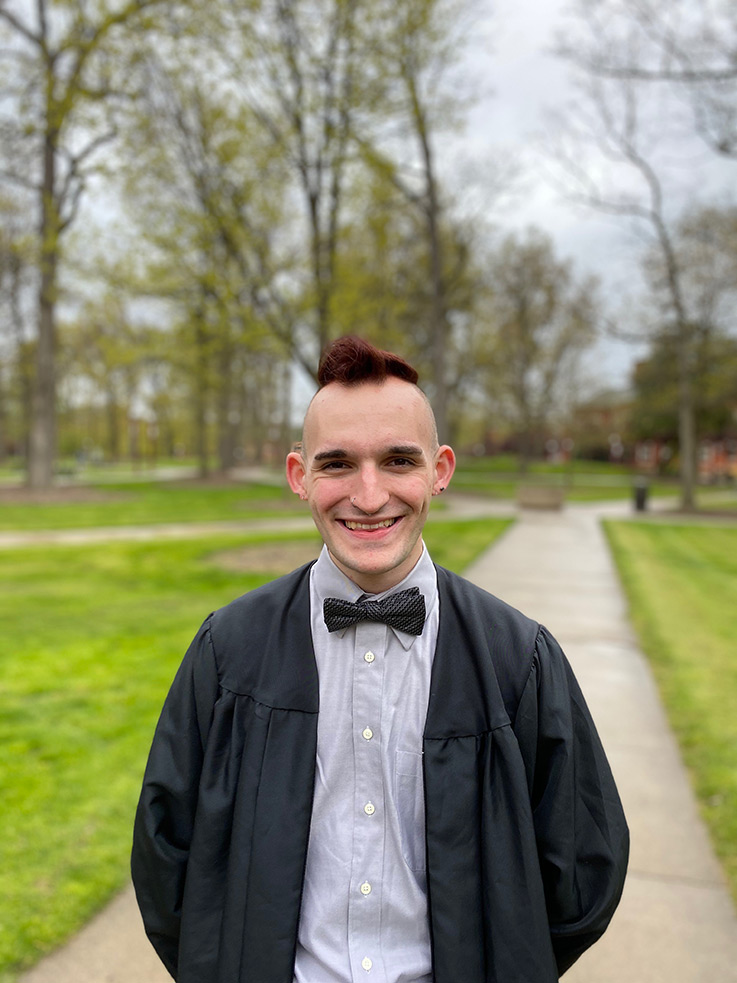 Last fall, graduate students Nabiha Islam and Austin Marsico, who worked in Glenn's office, were each tapped to lead one of the audit's walks.
Islam, who is pursuing a master's in criminology, grew up in Long Island, New York, and first came to IUP as an undergraduate. She described her first two years as a "culture shock," because she saw little representation on campus of different races, nationalities, and cultures. She said the students on her walk felt much the same way.
"Honestly, I think we all shared the same views, which is there wasn't enough representation, and what representation there is, is not really known," Islam said. She pointed out that, until the walking audit, she did not know there was a Muslim prayer room on the ground floor of Stapleton Library, even though she is Muslim.
Marsico, who is working toward a master's in school counseling, was excited to be part of last year's audit and now believes those efforts to increase diversity and inclusion are paying off.
"I think that we are taking steps in the right direction," Marsico said. "That's great."
It was Jonathan Warnock, chair of IUP's LGBTQIA+ Commission and associate professor of geoscience, who came up with the idea for the walking audit as he and Glenn discussed ways to help members of the LGBTQIA community feel more comfortable on campus.
"It really matters for people to see the subtle background that I am a part of this, my people are a part of this. Community matters so much."
"Coming here, people need to know they are accepted, supported, that they have a safe enough environment," Warnock said. "It really matters for people to see the subtle background that I am a part of this, my people are a part of this. Community matters so much."
Warnock suggested walking around the university to see what the students saw and felt. Glenn took the idea to President Michael Driscoll, who quickly agreed.
"It seemed like such a good idea to walk around with students so that I could hear their voices directly, to make sure I was engaging them in a face-to-face way," Driscoll said. "It is important for them to know we're listening to them, and that includes me."
After both walks, the students' comments were compiled, and Islam and Marsico presented the findings to the president's cabinet in December. The working group was then formed. In addition to Powers, Islam, Marsico, and Massey, its members include Nate Heuer, associate professor in the Department of Art and Design; David Raymond, creative director in the Division of Marketing and Communications; Kevin Foster, assistant director in the multicultural center; and Sam Phillips, associate vice president for University Operations and Administrative Services.
The group expects to hold another walking audit in 2022. Warnock believes IUP officials have done a good job of working on students' suggestions from last year's walks.
"I am already impressed that the administration immediately listened," Warnock said. "Right away, actions were taken. We got the flagpole. We have the beginnings of updates on signage and imagery."
But he thinks more change may be needed. "It is important to take that momentum and keep it going. Keep your eyes and ears on the students."
President Driscoll agreed.
"Coming to college is a big change in their lives," he said. "It's scary. And if you don't feel that you fit in, it's even more scary. The most important thing for me is that we engage students, we listen to them, and we take action on what we have heard."