Indiana University of Pennsylvania Vice President for University Advancement Khatmeh Osseiran-Hanna has gifted IUP with $25,000 to establish the Osseiran-Hanna Endowed Scholarship for international students at IUP.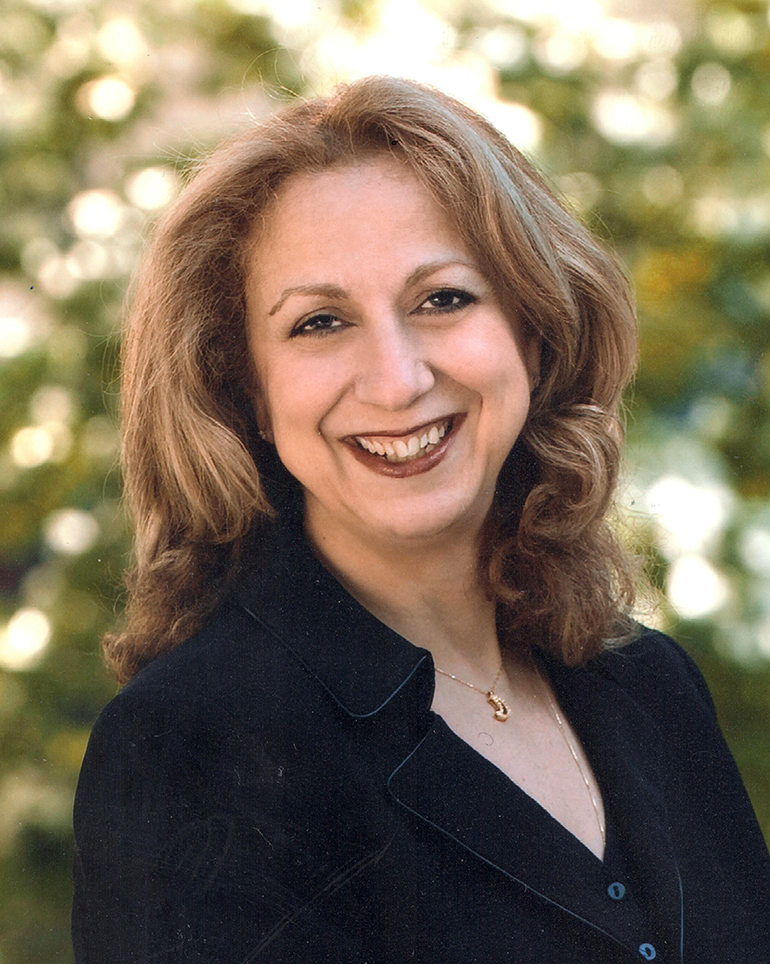 Osseiran-Hanna, a resident of Indiana, is originally from Lebanon. "I came to this country at the age of 11, so I understand some of the challenges faced by international students who choose to study in America," she said.
"As I've continued my professional career in higher education, I continue to see the incredible value of a multicultural community, especially in a university setting. We are preparing our students for careers and life in an increasingly global workforce and world. Many of our students do not have the opportunity to travel abroad, or to meet and study beside others from different cultures and ethnicities.
"A rich international student community offers valuable perspectives and new thinking; diverse nationalities, ethnicities, and religions encourages understanding and helps us to meet our goal of enhancing the college experience and student success," she said.
"I wanted to establish this scholarship to forge a path forward for international students, who are often unable to access financial aid in their home countries. Many of these students face situations in their homelands that create volatility and instability in their funding streams. I want to make things a little easier for these students while enriching the IUP community," Osseiran-Hanna said.
"While IUP is not my alma mater, it has become home to me. The people at IUP and the community have been extremely welcoming. The alumni and employees' love of this university and their passion to give back is contagious," she said.
"IUP is a place that changes lives and creates leaders who are prepared to change the world. Our students are just extraordinary in their curiosity, their drive to succeed, and their willingness to give back to IUP. I'm very proud to be here, and very proud to make this gift to IUP," she said.
Annually, IUP welcomes close to 400 students from 50 different countries for study at IUP at both the undergraduate and graduate levels.
Osseiran-Hanna's gift was part of IUP's Imagine Unlimited comprehensive fundraising campaign, which raised $81.36 million, more than $6 million over its $75-million goal. The campaign closed six months ahead of the original June 30, 2021, closing date of the campaign.
This gift was part of the campaign "rally." As 2020 neared its end, University Advancement and Imagine Unlimited campaign volunteers, knowing that the campaign was almost at its $75-million goal, challenged themselves to meet the goal by the end of the calendar year. The rally had great success: the result was gifts totaling $5,715,000 before December 31, meeting the goal and the rally timeline.
Osseiran-Hanna joined the IUP community in 2017 as the interim vice president for University Advancement. Following a national search, she was named to the permanent position in April 2018.
The Division of University Advancement builds long-term voluntary relationships between IUP and its constituencies in order to stimulate greater understanding and support. Its offices include Advancement Services, Alumni and Constituent Engagement, Development and Planned Giving, and Strategic Partnerships. The division also works closely with the Foundation for IUP and the Alumni Association.
As vice president of the division, she was responsible for all facets of the Imagine Unlimited campaign, including work with more than 300 very active volunteers throughout the country.
She also is responsible for the coordination of all community gifts and outreach during the coronavirus pandemic. In March 2020 —three days before the university transitioned to its March 23 online delivery of classes for all students due to the coronavirus pandemic—Osseiran-Hanna led her team to establish the Emergency Response Fund, designed to help defray costs experienced by students associated with technology, unexpected travel, and other unanticipated expenses related to the pandemic. The Emergency Response Fund (now the Student Assistant Fund) has raised more than $600,000.
Osseiran-Hanna came to IUP from College of Staten Island, CUNY, where she was vice president for institutional advancement and external affairs. An experienced advancement professional, she has raised $165 million during her career and has experience in a broad range of advancement initiatives, including comprehensive campaigns, board recruitment, development and engagement, strategic partnerships, marketing, and communications, as well as alumni and constituent relations.
Prior to her work there, she was the director of Advancement–North America and executive director of the University of Queensland in America, Inc. for the University of Queensland, Brisbane. She also has worked as special counsel to the president and vice president for university advancement for New Jersey City University; as assistant vice president for planned giving and senior major gift officer, New Jersey Institute of Technology; director of annual giving, Fairleigh Dickinson University; director of annual giving and special projects and executive director of American University of Beirut Alumni Association of North America, American University of Beirut; major gifts associate, Greenpeace Fund; executive director, Save Lebanon, Inc.; assistant director, National Council on Canada Arab Relations; and consulting representative in the Americas, University of Balamand, Lebanon.
Imagine Unlimited is the largest comprehensive campaign in the Pennsylvania State System of Higher Education, past or present, and included the university's largest one-time gifts: one of $23 million and one of $7 million. This record-breaking campaign drew broad-based support at all levels, including more than 22,000 donors making 63,700 gifts. The campaign also saw a 171 percent increase in student giving since 2015.
The Imagine Unlimited campaign priorities included enhancing science and mathematics, academic excellence and innovation, student success, and leadership through athletic competition.