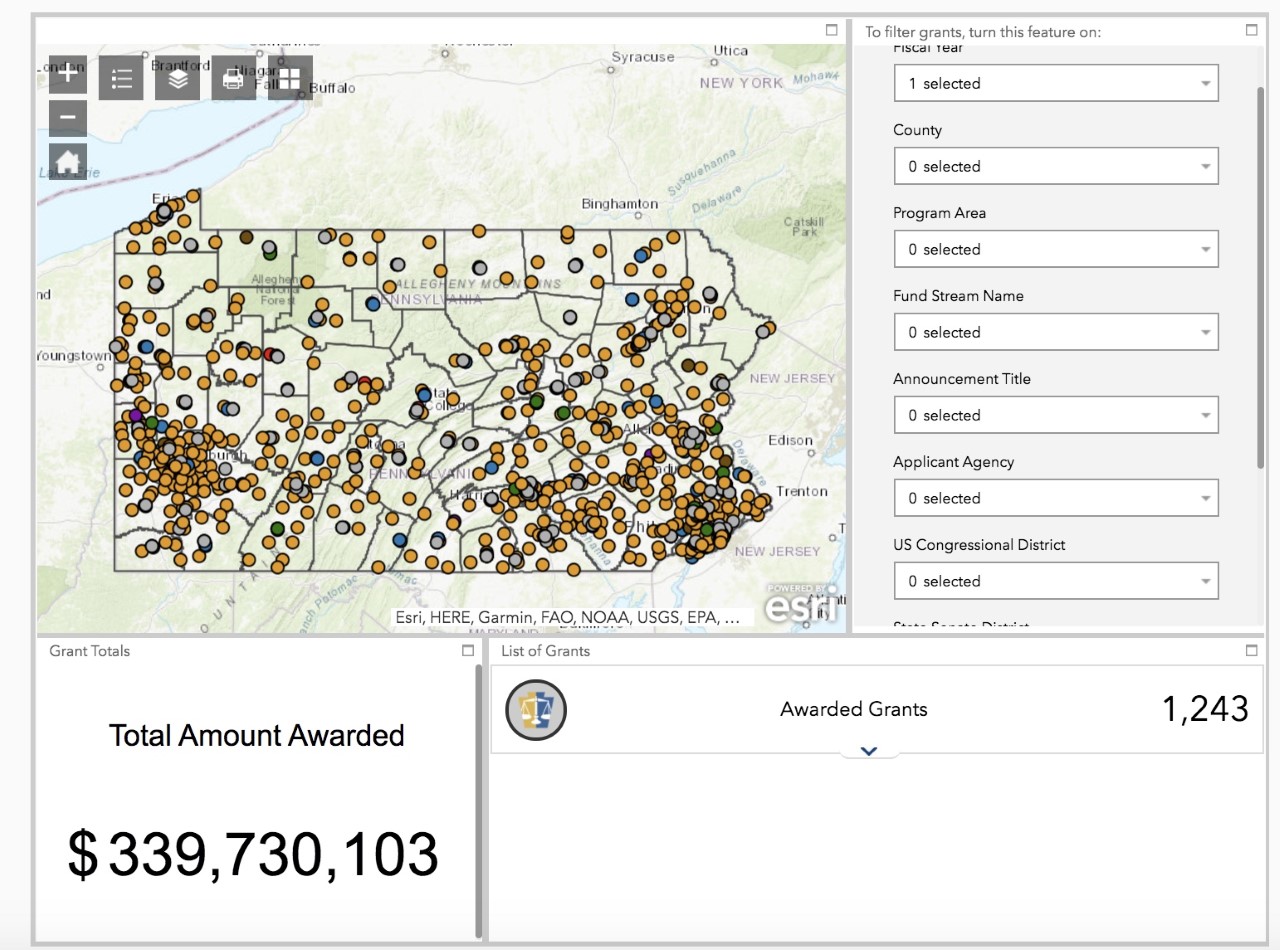 A mapping project by Charles Gartside details all of the grant awards (in the spirit of government transparency) that PCCD has funded since 2012 in Pennsylvania. There is also a map for Indiana County. Users can click each dot to find out specific details on the grants.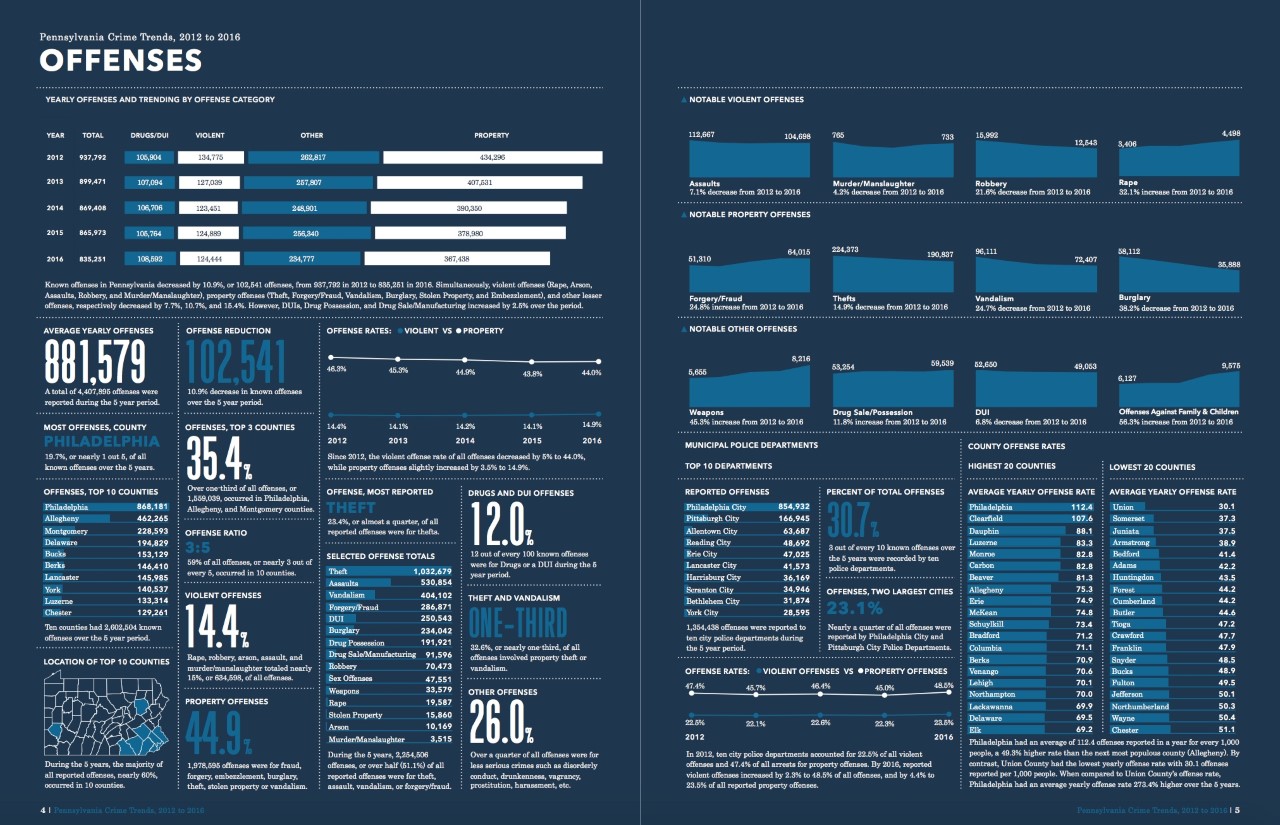 An infographic report by Robert Orth for PCCD offers a comprehensive look at crime trends (at the various stages of the system: offenses, victimization, arrests, courts, and prisons/parole) in Pennsylvania between 2012 and 2016. It is presented in a highly stylized manner, which combines elements of data analysis and data visualization.
While it's physically headquartered in Indiana University of Pennsylvania's McElhaney Hall, IUP's Administration and Leadership Studies Research and Training Center (ALS-RTC) has a reach that impacts the entire state.
The Center is an institute associated with IUP's doctoral program in Administration and Leadership Studies in Non-Profit and Public Sector.  Its faculty have worked with the Pennsylvania Commission on Crime and Delinquency (PCCD) over the past six years to provide research, evaluation and advisory services for the agency, its Board, and numerous Advisory Committees.  The collaboration between the ALS-RTC through IUP and PCCD was just recently renewed for the FY2021-2022 period.
Since 1978, PCCD has served as the criminal justice planning agency for the Commonwealth.  The agency administers around $300 million in grants annually; administers the state's victims compensation program; trains constables, sheriffs, deputy sheriffs and county adult probation officers; and provides technical assistance for various prevention programs. 
The agency also serves as a statistical resource for the state's criminal justice and public safety data needs.  By law, PCCD is required to process, tabulate, analyze and interpret data, present reports of statistics to the Governor and members of the General Assembly, and present information of value in guiding the policies of the Commission.  
ALS-RTC faculty, in partnership with PCCD's Office of Research, Evaluation and Strategic Policy Development (ORESPD), assist in meeting the agency's data needs and perform numerous program evaluations to determine the overall effectiveness of projects supported by PCCD funding.   
"The work conducted by the ALS-RTC faculty team is critical to helping us meet our statutory requirements to serve as the Statistical Analysis Center for the Commonwealth," ORESPD Director Kirsten Kenyon said.  "PCCD's research offerings have grown exponentially since our mutual partnership, and I look forward to taking on several new initiatives in the upcoming year."
The PCCD grant-funded IUP faculty, which includes Dr. Robert Orth, Dr. John Cookus, Dr. Sherri Chippo, Dr. Brandon Vick, and Charles Gartside, will undertake wide-ranging projects such as delivering key data analyses (e.g. offender recidivism, identifying trends in gun violence, etc.), evaluating services and programming for victims of crime, and providing day-to-day consulting services to assist PCCD in various areas of importance (e.g. safe schools programming, naloxone distribution, law enforcement training, delinquency prevention, grant application development, etc.)
"We are so excited for the work that Dr. Orth and his team will be undertaking to support the important programs of PCCD in the coming year," said Dr. Christian Vaccaro, director of the ALS-RTC. 
"This project highlights the important role that IUP can play in assisting the mission of agencies in Pennsylvania's state government. Our university and the ALS-RTC have an abundance of valuable resources and faculty that can be leveraged for conducting data analyses, leading evaluations, assisting with strategic planning, and providing expert consultation. We hope that this project serves as a model for additional collaborations between IUP and commonwealth agencies."
The grant-funded faculty at the ALS-RTC are literally "embedded" in PCCD, with most of the team physically working at the agency in Harrisburg.  Some ALS-RTC faculty are also partially funded by other state agencies, such as PennDOT, or private foundations, and perform additional work on their behalf.
 "One of the greatest things about working with PCCD is that this work touches every facet of the juvenile and adult criminal justice system: work with victims, law enforcement, recidivism research and outcomes, and the return on investment for the programs funded by the PCCD," Orth said. 
"It's very rewarding to work with, and to support so many different stakeholders," Orth continued.  "Our work is designed to help drive informed, data-based policy decisions in a timely fashion."    
For example, when Governor Wolf issued an Executive Order to study gun violence two years ago, PCCD was asked to make recommendations on next steps.  The ALS-RTC faculty team was responsible for organizing the data to illustrate gun violence rates in Pennsylvania's municipalities to help determine which areas had the greatest need.
Orth also participated in a key data analysis process undertaken during Pennsylvania's second phase of Justice Reinvestment Initiative (JRI2) in 2016.  JRI is a data-driven approach to improving a state or municipality's criminal justice system through a thorough review of available criminal justice data and current administrative practices.  Orth's assistance in the JRI2 process fed into the creation of three key pieces of JRI2 legislation addressing reforms to county adult probation and parole. 
One of the laws established a County Adult Probation and Parole Advisory Committee (CAPPAC) at PCCD newly responsible for overseeing the funding, training, standards and other aspects of the county adult probation system throughout Pennsylvania.  ALS-RTC faculty are directly assisting the CAPPAC and its funding subcommittee's efforts to implement this new law through continued data analysis.
Another key offering by ALS-RTC faculty is in data organization and GIS-mapping, which is used extensively by PCCD as both an educational and marketing tool and for performance metrics.  For example, Mr. Gartside created and currently maintains an interactive map of the various designated points of contact across the state for Pennsylvania's distribution of state-funded naloxone, the drug used to treat individuals who overdose on opioids.  In the event a local agency depletes their supply, that agency can quickly locate regional contact information to be resupplied at a regional distribution point. 
All maps and dashboards created by the ALS-RTC faculty team can be found on PCCD's Map Gallery webpage.
"I believe that the collaboration we have with IUP is a model relationship that other state agencies should take advantage of," Kenyon said.  "So many entities collect data, but few have the time to analyze it.  Expanding opportunities between research experts and real-world practitioners who are interested in knowing what works just makes good sense."