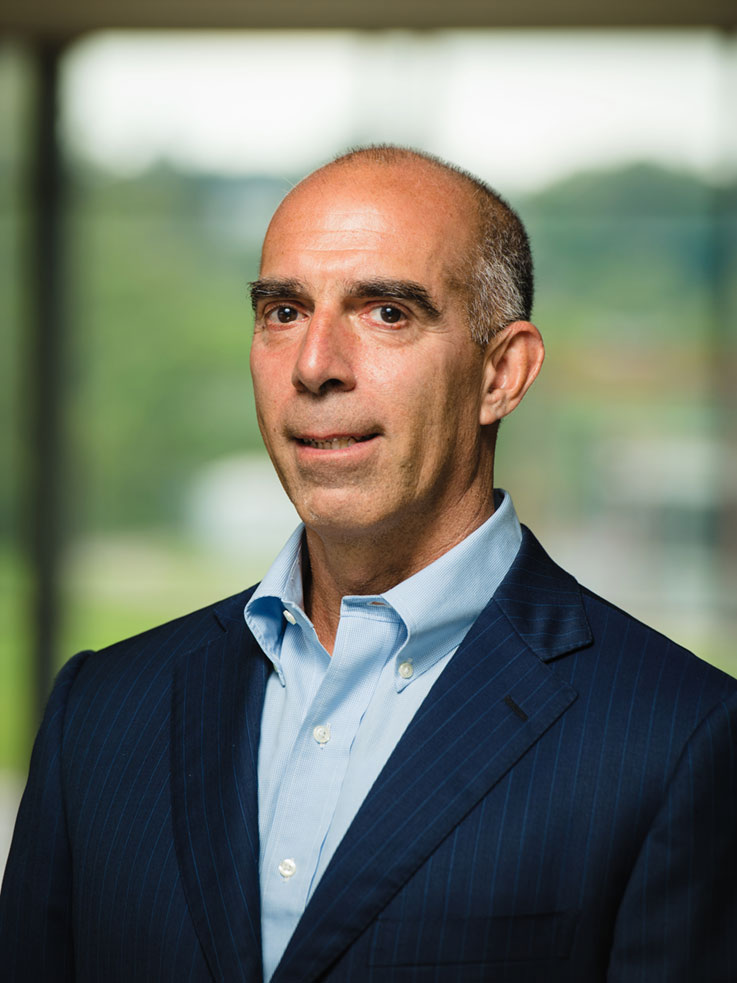 Richard D. Caruso, a 1983 accounting graduate of Indiana University of Pennsylvania from Meadow Lands, has gifted $50,000 to IUP for scholarships for freshman students.
This gift has been added to the Richard F. and Margaret C. Caruso Scholarship, which Richard D. Caruso established in 2017 with a gift of $100,000 in honor of his parents, Margaret C. Caruso, of Kane, and the late Richard F. Caruso. 
Caruso's gift was part of IUP's Imagine Unlimited comprehensive fundraising campaign's "rally gifts."
As 2020 neared its end, University Advancement staff and Imagine Unlimited campaign volunteers, knowing that the campaign was almost at its $75-million goal, challenged themselves to meet the goal by the end of the calendar year. The rally had great success: the result was gifts totaling $5,715,000 before December 31, meeting the goal and the rally timeline. The original campaign goal and end date was $75 million and July 2021; in February, the campaign concluded with gifts of $81.36 million.
Caruso has been an active volunteer for IUP, serving as a member of the Foundation for IUP Board of Directors since 2007 and as president of the board from 2015 to 2019. He chaired the Audit, Investment, and Nominating committees of the Board. He was also a member of the National Campaign Cabinet for Imagine Unlimited.
Long-time residents of Kane, the late Richard F. Caruso was a life-long banker who worked for Hamlin Bank & Trust in Kane; Margaret Caruso primarily worked as an assistant in the medical offices of Bruno Sicher. Margaret Caruso recently celebrated her one-hundredth birthday.
Both Caruso and his sister, Francene Caruso Imbrogno of Kane, a 1972 IUP business education graduate, are first-generation college graduates. Caruso credits his and his sister's education to his parents and established the scholarship to "give back" to future students, providing them with the kind of support he and his sister received to achieve their educational goals.
"IUP presented my sister and me with opportunities that I would not have had at the larger universities and gave me the foundation for being able to give back to the next round of first- and second-generation students," Caruso said.
Caruso is an operating partner at the Calibre Group. He serves in a similar role at North Park Capital and as an independent consultant providing financing and restructuring services and has a history of serving in various interim management (CEO, CFO, and COO) assignments. 
Caruso began his career in 1983 as a CPA at the Pittsburgh office of PriceWaterhouseCoopers prior to becoming the CFO of Ormet Corporation and Ravenswood Corporation. After approximately 15 years with Ormet, he became a managing director at Huron Consulting Group, working on numerous corporate restructurings including Winner Steel (interim COO and advisor to equity) and Neenah Foundry (chief restructuring advisor and interim CEO). Caruso left Huron to become the CFO of RG Steel prior to becoming an independent consultant. 
During his 30-plus years of work, Caruso has been involved in originating and closing over $2 billion of financing transactions ranging from approximately $10 million to over $500 million. In 2007, Caruso received the Turnaround & Workouts magazine "Successful Restructurings" recognition for his work on the successful restructuring and sale (without a bankruptcy filing) of Winner Steel. Caruso has been a longtime member of numerous corporate boards, including Neenah Foundry, Motorcoach Industries, and Ameribank. 
In addition to his service to IUP, he has served on several nonprofit boards, including the National Aviary and Baptist Homes.
"Rich has been an extraordinary volunteer and supporter of IUP and the Imagine Unlimited comprehensive campaign," Vice President for University Advancement Khatmeh Osseiran-Hanna said. "His appreciation and love for IUP and the advantages that it provided to him are inspiring. We truly appreciate his commitment to 'giving back' to the next generation of IUP students."
The Richard F. and Margaret C. Caruso Scholarship provides support to two incoming freshman students: one who comes from Kane High School and one who comes from Chartiers-Houston High School in Pittsburgh. 
Imagine Unlimited exceeded all previous fundraising campaigns staged by the university by more than $35 million and included the university's largest one-time gifts in its history, $23 million from alumni John J. and Char Kopchick. 
IUP's Imagine Unlimited comprehensive campaign was the largest comprehensive campaign in the Pennsylvania State System of Higher Education. It included 63,700 donations from more than 22,000 donors, who made gifts designed to focus on the campaign priorities of enhancing science and mathematics, academic excellence and innovation, student success, and leadership through athletic competition.