By Elizabeth Laughlin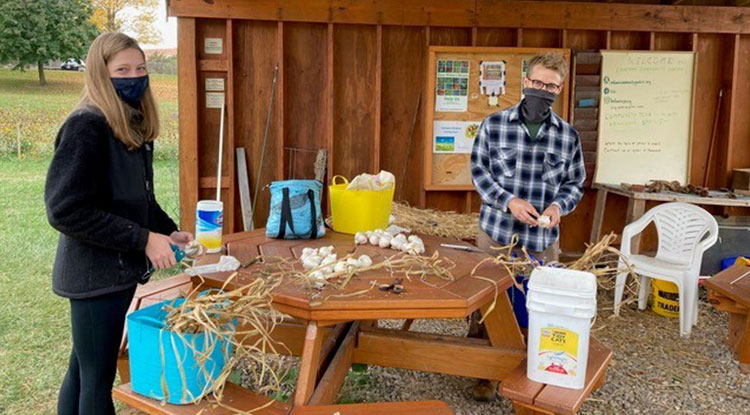 From working at the community garden and farmers' market to learning from the pros, this student organization, profiled this week in the Find Your People series, gives members a healthy dose of experience.
The Student Association of Nutrition and Dietetics, also known as SAND, helps students studying these subjects develop on a professional level.
Madeline West, an IUP senior majoring in nutrition and dietetics, has been the group's president for almost a year. After graduating, she will complete a 10-month dietetics internship at Montclair State University in New Jersey. Then, she'll take her board exams to become a registered dietitian.
The executive board also includes vice president Emily Crusan, secretary Emma Good, and treasurer Mitchell Milbrand, all seniors.
Pao Ying Hsiao, associate professor and program coordinator for the Master of Science in Food and Nutrition, is the group's advisor.
The organization is open to IUP students who are majoring or minoring in nutrition and dietetics.
Members have been meeting virtually since the start of the pandemic. Switching to a virtual setting and planning events has been the biggest challenge, West said.
"It was a little hectic at first," she said, "just trying to figure out if our events could even happen."
As a result, the organization's leaders made adjustments. They waved the entry fee, which was $35 per year or $20 per semester, since they could not offer as many social events. They also switched their in-person meetings to a Zoom setting.
Members socialized by playing Kahoot Trivia and Pictionary during their virtual meetings.
Every semester, the group invites guest speakers to talk about their professional experiences as dietitians, and that continued during the pandemic.
This spring, those speakers included Jacklyn Cloud, a dialysis dietitian, and Ava Scapato, the owner of Nourish Dietetics, who joined through Zoom.
Last fall, the group hosted Angela O'Neill, a registered dietitian and the director of Nutrition Services at Hunterdon Medical Center in New Jersey. The group also welcomed staff members from IUP's Career and Professional Development Center, who talked about developing an elevator pitch and networking.
In the summer and fall, the association will again be involved with the Indiana Farmers' Market and the Indiana Community Garden.
"At the Farmers' Market, we help with setup and cleanup," West said. "In the past, some of us also volunteered at the Zion Lutheran food pantry."
The organization has six committees: Blog, Community, Fundraising, Public Relations, Social, and National Nutrition Month. During the association's regular meetings, each committee contributes to a slideshow, in which members talk about upcoming events and job opportunities.
West said her objectives as president focus on helping students prepare for the future.
"I want members to make the most of their four years in undergrad," she said. "Build that résumé, get experience to talk about. Find leadership positions, if possible."
The group's final meeting of the semester will be Thursday at 7:00 p.m. via Zoom and will feature its graduating seniors in a slideshow.